The Number of Stadiums per Country: The United States and Brazil At The Top
Next Story
USA Has The Most Scuba Diving Centers In The World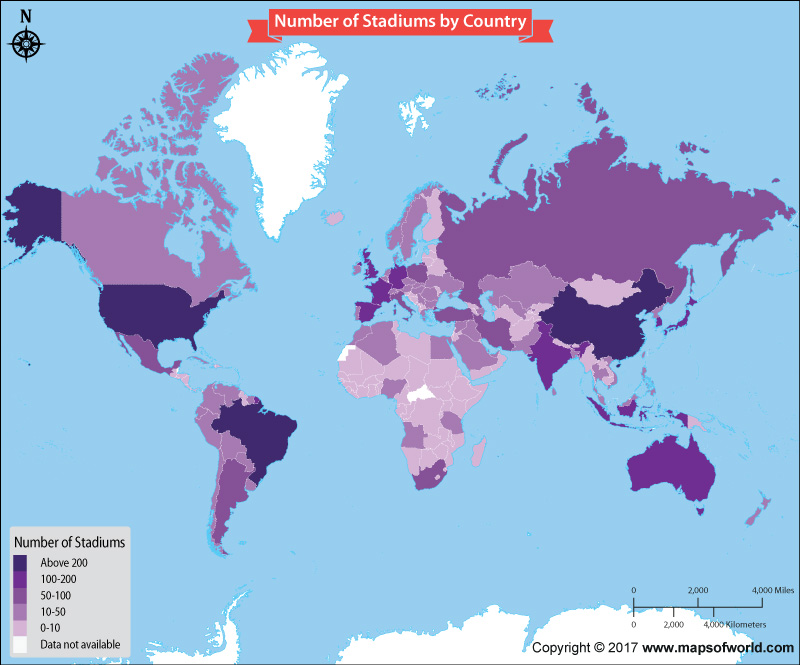 If you have a theme, we have a map.
Contact us for your custom mapping requirements
Many nations around the world host mega sporting events such as the Olympics, Cricket World Cup, FIFA World Cup, Commonwealth Games and many others. Hosting these tournaments and many other smaller sporting events, means having the required number of stadiums.
Almost all the countries have stadiums, though the figure may range from a few hundreds to just one, or two stadiums per country. According to a World Stadiums data, the United States and Brazil have the largest number of stadiums in the world. According to the data, while there are 917 stadiums in the United States, Brazil follows closely with 889 stadiums.
The Asian nation of China comes at a distant third place. As compared to the astronomical number of stadiums in the United States and Brazil, China has just 238 stadiums. Occupying the fourth place, the United Kingdom has 180 stadiums, beating India, which comes at the fifth spot with 179 stadiums.
In countries such as Indonesia, France, Spain, Australia, Japan, Germany and South Korea, the number of stadiums range between 100 and 179. Russia, which is the largest country in the world, has 90 stadiums, while Canada, the second largest country has just 40 stadiums.
Among the African nations, South Africa has the most stadiums at 78, followed by Nigeria which has 43 stadiums. Some of the countries which have less than 10 stadiums include Ethiopia, Ghana, Sudan, Turkmenistan, Lebanon, Oman, Libya, Montenegro and others.
The table provides information on the number of stadiums per country.
| Country | No. of Stadiums |
| --- | --- |
| United States | 917 |
| Brazil | 889 |
| China | 238 |
| United Kingdom | 180 |
| India | 179 |
| South Korea | 172 |
| Germany | 171 |
| Japan | 149 |
| Australia | 119 |
| Spain | 113 |
| France | 111 |
| Indonesia | 105 |
| Italy | 93 |
| Mexico | 93 |
| Russia | 90 |
| Argentina | 82 |
| South Africa | 78 |
| Iran | 73 |
| Poland | 58 |
| Turkey | 51 |
| Romania | 49 |
| Nigeria | 43 |
| Portugal | 40 |
| Canada | 40 |
| Sweden | 38 |
| Ukraine | 38 |
| Peru | 38 |
| Venezuela | 38 |
| Ireland | 37 |
| Taiwan | 35 |
| Pakistan | 34 |
| Malaysia | 33 |
| Colombia | 33 |
| Morocco | 32 |
| Thailand | 32 |
| Egypt | 32 |
| Algeria | 31 |
| Netherlands | 30 |
| Ecuador | 30 |
| Vietnam | 26 |
| Chile | 26 |
| Bulgaria | 25 |
| Norway | 25 |
| New Zealand | 25 |
| Greece | 24 |
| Bangladesh | 23 |
| North Korea | 23 |
| Belgium | 23 |
| Denmark | 23 |
| Hungary | 23 |
| Syria | 23 |
| Serbia | 22 |
| Uzbekistan | 20 |
| Czech Republic | 20 |
| UAE | 19 |
| Switzerland | 18 |
| Iraq | 18 |
| Saudi Arabia | 17 |
| Paraguay | 17 |
| Suriname | 16 |
| Uruguay | 16 |
| Cuba | 15 |
| Sri Lanka | 14 |
| Bolivia | 14 |
| Tanzania | 13 |
| Kazakhstan | 13 |
| Philippines | 13 |
| Austria | 13 |
| Qatar | 13 |
| Angola | 12 |
| Slovakia | 12 |
| French Guiana | 12 |
| Azerbaijan | 11 |
| Cameroon | 10 |
| Kenya | 10 |
| Togo | 10 |
| Tunisia | 10 |
| Guatemala | 10 |
| Puerto Rico | 10 |
| Croatia | 10 |
| Finland | 10 |
| Israel | 10 |
| Kuwait | 10 |
| Ethiopia | 9 |
| Ghana | 9 |
| Sudan | 9 |
| Zambia | 9 |
| DR Congo | 8 |
| Myanmar | 8 |
| Turkmenistan | 8 |
| Costa Rica | 8 |
| Lebanon | 8 |
| Yemen | 8 |
| Zimbabwe | 7 |
| Dominican Republic | 7 |
| El Salvador | 7 |
| Honduras | 7 |
| Belarus | 7 |
| Oman | 7 |
| Congo | 6 |
| Madagascar | 6 |
| Hong Kong | 6 |
| Tajikistan | 6 |
| Slovenia | 6 |
| Libya | 5 |
| Niger | 5 |
| Panamá | 5 |
| Trinidad & Tobago | 5 |
| Albania | 5 |
| B/Herzegovina | 5 |
| Bahrain | 5 |
| Papua New Guinea | 5 |
| Gabon | 4 |
| Malawi | 4 |
| Mali | 4 |
| Mozambique | 4 |
| Namibia | 4 |
| Senegal | 4 |
| Cyprus | 4 |
| Montenegro | 4 |
| Georgia | 4 |
| Jordan | 4 |
| Benin | 3 |
| Botswana | 3 |
| Burkina Faso | 3 |
| Chad | 3 |
| Equatorial Guinea | 3 |
| Ivory Coast | 3 |
| Rwanda | 3 |
| Sierra Leone | 3 |
| Somalia | 3 |
| Uganda | 3 |
| Afghanistan | 3 |
| Kyrgyzstan | 3 |
| Laos | 3 |
| Nepal | 3 |
| Singapore | 3 |
| Jamaica | 3 |
| St. Lucia | 3 |
| Macedonia | 3 |
| Palestine | 3 |
| Fiji | 3 |
| Guyana | 3 |
| Gambia | 2 |
| Guinea | 2 |
| Liberia | 2 |
| Réunion | 2 |
| South Sudan | 2 |
| Swaziland | 2 |
| Antigua & Barbuda | 2 |
| Guadeloupe | 2 |
| Estonia | 2 |
| Kosovo | 2 |
| Lithuania | 2 |
| Moldova | 2 |
| Armenia | 2 |
| French Polynesia | 2 |
| Burundi | 1 |
| C.A.R. | 1 |
| Djibouti | 1 |
| Eritrea | 1 |
| Guinea Bissau | 1 |
| Lesotho | 1 |
| Mauritania | 1 |
| Mauritius | 1 |
| Seychelles | 1 |
| Bhutan | 1 |
| Brunei | 1 |
| Cambodia | 1 |
| Macau | 1 |
| Maldives | 1 |
| Mongolia | 1 |
| Bahamas | 1 |
| Barbados | 1 |
| Curaçao | 1 |
| Dominica | 1 |
| Grenada | 1 |
| Haiti | 1 |
| Martinique | 1 |
| Nicaragua | 1 |
| St. Kitts & Nevis | 1 |
| St. Vincent | 1 |
| Iceland | 1 |
| Latvia | 1 |
| Malta | 1 |
| Monaco | 1 |
| North Cyprus | 1 |
| American Samoa | 1 |
| New Caledonia | 1 |
| Samoa | 1 |
| Solomon Islands | 1 |
| Tonga | 1 |
| Falkland Islands | 1 |
| South Georgia | 1 |
Also see :
World
Recent Posts