Nations Which Won Their First-ever Gold at Olympics 2016
Next Story
This is When Countries will be Celebrating New Year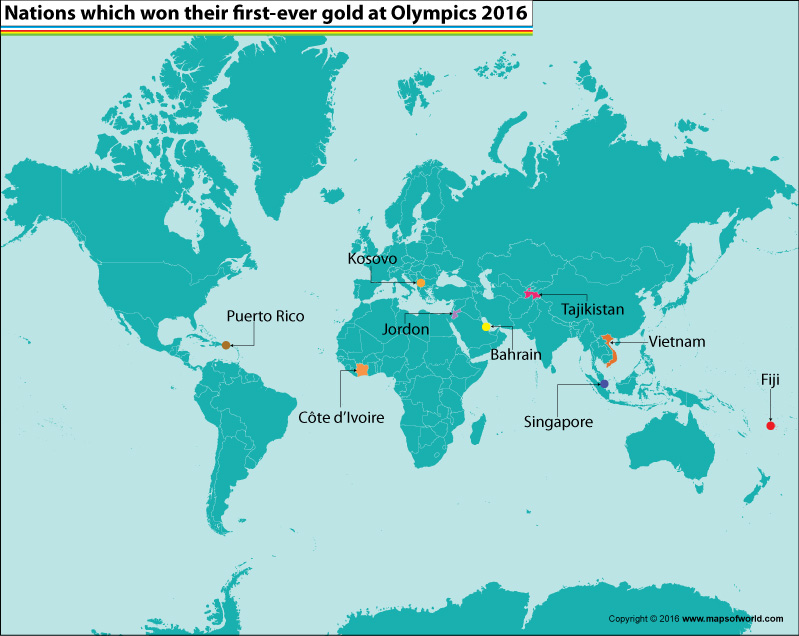 If you have a theme, we have a map.
Contact us for your custom mapping requirements
The 2016 Summer Olympics, which was held in August in the Brazilian city of Rio de Janeiro, tested the mettle of athletes from around the world in various sporting events. The top three positions went to the United States, China and Great Britain, which bagged 121, 70 and 67 medals respectively.
However, there were a few nations which had their big moment at the mega sporting spectacle when they bagged their first gold medal. These nine countries also included Kosovo, which not only bagged its first gold medal at the event but also participated for the first time in the Olympics. Majlenda Kelmindi brought smiles across the face of thousands of her countrymen by bagging the gold medal in women's 52-kg judo.
Puerto Rico bagged the gold in tennis. The gold was brought home by Monica Puig, who defeated Angelique Kerber of Germany, one of the well known tennis player. People in Fiji poured out on the streets in celebration when the country's rugby sevens team defeated Great Britain in the final match and earned the tiny nation its first-ever gold medal.
The central Asian nation of Tajikistan bagged its first gold when Dilshod Nazarov won in the men's hammer. This was the first since the time Tajikistan became a separate country in 1991. Ahmad Abughaush of Jordan brought the country its first gold by defeating Alexey Denisenko of Russia in the taekwondo men's 68-kg event. Meanwhile, King Abdullah II not only called up the athlete congratulating him, but also dispatched a private plane to bring him back to the country from Jordan.
Bahrain bagged its first gold when long distance runner Ruth Jebet won the 3,000 meter steeplechase in the women's category.
Singaporean Joseph Schooling brought laurels for his country by bagging the gold in the 100m butterfly swimming race. The young athlete's victory ranks third on the all-time list of the 100m butterfly world record. While Vietnam's Hoang Xuan Vinh scored a gold for his country in the 10m air pistol, Cheick Sallah Cisse of Ivory Coast did it by beating Lutalo Muhammad of Britain in the final of the men's under- 80-kg taekwondo.
Recent Posts