Nations with the Most Medals at AIBA World Boxing Championships
Next Story
Films that Won the Academy Awards From 2001 to 2017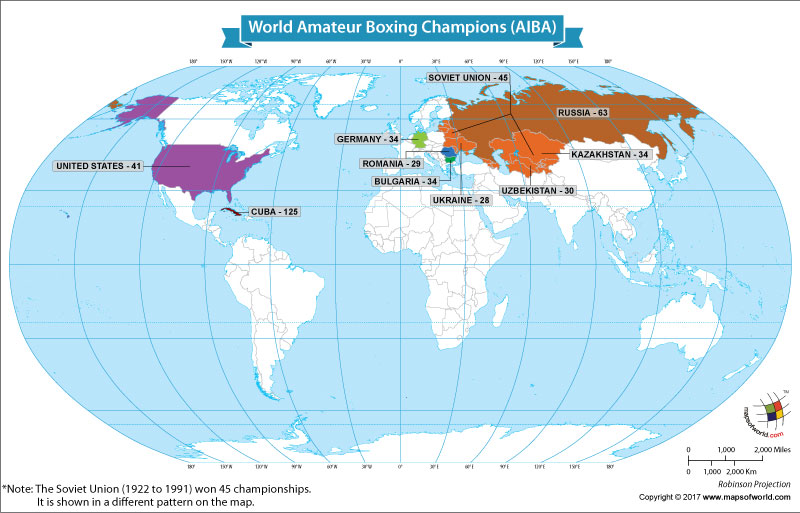 If you have a theme, we have a map.
Contact us for your custom mapping requirements
Boxing is one of the most popular sports that is played all over the world. Boxing events witness huge crowds and also large television audience. Amateur boxing is a prestigious sport, which is played both at the commonwealth Games as well as at the Olympic Games. Also played in many international events, boxing has its own World Championships.
The origins of boxing can be traced back to the ancient Greeks among whom it was quite popular. It was also included as a sport in the Olympic game that was held at the 23rd Olympiad in 688 BC in ancient Greece. It was also a popular sport in ancient Rome and was played in amphitheaters; however, the game was abolished in 393 AD as it was deemed to be too brutal. It was during the early 16th century, that the game once again began to be played in England. Referred to as prizefighting, the game was played with bare knuckles. The prizefighting events gave birth to the modern game of boxing in the mid-19th century. Today, it is one of the most watched sports and has many championships. One of the most prestigious among these is the AIBA World Boxing Championships, which is a biennial amateur boxing competition.
The men's edition of the AIBA World Boxing Championships began in 1974 and the inaugural tournament was held in the Cuban capital of Havana. Among the top ten champions, Cuba holds the first position with a total of 125 medals. This includes 70 gold, 33 silver and 25 bronze. Russia has been the second most successful nation winning a total of 63 medals. The erstwhile Soviet Union, which existed from 1922 to 1991, won a total of 45 medals. Despite its breakup, it still retains the third place. Of the 45 medals that the Soviet Union had won, 16 were gold. The United States occupied the fourth spot with 41 medals, of which 16 were gold.
The other nations among the top ten with the most medals were Kazakhstan, Bulgaria, and Germany with 34 medals; Uzbekistan with 30 medals, Romania with 29 and Ukraine with 28.
The table below provides a comprehensive list of the medals won by each nation at the AIBA World Boxing Championships.
| Country | Total |
| --- | --- |
|  Cuba | 125 |
|  Russia | 63 |
|  Soviet Union | 45 |
|  United States | 41 |
|  Kazakhstan | 34 |
|  Bulgaria | 34 |
|  Germany | 34 |
|  Uzbekistan | 30 |
|  Romania | 29 |
|  Ukraine | 28 |
|  East Germany | 24 |
|  Italy | 22 |
|  France | 22 |
|  Azerbaijan | 17 |
|  Yugoslavia | 17 |
|  Turkey | 16 |
|  China | 13 |
|  Poland | 13 |
|  South Korea | 12 |
|  Ireland | 12 |
|  Venezuela | 11 |
|  Hungary | 10 |
|  Mongolia | 9 |
|  Thailand | 9 |
|  Belarus | 8 |
|  Puerto Rico | 7 |
|  England | 7 |
|  North Korea | 7 |
|  Brazil | 6 |
|  West Germany | 6 |
|  Armenia | 5 |
|  Georgia | 5 |
|  Nigeria | 5 |
|  Finland | 5 |
|  Philippines | 5 |
|  Canada | 5 |
|  Great Britain | 5 |
|  Morocco | 4 |
|  Algeria | 4 |
|  Netherlands | 4 |
|  Lithuania | 4 |
|  Sweden | 4 |
|  Argentina | 3 |
|  Japan | 3 |
|  Wales | 3 |
|  Australia | 3 |
|  Czech Republic | 3 |
|  India | 3 |
|  Tajikistan | 3 |
|  Kenya | 2 |
|  Uganda | 2 |
|  Croatia | 2 |
|  Norway | 2 |
|  Slovakia | 2 |
|  Serbia and Montenegro | 2 |
|  Czechoslovakia | 1 |
|  Costa Rica | 1 |
|  Denmark | 1 |
|  Ghana | 1 |
|  Mexico | 1 |
|  New Zealand | 1 |
|  Pakistan | 1 |
|  Panama | 1 |
|  Spain | 1 |
Recent Posts