Nations Which Hosted the World Polo Championship (1987 – 2015)
Next Story
Countries that Produced the Most Vehicles – By The Numbers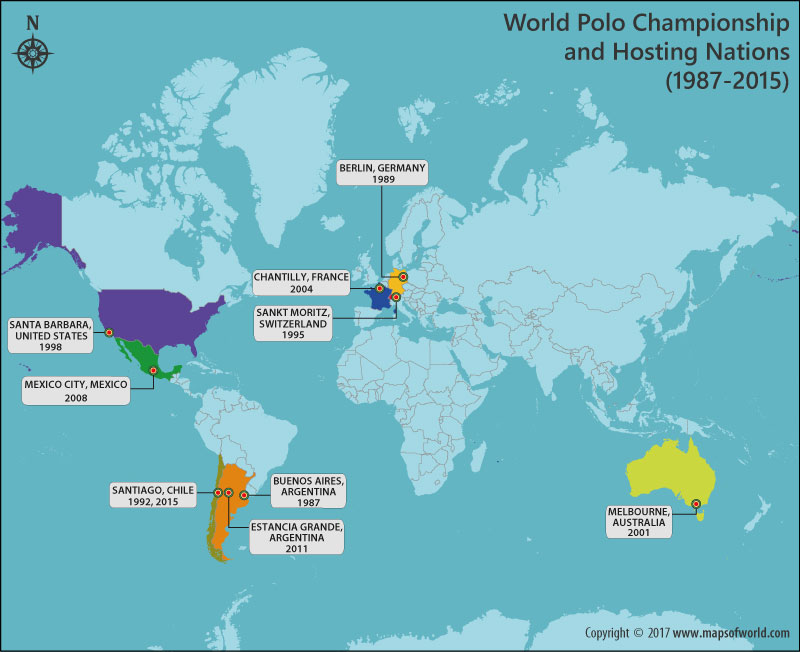 If you have a theme, we have a map.
Contact us for your custom mapping requirements
Polo is much like hockey where the players dribble the ball towards the goal of the opposing teams. However, unlike hockey where the players have to do a lot of running around, in polo they play on horseback. The game of Polo originated in Persia and from there spread to other Asian nations before being brought into India by Muslim invaders. The British tea planters in Assam picked it up and in 1859 established the first European Polo Club. Thereafter, the game began to spread around the world.
Today, Polo, which requires both speed and agility, is one of the most popular games in the world and countries from all continents take part in the numerous polo championships that are held throughout the year. One of the most popular events is the World Polo Championship. The event was initiated in 1987 in a bid to widen the scope of international polo. Over the years, it has evolved into a mega event.
The first event was hosted in 1987 in Buenos Aires, Argentina. The event was won by Argentina who beat Mexico. The second event was held in 1989. It was hosted in Berlin, Germany and witnessed Argentina being pushed to the third place. The championship was won by the United States who defeated England.
Argentina again came on top in the third World Polo Championship held in Santiago, Chile in 1992. The nation defeated host Chile to pick the cup. The fourth championship that was held in 1995 in Switzerland witnessed Brazil beating Argentina. However, Argentina got the better of Brazil in the 1998 World Polo Championship held in Santa Barbara, United States.
The 2001 World Polo Championship was held in Australia and witnessed Brazil defeating the host nation. In 2004, Brazil retained the cup by defeating England at Chantilly in France. Mexico hosted the eighth edition of the World Polo Championship in 2008 which was won by Chile. In the 2011 championship, Argentina defeated Brazil. Italy came third. In the 2015 World Polo Championship held in Santiago, Chile, United States made it to the final but could not get past Chile who picked the cup.
| Year | City and Country |
| --- | --- |
| 1987 | Buenos Aires, Argentina |
| 1989 | Berlin, Germany |
| 1992 | Santiago, Chile |
| 1995 | Sankt Moritz, Switzerland |
| 1998 | Santa Barbara, United States |
| 2001 | Melbourne, Australia |
| 2004 | Chantilly, France |
| 2008 | Mexico City, Mexico |
| 2011 | Estancia Grande, Argentina |
| 2015 | Santiago, Chile |
Recent Posts