FIS Snowboarding World Championships: France Has Won the Most Medals
Next Story
Countries where Toyota is Popular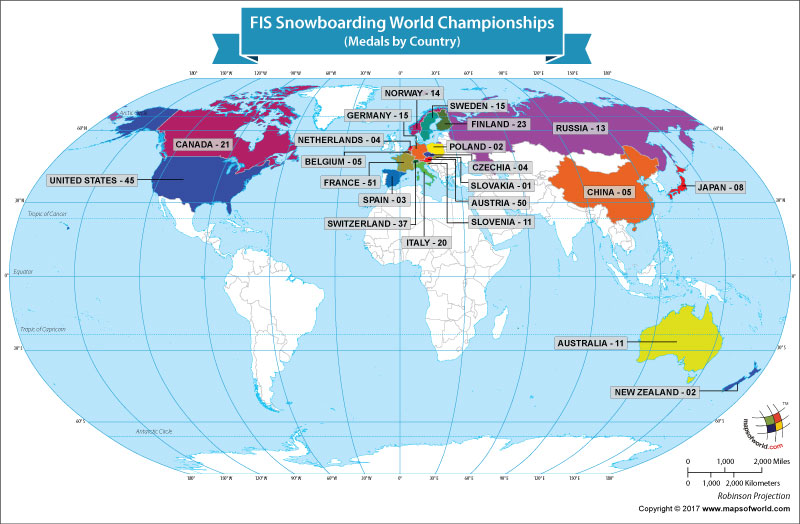 If you have a theme, we have a map.
Contact us for your custom mapping requirements
Snowboarding is one of the most exciting and popular sports that is played on snow-covered slopes. But, the game is not for the faint-hearted. The sport involves a person standing on a snowboard, which is tied to his or her feet, zipping down steep slopes covered with snow. Snowboarding is much like skiing; however, unlike the latter, snowboarding does not use any poles. Though snowboarding does come with certain risks but that does not deter the die-hard enthusiasts from indulging in the sport.
Snowboarding is a recent sport. It originated in the United States in the 1960s and by the 80s had gained quite a formidable reputation across the globe. By 1998, snowboarding was an Olympic sport. But, apart from the Olympics, a number of snowboarding tournaments are organized every year. One of the biggest snowboarding competitions is the FIS Snowboarding World Championships. The inaugural FIS Snowboarding World Championships was held in 1996 and since then is organized every odd year. It includes Half-pipe, Slopestyle, Parallel giant slalom, Parallel slalom, Big air, and Snowboard cross and is played by both genders.
The French are really good at snowboarding and have won the most medals at the FIS Snowboarding World Championships. Since 1996, France has won a total of 51 medals. Meanwhile, Austria is right behind France with 50 medals in its kitty making it the second most successful nation at the FIS Snowboarding World Championships. With 45 medals, the United States occupies the third spot.
The fourth and fifth position goes to Switzerland and Finland. While Switzerland has bagged 37 medals till date, Finland has won 23. Canada, Italy, Germany, Sweden, and Norway have made it among the top 10 most successful nations. Individually these countries have bagged 21, 20, 15, 15, and 14 medals till the last championship held in 2017.
The other nations that have won medals are Russia, Australia, Slovenia, Japan, China, Belgium, Czech Republic, the Netherlands, Spain, New Zealand, Poland and Slovakia, While Russia, has won 13 medals, Slovakia stands at the bottom of the table with just one.
The table below provides information about the number of medals won by each nation.
| Country | Total Medal |
| --- | --- |
| France | 51 |
| Austria | 50 |
| United States | 45 |
| Switzerland | 37 |
| Finland | 23 |
| Canada | 21 |
| Italy | 20 |
| Germany | 15 |
| Sweden | 15 |
| Norway | 14 |
| Russia | 13 |
| Australia | 11 |
| Slovenia | 11 |
| Japan | 8 |
| China | 5 |
| Belgium | 5 |
| Czech Republic | 4 |
| Netherlands | 4 |
| Spain | 3 |
| New Zealand | 2 |
| Poland | 2 |
| Slovakia | 1 |
Recent Posts