FIS Alpine Ski World Cup Winners (1967-2016)
Next Story
Kidney Diseases Death Rate By Country, On A World Map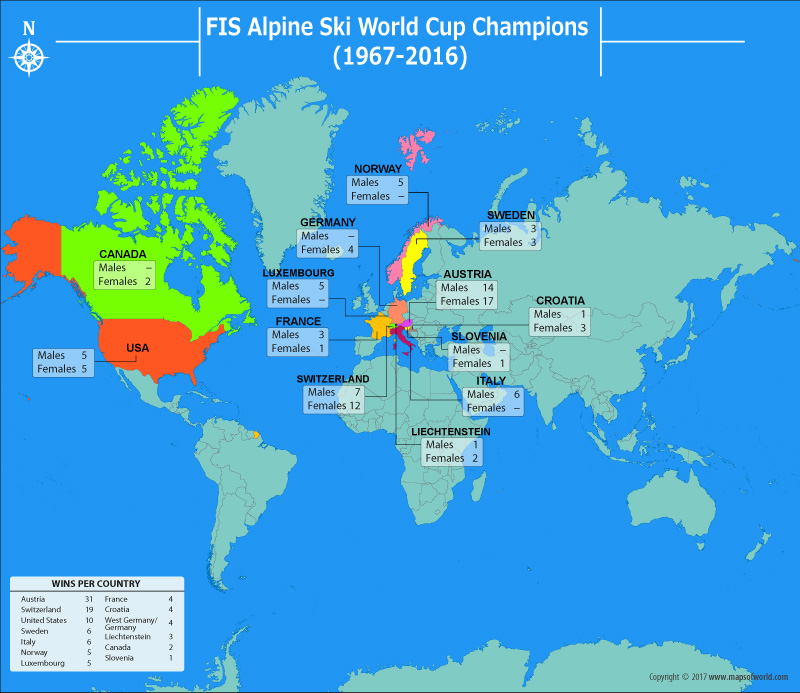 If you have a theme, we have a map.
Contact us for your custom mapping requirements
Skiing is one of the most exciting and popular sports in the world. Many people around the world indulge in the game on snow-laden mountains and many competitions are also organized throughout the year. The FIS Alpine Ski World Cup is one of the most popular tournaments. While most of the races are held at ski resorts in the Alps, a couple of them are also held in the Southern Hemisphere.
The FIS Alpine Ski World Cup was launched in 1966 by a couple of ski racing friends, but soon after getting the backing of Marc Holder (1951 – 1998) in 1966, the first president of International Ski Federation, the sport became an official FIS event. The first World Cup ski race was hosted by West Germany in Berchtesgaden and since then, it is being held annually.
From the initial tournament held in 1967, till the latest one in 2016, Austria has been the most successful team winning a total of 31 tournaments. These included both men and ladies tournaments. Of these, 14 tournaments were won by men and 17 by ladies. Switzerland comes in at the second place winning a total of 19 tournaments, of which men accounted for seven while ladies won 12.
At the third place is the United States. The nation won 10 tournaments; with men winning 5 and ladies 5. Other nations in the list of winners are Sweden, Italy, Norway, Luxembourg, France, Croatia, Germany (West Germany), Liechtenstein, Canada and Slovenia. West Germany, which reunified with East Germany to form Germany in 1990, won four tournaments.
The most recent tournament, held in 2016, was won by Austria in the men's tournament and by Switzerland in the ladies tournament.
Click here to view
Recent Posts