Davis Cup Winners (From 1991 To 2016)
Next Story
Get to Know Which Nation Has the Most Movie Screens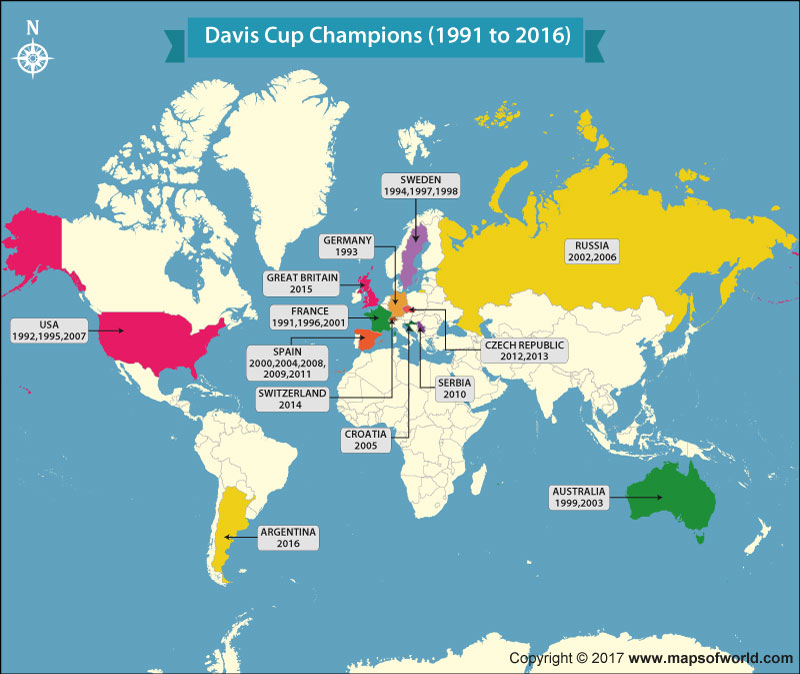 If you have a theme, we have a map.
Contact us for your custom mapping requirements
Tennis is one of the most popular sports in the world and is played by a majority of countries. Tennis tournaments are watched by billions of people the world over. Among the various tennis tournaments organized every year, Davis Cup is one of the most popular events in men's tennis. In fact, it is referred to as the World Cup of Tennis.
The history of the tournament dates back to 1900 when the first match was held between the United States and Great Britain. Over the years, its popularity grew and new countries entered the tournament. It was estimated that by 2016, 135 countries had entered the competition. The United States and Australia are the two most successful teams winning a majority of the tournaments. Till date, the United States has won 32 tournaments while Australia has won 28.
In the past 25 years (1991 to 2016), Spain has won the most tournaments. Spain has bagged the title in 2000, 2004, 2008, 2009 and 2011. The United States has won three tournaments, winning the last one in 2007, while Australia has won two tournaments in 1999 and 2003. Great Britain, one of the most successful teams overall, bagged the title in 2015 and made it to the 2016 semi-finals. France has bagged three titles – 1991, 1996 and 2001.
Argentina, which was the runner-up in the years 2006, 2008 and 2011, won the tournament for the first time in 2016. The nation beat Croatia to bag the title.
You may like
Recent Posts