Countries that Won the Fencing Championship from 1990 to 2015
Next Story
Despite Progress, Many Powerful Nations Lag Far Behind in Women Leadership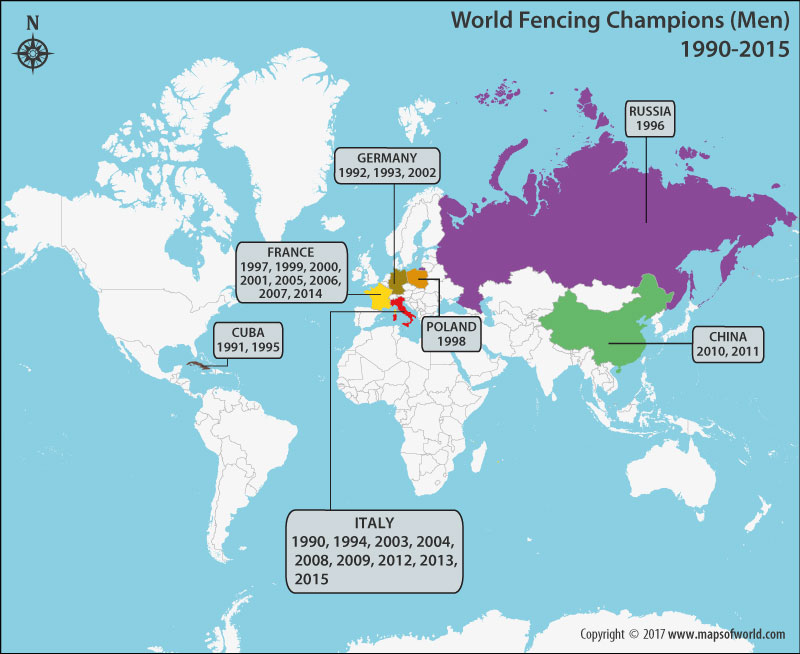 If you have a theme, we have a map.
Contact us for your custom mapping requirements
Sword was one of the most important fighting instrument during the ancient and medieval times. However, with the invention of gunpowder and the advancement of technology, sword began to lose its luster and it finally disappeared. Today, swords are no longer used in battles. But the importance of the sword is still very much there as it is used in fencing which is based on sword fighting.
The sport, which originated in the late 19th century, is highly popular around the world and witnesses two competitors fighting it out by using Rapier-style swords. The competitor tries to make contact with his/ her opponent thus winning points.
Today, the sport is an important part of the modern Olympic Games. However, apart from the Olympic Games, the other most popular Fencing Event is the World Championships in Fencing. The event dates back to 1921 when the first international fencing championship was held in Paris. Though it is a world-wide event but the majority of the championships have been won by European nations. From 1990 till 2015, the tournaments have been heavily dominated by the two European nations of Italy and France. While Italy bagged 9 championships, France managed to win 8. The other nations were Germany with three wins and Poland with one.
The Soviet Union had won a whopping 16 championships since the tournament's inception till 1991 when it was dissolved. However, its successor Russia managed to win just one championship since 1991.
There were only two non-European nations that had managed to win the tournament. These were Cuba, which won in the years 1991 and 1995, and China, which won in 2010 and 2011.
Recent Posts