BWF World Championships: China the Most Successful Team
Next Story
How Free is the Internet Around the World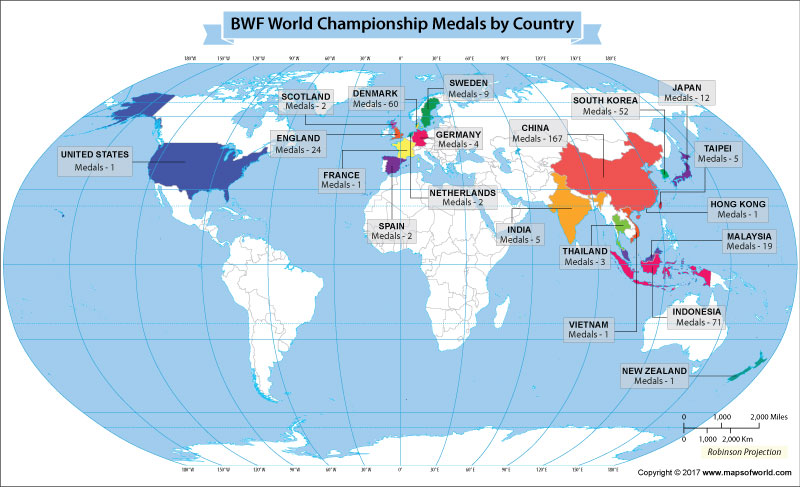 If you have a theme, we have a map.
Contact us for your custom mapping requirements
Badminton is a popular sport which is played all across the globe. A number of badminton competitions are hosted all through the year, but the BWF World Championships is one of the most prominent tournaments.
BWF World Championships, which began in 1977, is sanctioned by the Badminton World Federation. The tournament was initially held every three years but in 1983, the format got changed to biennial and it started taking place every two years. In 2006 the tournament became an annual affair.
The winners of the tournament are given gold medals and are crowned "World Champions"; however, no prize money is offered.
The first tournament was held in Malmo, Switzerland, in 1977. Till date, China has been the most successful team winning a total of 167 medals in both the men's and women's categories. Of these, 61 have been gold, 42 silver and 64 bronze.
Indonesia has been the second most successful team; however, its medal tally is less than half of that of China. Indonesia has won a total of 71 medals. This includes 21 gold, 17 silver, and 33 bronze medals.
The third spot is taken by Denmark, which until now has won a total of 60 medals. This includes 10 gold, 13 silver and 37 bronze medals.
South Korea's gold medal tally is the same as that of Denmark. Both nations have until now won 10 gold medals each, but South Korea falls one spot behind Denmark due to the total number of medals that it has bagged. Its total medal tally stands at 52; of this 13 are silver and 29 bronze medals.
England has bagged a total of 24 medals (3 gold, 9 silver and 12 bronze). Sweden and Spain have bagged two gold medals each, with a total medal tally of 9 and 2 respectively.
Japan and Thailand have won a total of 12 and 3 medals respectively. While Japan has bagged 1 gold and 11 bronze, Thailand has bagged 1 gold and 2 bronze. The United States has managed to bag just 1 gold medal.
Malaysia, Chinese Taipei, India, the Netherlands, Scotland, Hong Kong have yet to win a gold medal. Meanwhile, the four nations of Germany, France, New Zealand and Vietnam have just managed to win bronze medals.
| Nation | Gold | Silver | Bronze | Total |
| --- | --- | --- | --- | --- |
|  China | 61 | 42 | 64 | 167 |
|  Indonesia | 21 | 17 | 33 | 71 |
|  Denmark | 10 | 13 | 37 | 60 |
|  South Korea | 10 | 13 | 29 | 52 |
|  England | 3 | 9 | 12 | 24 |
|  Sweden | 2 | 2 | 5 | 9 |
|  Spain | 2 | 0 | 0 | 2 |
|  Japan | 1 | 0 | 11 | 12 |
|  Thailand | 1 | 0 | 2 | 3 |
|  United States | 1 | 0 | 0 | 1 |
|  Malaysia | 0 | 8 | 11 | 19 |
|  Chinese Taipei | 0 | 2 | 3 | 5 |
|  India | 0 | 1 | 4 | 5 |
|  Netherlands | 0 | 1 | 1 | 2 |
|  Scotland | 0 | 1 | 1 | 2 |
|  Hong Kong | 0 | 1 | 0 | 1 |
|  Germany | 0 | 0 | 4 | 4 |
|  France | 0 | 0 | 1 | 1 |
|  New Zealand | 0 | 0 | 1 | 1 |
|  Vietnam | 0 | 0 | 1 | 1 |
Recent Posts