Next Story
Winners of the World Hip Hop Dance Championships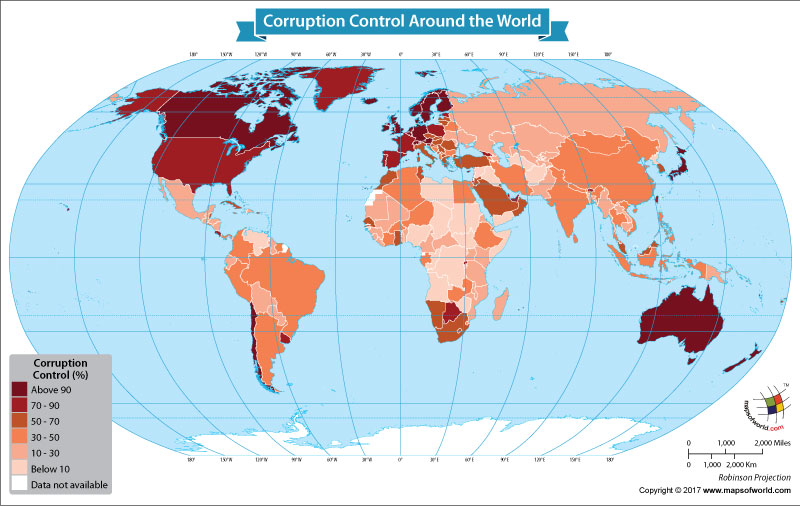 If you have a theme, we have a map.
Contact us for your custom mapping requirements
Corruption is when a person, who is in a position of authority, indulges in unethical or dishonest conduct for his or her own personal benefit. Corruption involves many unethical practices such as embezzlement or bribery. Corruption can have a damaging effect on the economy of a nation. Corruption may lead to undermining investments in important sectors such as education and health, discouraging investment into the nation, lowering productivity, lessening the confidence of the people in public institutions among others. Corruption can also lead to a slowing of the economic growth of the nation, thereby increasing poverty. Other than this, there are many other problems that the population of a country has to face due to corruption. While some nations have taken commendable steps in tackling corruption, others have lagged behind.
According to a World Bank data, corruption is almost negligible in New Zealand. According to the data, in 2014 the control of corruption in the nation stood at 100 percent. The European nation of Denmark was the second least corrupt country. Here the control of corruption was pegged at 99.52. Norway was the third least corrupt nation where 99.04 percent of corruption has been controlled. Some other nations where more than 90 percent corruption has been controlled are Switzerland, Finland, Australia, Germany, Japan, Canada, the United Kingdom and a few others.
Some of the nations where between 70 and 90 percent of the corruption had been controlled included the United States, Bhutan, France, United Arab Emirates, Qatar, Portugal, Georgia, Poland, Spain and some others. There were some countries where less than 10 percent of the corruption had been controlled. These countries are badly affected by bribery, nepotism, embezzlement etc. Some nations that fell into this category were Burundi, Chad, Haiti, Nigeria, Afghanistan, Sudan, Libya, and others.
For information of the percentage of corruption control in each nation, refer to the table below.
| Country | % of corruption control |
| --- | --- |
| New Zealand | 100.00 |
| Denmark | 99.52 |
| Norway | 99.04 |
| Switzerland | 98.56 |
| Finland | 98.08 |
| Sweden | 97.60 |
| Singapore | 97.12 |
| Luxembourg | 96.63 |
| Liechtenstein | 96.15 |
| Netherlands | 95.67 |
| Australia | 95.19 |
| Germany | 94.71 |
| Iceland | 94.23 |
| Canada | 93.75 |
| Japan | 93.27 |
| United Kingdom | 92.79 |
| Hong Kong SAR, China | 92.31 |
| Ireland | 91.83 |
| Belgium | 91.35 |
| Chile | 90.87 |
| Austria | 90.38 |
| Uruguay | 89.90 |
| United States | 89.42 |
| Bahamas, The | 88.94 |
| Bhutan | 88.46 |
| France | 87.98 |
| Estonia | 87.50 |
| American Samoa | 87.02 |
| Andorra | 87.02 |
| Anguilla | 87.02 |
| Bermuda | 87.02 |
| Guam | 87.02 |
| Martinique | 87.02 |
| United Arab Emirates | 84.13 |
| Greenland | 83.65 |
| Jersey, Channel Islands | 83.65 |
| Qatar | 82.69 |
| Cyprus | 82.21 |
| Barbados | 81.73 |
| Aruba | 81.25 |
| Cayman Islands | 81.25 |
| French Guiana | 81.25 |
| Cabo Verde | 79.81 |
| Portugal | 79.33 |
| Malta | 78.85 |
| Macao SAR, China | 78.37 |
| Micronesia, Fed. Sts. | 77.88 |
| Taiwan, China | 77.40 |
| Rwanda | 76.92 |
| Israel | 76.44 |
| Botswana | 75.96 |
| Georgia | 75.48 |
| Costa Rica | 75.00 |
| Slovenia | 74.52 |
| Antigua and Barbuda | 74.04 |
| Reunion | 74.04 |
| Virgin Islands (U.S.) | 74.04 |
| Dominica | 72.60 |
| St. Vincent and the Grenadines | 72.60 |
| Brunei Darussalam | 71.63 |
| Vanuatu | 71.15 |
| Poland | 70.67 |
| Spain | 70.19 |
| Korea, Rep. | 69.71 |
| Puerto Rico | 69.23 |
| Lithuania | 68.75 |
| Malaysia | 68.27 |
| Mauritius | 67.79 |
| St. Lucia | 67.31 |
| Seychelles | 66.83 |
| Latvia | 66.35 |
| Samoa | 65.87 |
| Czech Republic | 65.38 |
| Kiribati | 64.90 |
| Bahrain | 64.42 |
| Grenada | 63.94 |
| St. Kitts and Nevis | 63.94 |
| Oman | 62.98 |
| Namibia | 62.50 |
| Croatia | 62.02 |
| Jordan | 61.54 |
| Lesotho | 61.06 |
| Hungary | 60.58 |
| Slovak Republic | 60.10 |
| Saudi Arabia | 59.62 |
| Macedonia, FYR | 59.13 |
| Cuba | 58.65 |
| Tuvalu | 58.17 |
| Senegal | 57.69 |
| Montenegro | 57.21 |
| Fiji | 56.73 |
| Marshall Islands | 56.25 |
| Tunisia | 55.77 |
| Italy | 55.29 |
| Maldives | 54.81 |
| South Africa | 54.33 |
| Turkey | 53.85 |
| Romania | 53.37 |
| Sao Tome and Principe | 52.88 |
| Belize | 52.40 |
| Serbia | 51.92 |
| Greece | 51.44 |
| Ghana | 50.96 |
| Morocco | 50.48 |
| Kuwait | 50.00 |
| Solomon Islands | 49.52 |
| Bosnia and Herzegovina | 49.04 |
| Bulgaria | 48.56 |
| Tonga | 48.08 |
| Belarus | 47.60 |
| China | 47.12 |
| Sri Lanka | 46.63 |
| Panama | 46.15 |
| Swaziland | 45.67 |
| Nauru | 45.19 |
| Palau | 45.19 |
| Brazil | 44.23 |
| Jamaica | 43.75 |
| El Salvador | 43.27 |
| Colombia | 42.79 |
| Thailand | 42.31 |
| Cote d'Ivoire | 41.83 |
| Zambia | 41.35 |
| Ethiopia | 40.87 |
| Armenia | 40.38 |
| Philippines | 39.90 |
| Kosovo | 39.42 |
| India | 38.94 |
| Mongolia | 38.46 |
| Djibouti | 37.98 |
| Vietnam | 37.50 |
| Burkina Faso | 37.02 |
| Comoros | 36.54 |
| Nepal | 36.06 |
| Albania | 35.58 |
| West Bank and Gaza | 35.10 |
| Iran, Islamic Rep. | 34.62 |
| Indonesia | 34.13 |
| Trinidad and Tobago | 33.65 |
| Argentina | 33.17 |
| Peru | 32.69 |
| Egypt, Arab Rep. | 32.21 |
| Algeria | 31.73 |
| Suriname | 31.25 |
| Niger | 30.77 |
| Gabon | 30.29 |
| Bolivia | 29.81 |
| Timor-Leste | 29.33 |
| Gambia, The | 28.85 |
| Guatemala | 28.37 |
| Mozambique | 27.88 |
| Mali | 27.40 |
| Mexico | 26.92 |
| Guyana | 26.44 |
| Kazakhstan | 25.96 |
| Malawi | 25.48 |
| Lao PDR | 25.00 |
| Liberia | 24.52 |
| Benin | 24.04 |
| Honduras | 23.56 |
| Dominican Republic | 23.08 |
| Tanzania | 22.60 |
| Madagascar | 22.12 |
| Pakistan | 21.63 |
| Ecuador | 21.15 |
| Moldova | 20.67 |
| Eritrea | 20.19 |
| Russian Federation | 19.71 |
| Nicaragua | 19.23 |
| Bangladesh | 18.75 |
| Mauritania | 18.27 |
| Azerbaijan | 17.79 |
| Myanmar | 17.31 |
| Togo | 16.83 |
| Kenya | 16.35 |
| Sierra Leone | 15.87 |
| Papua New Guinea | 15.38 |
| Ukraine | 14.90 |
| Tajikistan | 14.42 |
| Paraguay | 13.94 |
| Lebanon | 13.46 |
| Guinea | 12.98 |
| Cambodia | 12.50 |
| Uganda | 12.02 |
| Kyrgyz Republic | 11.54 |
| Uzbekistan | 11.06 |
| Central African Republic | 10.58 |
| Cameroon | 10.10 |
| Burundi | 9.62 |
| Congo, Rep. | 9.13 |
| Turkmenistan | 8.65 |
| Chad | 8.17 |
| Haiti | 7.69 |
| Nigeria | 7.21 |
| Congo, Dem. Rep. | 6.73 |
| Afghanistan | 6.25 |
| Iraq | 5.77 |
| Korea, Dem. People's Rep. | 5.29 |
| Venezuela, RB | 4.81 |
| Zimbabwe | 4.33 |
| Sudan | 3.85 |
| Angola | 3.37 |
| Guinea-Bissau | 2.88 |
| Syrian Arab Republic | 2.40 |
| Yemen, Rep. | 1.92 |
| Libya | 1.44 |
| South Sudan | 0.96 |
| Somalia | 0.48 |
| Equatorial Guinea | 0.00 |
(Data sourced from World Bank)
Recent Posts