Top Ten US States where Immigrants Were Naturalized in 2015
Next Story
Trump pulls out of TPP Trade Pact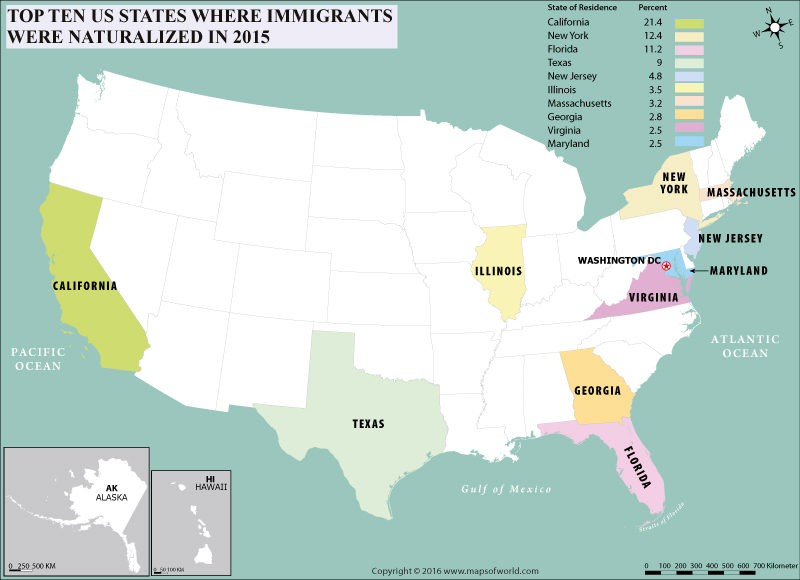 If you have a theme, we have a map.
Contact us for your custom mapping requirements
The state of California rates high on the list of immigrants who have made the United States their home. In 2015, a total of 730,259 immigrants were naturalized in the US. Of these, California accounted for the largest number at 155,979 or 21.4 percent of the naturalized population. New York, which is known for its cosmopolitan New York City, came at the second spot with 90,368 or 12.4 percent. The southeastern most state of Florida, which is famous for its nightlife was equally popular among immigrants with 81,960 or 11.2 percent naturalized in the state in 2015. Texas followed at the fourth spot with 65,467 or 9 percent and New Jersey came fifth with 34,857 immigrants or 4.8 percent. The other states that have been popular among immigrants are Illinois (25,722 or 3.5 percent), Massachusetts (23,554 or 3.2 percent), Georgia (20,794 or 2.8 percent), Virginia (18,391 or 2.5 percent), and Maryland (18,390 or 2.5 percent).
Recent Posts