Donald Trump's Wall to Keep Immigrants Out
Next Story
People from Around the World Naturalized in the US in 2015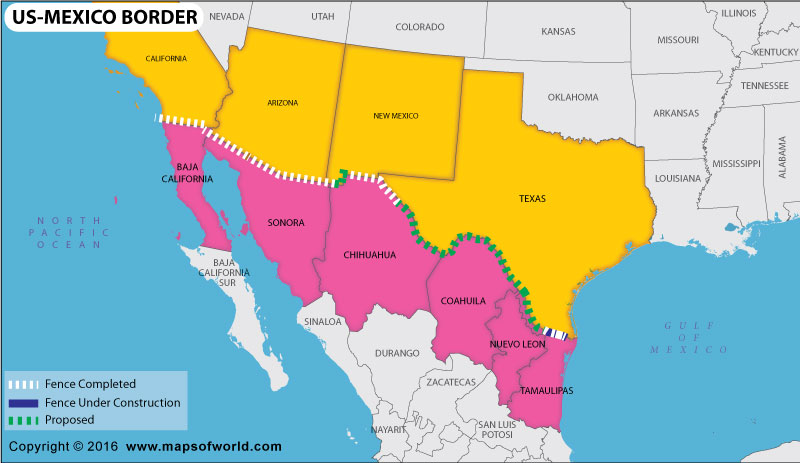 If you have a theme, we have a map.
Contact us for your custom mapping requirements
Now that Donald Trump's presidency has become a reality, it seems as if Americans would soon find the wall coming up on the US-Mexico border. The President-elect had reiterated his intention to go ahead with the wall in the third presidential debate. Trump's effort is to send back some three million undocumented immigrants, who he terms as bad people and criminals, to where they came from. The wall would further act as a deterrent for those who intend to cross over to the US from the Mexican side during Trump's presidency. However, in a recent interview, Trump revealed that the entire wall would not be made of brick and mortar, fencing would be undertaken at some parts.
The 1,954-mile long border is expected to cost a approximately $25 billion, but the US need not worry as Donald Trump believes that Mexico will pay for it. However, Mexican President Enrique Pena Nieto says his country will not have any role in its payment.
Given the current state of economy, the wall may not be a immediate reality, but the new administration may take it up as a priority. Krish Kobach, the Kansas Secretary of State, is advising President-elect Donald Trump on the matter. He said that once the new administration takes over it would push ahead rapidly with the wall. This would be without seeking immediate congressional approval, he added. Though it remains to be seen how soon would Trump's mega wall come up and how effective it would be, but it seems his deportation policy would face a bit of opposition as Speaker Paul Ryan suggested in an interview to the press that the building of wall would not be carried out.
Recent Posts