Visa Requirements for British Tourists Around the World
Next Story
Countries and Territories Where Portuguese is the Official and Co-official Language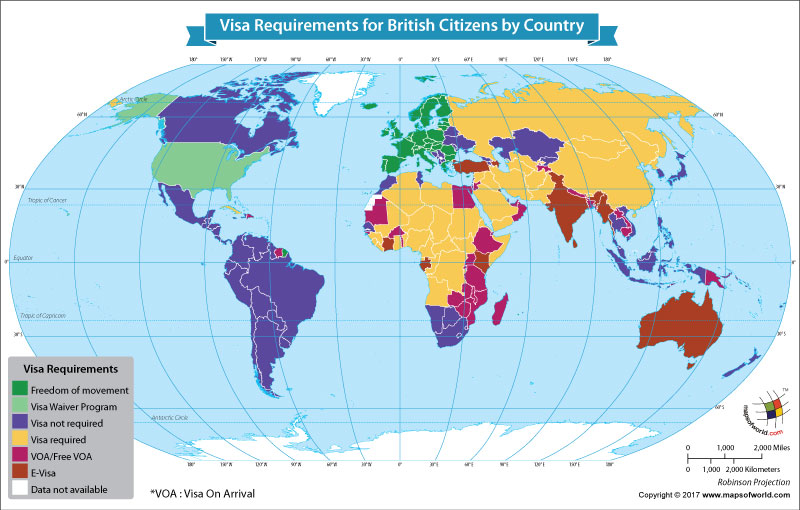 If you have a theme, we have a map.
Contact us for your custom mapping requirements
British citizens can travel to more than 100 countries around the world without a visa or with a visa on arrival, thanks to the British passport. The British passport is currently rated as one of the most powerful passports in the world and provides Britishers with a lot of convenience. The Britishers have the privilege of the freedom of movement within a large number of European nations. Many of these countries are members of the European Union.  As the United Kingdom is still part of the EU, the residents of the country can live, work, or travel to any other EU member state and vice-versa without a visa. These nations are Austria, Belgium, Bulgaria, Finland, France, Germany, Ireland, Italy, Spain, Sweden and some other nations. However, the situation might change once United Kingdom withdraws from the EU beginning in March or April 2019.
Apart from these nations, there are many other countries where British tourists can travel hassle free. In these nations, Britishers do not require a visa. Some of these nations are Argentina, Bahamas, Brazil, Canada, Colombia, Vietnam, Thailand, South Africa, Singapore, among others. A couple of countries offer Britishers the advantages of  visa-on-arrival. Nations that provide Britishers the facility of visa-on-arrival are Bahrain, Cambodia, Egypt, Ethiopia, Lebanon, Nepal, Oman, Qatar, Zimbabwe and some others. Jordan, Maldives, Tonga, United Arab Emirates, Solomon Islands, Papua New Guinea, etc, are some of the few nations that offer British tourists free visa on arrival.
The United States offers British tourists a visa waiver program. This allows Britishers to travel to the United States for business or travel purposes for up to 90 days without having to apply for a visa. India, Sri Lanka, Kenya, Myanmar, Turkey etc provide Britishers e-visa. Australia provides e-visitor visa. Meanwhile, there are quite a few countries where Britishers still need to go through the hassles of applying for a visa. Nations which require Britishers to have a visa are Bhutan, China, Russia, Saudi Arabia, Iran, Nigeria, Mongolia, Sudan etc.
The table below provides information about the visa requirement for Britishers around the world.
| COUNTRY | Visa |
| --- | --- |
| Gabon | E-Visa |
| India | E-Visa |
| Sri Lanka | Electronic Travel Authorization |
| Azerbaijan | E-Visa |
| Cote D'Ivoire | E-Visa |
| Kenya | E-Visa |
| Kuwait | E-Visa |
| Myanmar | E-Visa |
| Turkey | E-Visa |
| Australia | E-Visitor |
| Samoa | Free Entry Permit on arrival |
| Jordan | Free visa on arrival |
| Maldives | Free visa on arrival |
| Marshall Islands | Free visa on arrival |
| Palau | Free visa on arrival |
| Papua New Guinea | Free visa on arrival |
| Tonga | Free visa on arrival |
| Tuvalu | Free visa on arrival |
| United Arab Emirates | Free visa on arrival |
| Seychelles | Free Visitor's Permit on arrival |
| Solomon Islands | Free Visitor's Permit on arrival |
| Dominican Republic | Tourist Card on arrival |
| Suriname | Tourist Card on arrival |
| Bahrain | Visa on arrival |
| Bangladesh | Visa on arrival |
| Burkina Faso | Visa on arrival |
| Cambodia | Visa on arrival |
| Cape Verde | Visa on arrival |
| Comoros | Visa on arrival |
| Djibouti | Visa on arrival |
| Egypt | Visa on arrival |
| Ethiopia | Visa on arrival |
| Guinea-Bissau | Visa on arrival |
| Laos | Visa on arrival |
| Lebanon | Visa on arrival |
| Madagascar | Visa on arrival |
| Malawi | Visa on arrival |
| Mauritania | Visa on arrival |
| Mozambique | Visa on arrival |
| Nepal | Visa on arrival |
| Oman | Visa on arrival |
| Qatar | Visa on arrival |
| Rwanda | Visa on arrival |
| Tajikistan | Visa on arrival |
| Tanzania | Visa on arrival |
| Timor-Leste | Visa on arrival |
| Togo | Visa on arrival |
| Uganda | Visa on arrival |
| Zambia | Visa on arrival |
| Zimbabwe | Visa on arrival |
| Austria | Freedom of movement |
| Belgium | Freedom of movement |
| Bulgaria | Freedom of movement |
| Croatia | Freedom of movement |
| Cyprus | Freedom of movement |
| Czech Republic | Freedom of movement |
| Denmark | Freedom of movement |
| Estonia | Freedom of movement |
| Finland | Freedom of movement |
| France | Freedom of movement |
| Germany | Freedom of movement |
| Greece | Freedom of movement |
| Hungary | Freedom of movement |
| Iceland | Freedom of movement |
| Ireland | Freedom of movement |
| Italy | Freedom of movement |
| Latvia | Freedom of movement |
| Liechtenstein | Freedom of movement |
| Lithuania | Freedom of movement |
| Luxembourg | Freedom of movement |
| Malta | Freedom of movement |
| Netherlands | Freedom of movement |
| Norway | Freedom of movement |
| Poland | Freedom of movement |
| Portugal | Freedom of movement |
| Romania | Freedom of movement |
| Slovakia | Freedom of movement |
| Slovenia | Freedom of movement |
| Spain | Freedom of movement |
| Sweden | Freedom of movement |
| Switzerland | Freedom of movement |
| Albania | Visa not required |
| Andorra | Visa not required |
| Antigua | Visa not required |
| Argentina | Visa not required |
| Armenia | Visa not required |
| Bahamas | Visa not required |
| Barbados | Visa not required |
| Barbuda | Visa not required |
| Belarus | Visa not required |
| Belize | Visa not required |
| Bolivia | Visa not required |
| Bosnia and Herzegovina | Visa not required |
| Botswana | Visa not required |
| Brazil | Visa not required |
| Brunei | Visa not required |
| Canada | Visa not required |
| Chile | Visa not required |
| Colombia | Visa not required |
| Costa Rica | Visa not required |
| Dominica | Visa not required |
| Ecuador | Visa not required |
| El Salvador | Visa not required |
| Federated States of Micronesia | Visa not required |
| Fiji | Visa not required |
| Gambia, The | Visa not required |
| Georgia | Visa not required |
| Grenada | Visa not required |
| Guatemala | Visa not required |
| Guyana | Visa not required |
| Haiti | Visa not required |
| Honduras | Visa not required |
| Indonesia | Visa not required |
| Israel | Visa not required |
| Jamaica | Visa not required |
| Japan | Visa not required |
| Kazakhstan | Visa not required |
| Kiribati | Visa not required |
| Korea, South | Visa not required |
| Kyrgyzstan | Visa not required |
| Lesotho | Visa not required |
| Macedonia | Visa not required |
| Malaysia | Visa not required |
| Mauritius | Visa not required |
| Mexico | Visa not required |
| Moldova | Visa not required |
| Monaco | Visa not required |
| Montenegro | Visa not required |
| Morocco | Visa not required |
| Namibia | Visa not required |
| New Zealand | Visa not required |
| Nicaragua | Visa not required |
| Panama | Visa not required |
| Paraguay | Visa not required |
| Peru | Visa not required |
| Philippines | Visa not required |
| Saint Kitts and Nevis | Visa not required |
| Saint Lucia | Visa not required |
| Saint Vincent and the Grenadines | Visa not required |
| San Marino | Visa not required |
| Sao Tome and Principe | Visa not required |
| Senegal | Visa not required |
| Serbia | Visa not required |
| Singapore | Visa not required |
| South Africa | Visa not required |
| Swaziland | Visa not required |
| Thailand | Visa not required |
| Trinidad and Tobago | Visa not required |
| Tunisia | Visa not required |
| Ukraine | Visa not required |
| Uruguay | Visa not required |
| Vanuatu | Visa not required |
| Vatican (Holy Sea) | Visa not required |
| Venezuela | Visa not required |
| Vietnam | Visa not required |
| Cuba | Tourist Card required |
| Afghanistan | Visa required |
| Algeria | Visa required |
| Angola | Visa required |
| Benin | Visa required |
| Bhutan | Visa required |
| Burundi | Visa required |
| Cameroon | Visa required |
| Central African Republic | Visa required |
| Chad | Visa required |
| China | Visa required |
| Democratic Republic of the Congo | Visa required |
| Equatorial Guinea | Visa required |
| Eritrea | Visa required |
| Ghana | Visa required |
| Guinea | Visa required |
| Iran | Visa required |
| Iraq | Visa required |
| Korea, North | Visa required |
| Liberia | Visa required |
| Libya | Visa required |
| Mali | Visa required |
| Mongolia | Visa required |
| Nauru | Visa required |
| Niger | Visa required |
| Nigeria | Visa required |
| Pakistan | Visa required |
| Republic of the Congo | Visa required |
| Russia | Visa required |
| Saudi Arabia | Visa required |
| Sierra Leone | Visa required |
| Somalia | Visa required |
| South Sudan | Visa required |
| Sudan | Visa required |
| Syria | Visa required |
| Turkmenistan | Visa required |
| Uzbekistan | Visa required |
| Yemen | Visa required |
| United States of America | Visa Waiver Program |
Recent Posts