US cities with most pedestrian commuters
Next Story
Countries where Public Executions are still held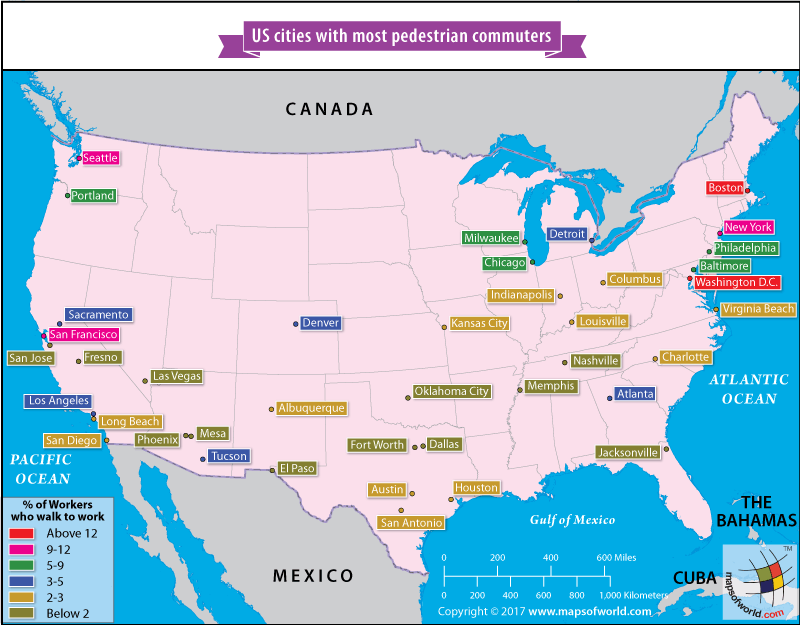 If you have a theme, we have a map.
Contact us for your custom mapping requirements
Walking is increasingly becoming a very important part of national conversation regarding global transportation globally, and especially in the United States. The American Census Bureau conducts the American Community Survey (ACS Survey), which is one of the most expansive sources of information on commuting and biking in the country. Their latest survey shows data for the period from 2008 to 2010.
Among the largest cities in the US, Boston emerged at the top, with the largest number of pedestrian commuters. Out of 317,930 workers, 15% walked to work. Washington, DC, came in second place, with 12.1 % of its 306,336 workers walking to work. Next was New York City, with 10.3% of 3,685,786 people walking to work, between 2008 and 2010. Other prominent cities were San Francisco, which had 9.9 percent walkers out of 439,726 working population, Philadelphia, with 8.6% walkers from a total of 601,331 working population, Baltimore registering 6.5% walkers from its 265,053 workers, and Chicago with 6.4% walkers from a working population of 1,213,901.
An investigation of this data for several years shows that a historical decline in the number of pedestrian commuters has ended, and the numbers have stabilized. In fact, in the last decade, there has been a increase in the number of people taking to walking, instead of using other modes of transportation. This has much to do with proximity of home to employment. The survey finds that college towns, and military bases, where students and young people live on campus, or very close to their universities or work, and often walk. Similarly, military employees are housed very close to their place of work. In the ACS Report, the college towns that recorded the highest rates of walking included Ithaca, NY, and Athens, OH where about 42.0% and 37.0% of workers walked to work, respectively. This was followed by State College, PA, and North Chicago, IL, at 42.4% and 36.8% respectively.
The report revealed the highest rates of walking were found in the Northeast at 4.7%, of workers while the West had highest biking rates. On the other hand, the South registered the lowest rates for both walking and biking. Further, 4.3% of workers living in principal cities, walked to work in comparison to 2.4% of them living in suburbs. The age group registering the highest walking rates was between 6 to 24 years, accounting for 6.8% of the population.
Below is a table showing the rates of walking to work for the America's 40 largest cities by the ACS, between 2008 and 2010.
| City | Population | % of workers who walk to work |
| --- | --- | --- |
| Boston, MA | 317,930 | 15.1 |
| Washington, DC | 306,336 | 12.1 |
| New York, NY | 3,685,786 | 10.3 |
| San Francisco, CA | 439,726 | 9.9 |
| Seattle, WA | 350,673 | 9.1 |
| Philadelphia, PA | 601,331 | 8.6 |
| Baltimore, MD | 265,053 | 6.5 |
| Chicago, IL | 1,213,901 | 6.4 |
| Portland, OR | 298,389 | 5.7 |
| Milwaukee, WI | 253,783 | 5 |
| Atlanta, GA | 198,677 | 4.7 |
| Denver, CO | 311,360 | 4.4 |
| Los Angeles, CA | 1,745,818 | 3.7 |
| Tucson, AZ | 225,987 | 3.6 |
| Sacramento, CA | 197,486 | 3.2 |
| Detroit, MI | 209,600 | 3.1 |
| Long Beach, CA | 207,072 | 2.8 |
| Columbus, OH | 388,186 | 2.8 |
| Austin, TX | 428,445 | 2.5 |
| Louisville, KY | 270,657 | 2.2 |
| Virginia Beach, VA | 230,566 | 2.2 |
| Houston, TX | 988,261 | 2.1 |
| Charlotte, NC | 364,855 | 2.1 |
| Kansas City, MO | 219,966 | 2.1 |
| San Antonio, TX | 598,236 | 2 |
| San Diego, CA | 635,805 | 2 |
| Indianapolis, IN | 378,820 | 2 |
| Albuquerque, NM | 257,389 | 2 |
| Las Vegas, NV | 257,665 | 1.9 |
| El Paso, TX | 267,531 | 1.9 |
| Memphis, TN | 272,054 | 1.9 |
| Nashville, TN | 299,021 | 1.9 |
| Fresno, CA | 183,813 | 1.9 |
| Phoenix, AZ | 648,328 | 1.8 |
| Dallas, TX | 557,672 | 1.8 |
| San Jose , CA | 442,728 | 1.8 |
| Oklahoma City, OK | 277,957 | 1.6 |
| Mesa, AZ | 193,281 | 1.6 |
| Jacksonville, FL | 382,986 | 1.4 |
| Fort Worth, TX | 332,892 | 1.2 |
Recent Posts