Spring Festivals Celebrated Around the World
Next Story
Time to Provide People with Safe Vehicles to Stop Road Deaths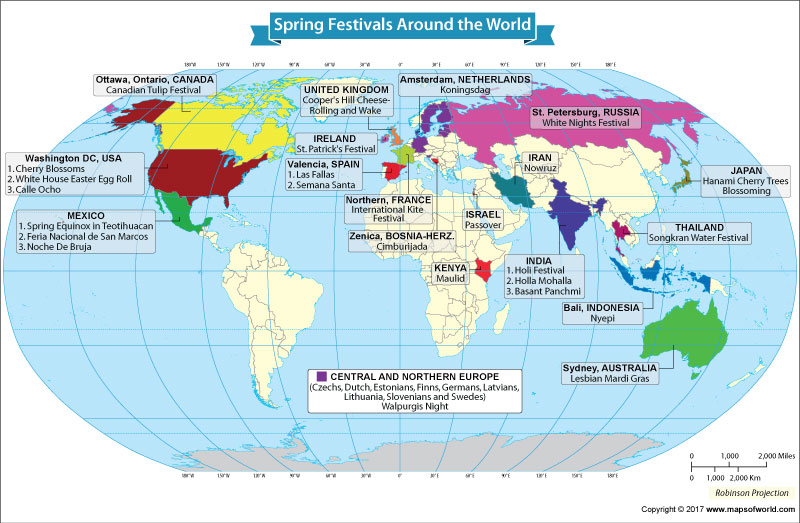 If you have a theme, we have a map.
Contact us for your custom mapping requirements
Spring is a season of joy, fun and happiness. Spring season is a refreshing break from the cold, long and dreary winters. It is the season when lovely flowers bloom, trees spring to life with new leaves and the earth seems so fresh and charming. The weather is pleasant and with the hot summers yet to set in, people make the most of it by taking vacations, organizing picnics and barbeques, and of course having a blast at the wonderful festivals that mark the season.
Spring festivals are celebrated with much gaiety across the year. Some of these festivals date back to many centuries while others may be new. The White House Easter Egg Roll is an interesting race which is held on the lawns of the White House. Another festival celebrated in the United States is the National Cherry Blossom Festival.
The Canadian Tulip Festival, which is held in Ottawa, Ontario, is a prime attraction drawing hundreds of thousands of tourists from around the world. There are over a million tulips on display at the festival, which is considered to be the largest tulip festival in the world.
Feria Nacional de San Marcos is a national fair that is organized in the Mexican state of Aguascalientes. Though a number of activities are organized at the fair but the two most popular ones are cock fighting and bull fighting. Another popular Spring festival celebrated in Mexico is the Spring equinox in Teotihuacán which is held sometime on March 20 or 21. The Noche De Bruja or the Night of the Witches is marked by spectacular events and ceremonies and is held in the Mexican city of Catemaco.
Head over to the United Kingdom this Spring and take part in the Cooper's Hill Cheese-Rolling and Wake which is held near Glouchester. The game involves rolling down a 9lb round of Double Gloucester cheese from the top of a hill. The participants have to run down the hill after the cheese. Whoever reaches the crossing line gets the cheese. St Patrick's Day, which is observed in Ireland involves parades, celebrations and wearing green attire.
India is a land of many cultures and festivals. Holi is celebrated in March and is one of the most prominent festivals in the country. Holi, which is also known as the Festival of Colors, witnesses people throwing color and water balloons on one another. Basant Panchmi is another popular Spring festival celebrated in India. On the day, people wear yellow clothes and eat yellow rice. People also fly kites on the day.
Some other prominent Spring festivals are Songkran Water Festival in Thailand, Las Fallas in Spain, Lesbian Mardi Gras in Sydney, Australia, and Nowruz in Iran to name a few.
Recent Posts