The Percentage of Widows Around the World
Next Story
Top 20 Nations with the Most Medals at the World Wrestling Championships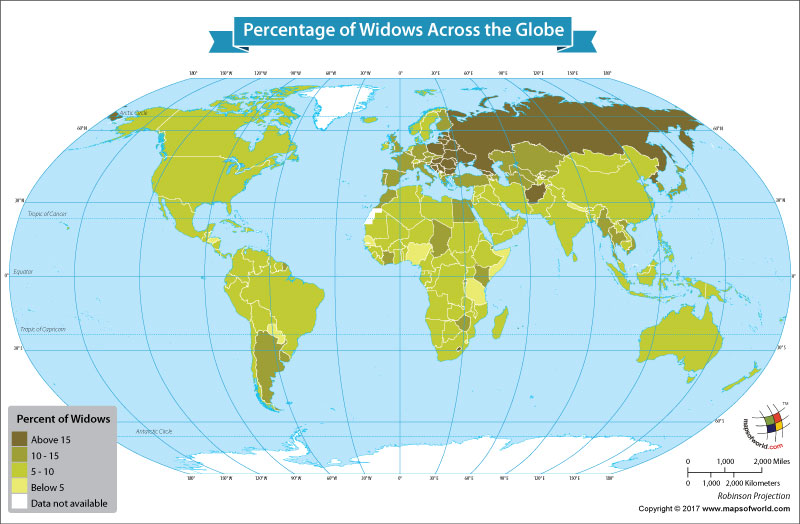 If you have a theme, we have a map.
Contact us for your custom mapping requirements
The world recently celebrated the International Widows Day. The day provides an opportunity for action towards achieving recognition as well as the full rights for widows around the world. In fact, the situation of widows is not very good in some nations. Apart from dealing with the trauma of the death of their husbands, widows in some nations have to face issues such as denial of land as well as inheritance rights, eviction from homes, etc. In fact, in some nations widowhood is stigmatized. However, the situation is not the same in every nation. In some nations widows enjoy a much better life. However, governments around the world are making concerted efforts to improve the quality of life of widows.
According to a report by the Loomba Foundation, in the year 2015, Afghanistan had the highest percentage of widows of marital age. According to the report, the percentage of widows in the country stood at 21.3. Coming at the second spot was Ukraine. Here the percentage of widows of marital age stood at 19.2 during the year, while in Belarus, which was at the third spot, the percentage was 18.4. Some other nations where the percentage of widows of marital age was above 15 percent included Lesotho, Bulgaria, Hungary, Russia, Poland, North Korea, etc.
Meanwhile nations where between 10 to 15 percent of widows were of marital age were Greece, Italy, Armenia, Japan, Germany, Zimbabwe, Kazakhstan, France, Kenya, Myanmar, Egypt, and some others. However, in nations such as the United States, Canada, India, Iran, Australia, New Zealand, Israel, Mozambique, Singapore, the percentage of widows was between 5 and 10 percent.
Countries such as Swaziland, Somalia, Nigeria, Maldives, Nepal, Belize, and some others reported a low percentage of widows of marital age. In these nations the percentage was less than 5.
(Data sourced from Loomba Foundation)
Recent Posts