A Peek Into the Visa Requirements for Canadians by Country
Next Story
China has the Most Public Libraries in the World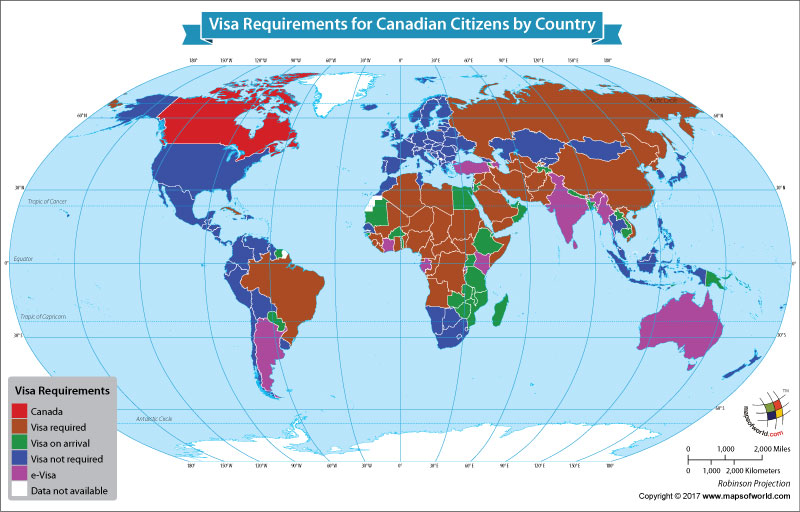 If you have a theme, we have a map.
Contact us for your custom mapping requirements
Canadians love to travel and explore the world and the Canadian passport makes it much easier for them to visit all the four corners of the globe. Thanks to the Canadian passport, which is one of the most powerful in the world, more than 100 countries across the globe offer visa-free entry to Canadians. And many of these nations are some of the top rated tourist spots in the world. However, there are quite a number of nations which require Canadians to have a visa to enter the nation. A couple of nations grant visa on arrival while some require an e-visa.
Some popular destinations where visas are not required are France and its territories, Germany, Greece, Belgium, the United States, South Africa, Spain, Bahamas, New Zealand, Morocco, Iceland, Japan etc. Apart from these, there are many other amazing nations where travel for Canadians is absolutely visa-free.
There are a couple of nations that do not allow Canadians a visa-free entry but do make their travel much more pleasurable and convenient by offering them visa on arrival. Some of these nations are Ethiopia, Egypt, Zimbabwe, the United Arab Emirates, Oman, Nepal, Lebanon, Laos, Qatar, Cambodia, and some others. In these countries, Canadian travelers can obtain their visa upon landing at the destination.
There are a few nations that offer Canadians e-visas. These are official documents which the immigration department of the concerned country issues online to allow the traveler to either enter or leave the nation. Some nations that fall in this category are Turkey, Bahrain, Azerbaijan, Myanmar, Kuwait, Kenya, India, and a few others.
However, there are still some nations where traveling for Canadians is a bit cumbersome as here they are required to go through the process of applying for a visa. Some nations which require visas are China, Brazil, Bhutan, Saudi Arabia, Russia, North Korea, Cuba, Uzbekistan, Vietnam, Ghana, and many other nations.
The table below will inform the readers, especially Canadians, about the visa requirements of each nation.
| Country | Visa requirements |
| --- | --- |
| Angola | Visa required |
| Guinea | Visa required |
| Ghana | Visa required |
| Eritrea | Visa required |
| Equatorial Guinea | Visa required |
| Algeria | Visa required |
| Democratic Republic of the Congo | Visa required |
| Republic of the Congo | Visa required |
| China | Visa required |
| Chad | Visa required |
| Central African Republic | Visa required |
| Cameroon | Visa required |
| Burundi | Visa required |
| Afghanistan | Visa required |
| Brazil | Visa required |
| Bhutan | Visa required |
| Benin | Visa required |
| Yemen | Visa required |
| Vietnam | Visa required |
| Uzbekistan | Visa required |
| Turkmenistan | Visa required |
| Syria | Visa required |
| Sudan | Visa required |
| South Sudan | Visa required |
| Somalia | Visa required |
| Sierra Leone | Visa required |
| Saudi Arabia | Visa required |
| Russia | Visa required |
| Pakistan | Visa required |
| Nigeria | Visa required |
| Niger | Visa required |
| Nauru | Visa required |
| Mali | Visa required |
| Libya | Visa required |
| Liberia | Visa required |
| North Korea | Visa required |
| Iraq | Visa required |
| Iran | Visa required |
| Cuba | Tourist Card required |
| Guinea-Bissau | Visa on arrival |
| Ethiopia | Visa on arrival |
| Egypt | Visa on arrival |
| Djibouti | Visa on arrival |
| Comoros | Visa on arrival |
| Cape Verde | Visa on arrival |
| Cambodia | Visa on arrival |
| Burkina Faso | Visa on arrival |
| Zimbabwe | Visa on arrival |
| Zambia | Visa on arrival |
| Bangladesh | Visa on arrival |
| United Arab Emirates | Visa on arrival |
| Uganda | Visa on arrival |
| Tuvalu | Visa on arrival |
| Tonga | Visa on arrival |
| Togo | Visa on arrival |
| Timor-Leste | Visa on arrival |
| Tanzania | Visa on arrival |
| Tajikistan | Visa on arrival |
| Qatar | Visa on arrival |
| Paraguay | Visa on arrival |
| Papua New Guinea | Visa on arrival |
| Palau | Visa on arrival |
| Oman | Visa on arrival |
| Nepal | Visa on arrival |
| Mozambique | Visa on arrival |
| Armenia | Visa on arrival |
| Mauritania | Visa on arrival |
| Marshall Islands | Visa on arrival |
| Maldives | Visa on arrival |
| Malawi | Visa on arrival |
| Madagascar | Visa on arrival |
| Lebanon | Visa on arrival |
| Laos | Visa on arrival |
| Jordan | Visa on arrival |
| Solomon Islands | Visitor's permit on arrival |
| Seychelles | Visitor's Permit on arrival |
| Suriname | Tourist Card on arrival |
| Samoa | Entry Permit on arrival |
| Honduras | Visa not required |
| Haiti | Visa not required |
| Guyana | Visa not required |
| Guatemala | Visa not required |
| Grenada | Visa not required |
| Greece | Visa not required |
| Andorra | Visa not required |
| Germany | Visa not required |
| Georgia | Visa not required |
| Gambia | Visa not required |
| France and territories | Visa not required |
| Finland | Visa not required |
| Fiji | Visa not required |
| Estonia | Visa not required |
| El Salvador | Visa not required |
| Ecuador | Visa not required |
| Dominican Republic | Visa not required |
| Dominica | Visa not required |
| Denmark and territories | Visa not required |
| Czech Republic | Visa not required |
| Cyprus | Visa not required |
| Croatia | Visa not required |
| Costa Rica | Visa not required |
| Albania | Visa not required |
| Colombia | Visa not required |
| Chile | Visa not required |
| Bulgaria | Visa not required |
| Brunei | Visa not required |
| Botswana | Visa not required |
| Bosnia and Herzegovina | Visa not required |
| Bolivia | Visa not required |
| Belize | Visa not required |
| Belgium | Visa not required |
| Belarus | Visa not required |
| Venezuela | Visa not required |
| Barbados | Visa not required |
| Vatican City | Visa not required |
| Vanuatu | Visa not required |
| Uruguay | Visa not required |
| United States | Visa not required |
| United Kingdom excluding some Overseas territories | Visa not required |
| Ukraine | Visa not required |
| Tunisia | Visa not required |
| Trinidad and Tobago | Visa not required |
| Thailand | Visa not required |
| Switzerland | Visa not required |
| Sweden | Visa not required |
| Swaziland | Visa not required |
| Bahamas | Visa not required |
| Spain | Visa not required |
| South Africa | Visa not required |
| Slovenia | Visa not required |
| Slovakia | Visa not required |
| Singapore | Visa not required |
| Serbia | Visa not required |
| Senegal | Visa not required |
| São Tomé and Príncipe | Visa not required |
| San Marino | Visa not required |
| Saint Vincent and the Grenadines | Visa not required |
| Saint Lucia | Visa not required |
| Saint Kitts and Nevis | Visa not required |
| Romania | Visa not required |
| Portugal | Visa not required |
| Poland | Visa not required |
| Philippines | Visa not required |
| Peru | Visa not required |
| Panama | Visa not required |
| Austria | Visa not required |
| Norway | Visa not required |
| Nicaragua | Visa not required |
| New Zealand | Visa not required |
| Netherlands and territories | Visa not required |
| Namibia | Visa not required |
| Morocco | Visa not required |
| Montenegro | Visa not required |
| Mongolia | Visa not required |
| Monaco | Visa not required |
| Moldova | Visa not required |
| Micronesia | Visa not required |
| Mexico | Visa not required |
| Mauritius | Visa not required |
| Malta | Visa not required |
| Malaysia | Visa not required |
| Macedonia | Visa not required |
| Luxembourg | Visa not required |
| Lithuania | Visa not required |
| Liechtenstein | Visa not required |
| Lesotho | Visa not required |
| Latvia | Visa not required |
| Kyrgyzstan | Visa not required |
| South Korea | Visa not required |
| Kiribati | Visa not required |
| Kazakhstan | Visa not required |
| Japan | Visa not required |
| Jamaica | Visa not required |
| Italy | Visa not required |
| Antigua and Barbuda | Visa not required |
| Israel | Visa not required |
| Ireland | Visa not required |
| Indonesia | Visa not required |
| Iceland | Visa not required |
| Hungary | Visa not required |
| Argentina | Online reciprocity fee |
| Côte d'Ivoire | eVisa |
| Turkey | eVisa |
| Bahrain | eVisa |
| Rwanda | eVisa |
| Azerbaijan | eVisa |
| Myanmar | eVisa |
| Kuwait | eVisa |
| Kenya | eVisa |
| Sri Lanka | Electronic Travel Authorization |
| Australia and external territories | Electronic Travel Authority |
| Gabon | e-Visa |
| India | e-Visa |
Recent Posts