Nations With the Most Threatened Fish Species
Next Story
Visa Requirements for British Tourists Around the World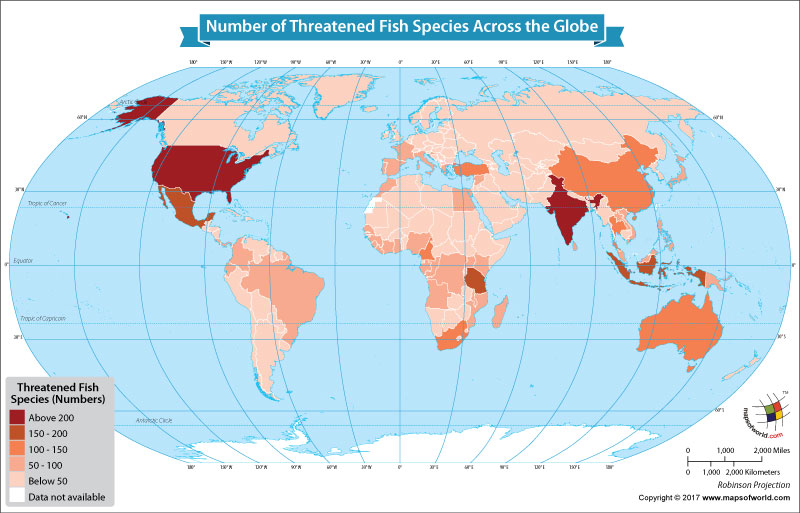 The world is full of beautiful and exotic animals. However, many of the animal species are in grave danger due to activities that are detrimental to their survival. Apart from animals, many species of fish are also today listed on the threatened species. Some factors that have led to the fish species around the world becoming threatened are climate change, loss of habitat, overfishing, water pollution, oil spills, etc. If proper steps are not taken, many fish species that are threatened may become endangered in the future. Thus tough steps for their protection are the need of the hour. Governments around the world are taking stringent steps to conserve fish but still fish is in danger. As per the World Bank, there were some more than 8,000 species of fish around the world that were threatened in the year 2016.
If you have a theme, we have a map.
Contact us for your custom mapping requirements
Among nations, the United States topped the list with an estimated 249 species of fish listed as threatened in 2016. This is the highest among all the nations on the list. Coming at the second spot was India where 222 species of the fish were reported as threatened during the year 2016. Countries where between 150 and 200 species of fish were on the threatened list included Mexico, Tanzania, and Indonesia. Nations such as China, Turkey, Cameroon, Australia, South Africa, and Thailand witnessed between 100 and 150 fish species on the threatened list.
Countries where in the year 2016 between 50 and 100 fish species were on the threatened list included Malaysia, Vietnam, Greece, Brazil, Japan, Nigeria, Portugal, Sri Lanka, Morocco, Italy, Egypt, France, and a few others. There are quite a few countries where less than 50 fish species were threatened in 2016. Some of these nations were the United Kingdom, Canada, Argentina, Russia, Saudi Arabia, New Zealand, Libya, Oman, Lebanon, Ireland, Germany, etc.
The table below depicts the number of fish species that are currently threatened in each nation.
| Country | 2016 |
| --- | --- |
| United States | 249 |
| India | 222 |
| Mexico | 179 |
| Tanzania | 176 |
| Indonesia | 158 |
| China | 133 |
| Turkey | 131 |
| Cameroon | 119 |
| Australia | 118 |
| South Africa | 107 |
| Thailand | 106 |
| Malawi | 98 |
| Colombia | 96 |
| Congo, Dem. Rep. | 93 |
| Madagascar | 93 |
| Philippines | 87 |
| Brazil | 86 |
| Malaysia | 83 |
| Vietnam | 80 |
| Greece | 80 |
| Spain | 78 |
| Japan | 77 |
| Guinea | 75 |
| Nigeria | 71 |
| Gabon | 71 |
| Kenya | 71 |
| Mozambique | 67 |
| Croatia | 64 |
| Liberia | 63 |
| Portugal | 63 |
| Costa Rica | 60 |
| Ecuador | 59 |
| Cote d'Ivoire | 57 |
| Uganda | 57 |
| Sierra Leone | 56 |
| Papua New Guinea | 56 |
| Ghana | 56 |
| Lao PDR | 55 |
| Senegal | 55 |
| Congo, Rep. | 55 |
| Sri Lanka | 54 |
| Morocco | 54 |
| Panama | 54 |
| France | 52 |
| Angola | 51 |
| Syrian Arab Republic | 51 |
| Italy | 51 |
| Egypt, Arab Rep. | 51 |
| Myanmar | 50 |
| Peru | 50 |
| Cambodia | 47 |
| United Kingdom | 47 |
| Israel | 45 |
| Albania | 44 |
| Cuba | 44 |
| Bahamas, The | 44 |
| Iran, Islamic Rep. | 43 |
| Canada | 43 |
| Mauritania | 43 |
| Belize | 43 |
| Venezuela, RB | 43 |
| Honduras | 42 |
| Equatorial Guinea | 42 |
| Pakistan | 41 |
| Algeria | 40 |
| Uruguay | 40 |
| Argentina | 39 |
| Tunisia | 39 |
| Guinea-Bissau | 39 |
| Russian Federation | 39 |
| Benin | 38 |
| Nicaragua | 37 |
| Saudi Arabia | 35 |
| Togo | 35 |
| Trinidad and Tobago | 35 |
| New Caledonia | 35 |
| Guatemala | 35 |
| Bosnia and Herzegovina | 35 |
| Cabo Verde | 34 |
| New Zealand | 34 |
| Gambia, The | 34 |
| Namibia | 33 |
| Slovenia | 33 |
| Libya | 32 |
| Yemen, Rep. | 32 |
| Cayman Islands | 32 |
| Montenegro | 32 |
| Oman | 31 |
| Guyana | 31 |
| St. Lucia | 30 |
| Suriname | 30 |
| Puerto Rico | 30 |
| Haiti | 30 |
| Jamaica | 30 |
| Antigua and Barbuda | 29 |
| St. Vincent and the Grenadines | 29 |
| Turks and Caicos Islands | 29 |
| Dominica | 29 |
| Dominican Republic | 29 |
| St. Kitts and Nevis | 29 |
| Sint Maarten (Dutch part) | 29 |
| St. Martin (French part) | 29 |
| Somalia | 29 |
| Barbados | 29 |
| Lebanon | 28 |
| British Virgin Islands | 28 |
| Curacao | 28 |
| French Polynesia | 28 |
| Grenada | 28 |
| Ireland | 27 |
| Virgin Islands (U.S.) | 27 |
| Singapore | 27 |
| Bangladesh | 27 |
| Bermuda | 26 |
| Korea, Rep. | 25 |
| Sao Tome and Principe | 25 |
| Chile | 25 |
| Micronesia, Fed. Sts. | 25 |
| Ukraine | 24 |
| Germany | 24 |
| Sudan | 24 |
| Cyprus | 24 |
| Maldives | 24 |
| Aruba | 23 |
| Norway | 23 |
| Eritrea | 23 |
| Malta | 22 |
| Solomon Islands | 22 |
| Romania | 22 |
| Bulgaria | 22 |
| Seychelles | 21 |
| Zambia | 20 |
| Mauritius | 19 |
| Palau | 19 |
| Denmark | 18 |
| Djibouti | 18 |
| Fiji | 18 |
| Gibraltar | 18 |
| Iraq | 17 |
| United Arab Emirates | 17 |
| Korea, Dem. People's Rep. | 17 |
| Vanuatu | 17 |
| Burundi | 17 |
| Iceland | 16 |
| Marshall Islands | 16 |
| Samoa | 16 |
| Jordan | 15 |
| Sweden | 15 |
| Kuwait | 15 |
| Netherlands | 15 |
| Northern Mariana Islands | 15 |
| Monaco | 15 |
| El Salvador | 15 |
| Serbia | 15 |
| Kazakhstan | 14 |
| Ethiopia | 14 |
| Tonga | 14 |
| Qatar | 13 |
| Kiribati | 13 |
| Macedonia, FYR | 13 |
| Hong Kong SAR, China | 13 |
| Guam | 13 |
| Belgium | 13 |
| American Samoa | 12 |
| Tuvalu | 12 |
| Azerbaijan | 12 |
| Faroe Islands | 12 |
| Brunei Darussalam | 12 |
| Austria | 11 |
| Nauru | 11 |
| Turkmenistan | 11 |
| Georgia | 11 |
| Bahrain | 10 |
| Comoros | 9 |
| Switzerland | 9 |
| Hungary | 9 |
| Greenland | 9 |
| Rwanda | 9 |
| Moldova | 8 |
| Poland | 8 |
| Timor-Leste | 8 |
| Bolivia | 8 |
| Nepal | 7 |
| Uzbekistan | 7 |
| Latvia | 6 |
| Finland | 6 |
| Lithuania | 6 |
| Afghanistan | 5 |
| Slovak Republic | 5 |
| Macao SAR, China | 5 |
| Tajikistan | 5 |
| Estonia | 5 |
| Niger | 4 |
| Swaziland | 4 |
| Burkina Faso | 4 |
| Armenia | 3 |
| Kyrgyz Republic | 3 |
| Central African Republic | 3 |
| Zimbabwe | 3 |
| Bhutan | 3 |
| Czech Republic | 2 |
| Isle of Man | 2 |
| Mongolia | 2 |
| Mali | 2 |
| West Bank and Gaza | 2 |
| Belarus | 2 |
| Botswana | 2 |
| Chad | 1 |
| Lesotho | 1 |
| Luxembourg | 1 |
| Andorra | 0 |
| Liechtenstein | 0 |
| San Marino | 0 |
| South Sudan | 0 |
| Paraguay | 0 |
(Data sourced form the World Bank)
Recent Posts