Measuring the Inclusive Development Index of Each Nation
Next Story
An Insight Into How Well are Nations Developing and Deploying Their Human Capital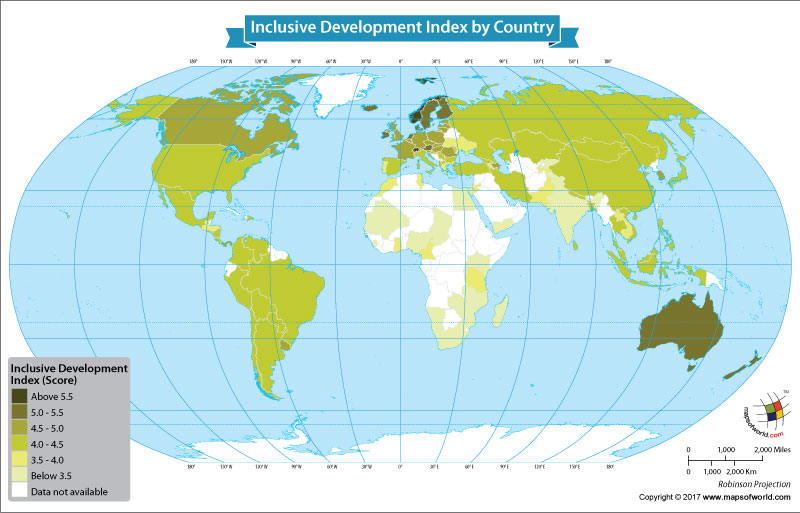 If you have a theme, we have a map.
Contact us for your custom mapping requirements
The World Economic Forum released the 2017 Inclusive Development Index during the beginning of the year. The index is based on 12 performance indicators, which form a part of three pillars – Growth and Development, Inclusion and Intergenerational Equity, and Sustainability. The countries are ranked on an IDI score which is based on a scale between 1 to 7. Rather than Gross Domestic Product growth alone, the index gives a more complete measure of the economic development.
According to the 2017 Inclusive Development Index, Norway is the best performer among both the developing and the advanced economies. The Nordic nation has ranked at the first place and has a score of 6.02. Luxembourg and Switzerland were the second and third best performers with scores of 5.86 and 5.75. Of the nine countries that had scores between 5 and 5.5, seven were European nations and included Iceland, Denmark, Sweden, the Netherlands, Austria, Finland, and Ireland. The two non-European nations were New Zealand and Australia. Germany, Canada, South Korea, Belgium, France, the United Kingdom, Uruguay, Panama, and other nations had scores between 4.5 and 5.
Among the BRICS nations, Russia was placed at the top with a score of 4.42, while South Africa was at the bottom and had a score of 3.09. Other BRICS nations, China, Brazil, and India had scores of 4.40, 4.13, and 3.38 respectively.
Nations placed at the bottom with scores of less than 3.5 included Senegal, Chad, Namibia, Kenya, Burundi, Egypt, Nigeria, Uganda, Yemen, and a few others.
For a better understanding of how each nation fares on the 2017 Inclusive Development Index, refer to the table below.
| RANK OVERALL | ECONOMY | OVERALL IDI SCORE |
| --- | --- | --- |
| 1 | Norway | 6.02 |
| 2 | Luxembourg | 5.86 |
| 3 | Switzerland | 5.75 |
| 4 | Iceland | 5.48 |
| 5 | Denmark | 5.31 |
| 6 | Sweden | 5.3 |
| 7 | Netherlands | 5.28 |
| 8 | Australia | 5.18 |
| 9 | New Zealand | 5.09 |
| 10 | Austria | 5.05 |
| 11 | Finland | 5.04 |
| 12 | Ireland | 5.01 |
| 13 | Germany | 4.99 |
| 14 | Korea, Rep. | 4.95 |
| 15 | Canada | 4.9 |
| 16 | Belgium | 4.89 |
| 17 | Slovak Republic | 4.88 |
| 18 | France | 4.83 |
| 19 | Czech Republic | 4.78 |
| 20 | Slovenia | 4.75 |
| 21 | Lithuania | 4.73 |
| 22 | Azerbaijan | 4.73 |
| 23 | United Kingdom | 4.69 |
| 24 | Hungary | 4.57 |
| 25 | Poland | 4.57 |
| 26 | Romania | 4.53 |
| 27 | Uruguay | 4.53 |
| 28 | Estonia | 4.52 |
| 29 | Latvia | 4.52 |
| 30 | Panama | 4.52 |
| 31 | Costa Rica | 4.47 |
| 32 | Chile | 4.46 |
| 33 | United States | 4.44 |
| 34 | Argentina | 4.43 |
| 35 | Thailand | 4.42 |
| 36 | Russian Federation | 4.42 |
| 37 | Peru | 4.41 |
| 38 | China | 4.4 |
| 39 | Malaysia | 4.39 |
| 40 | Kazakhstan | 4.37 |
| 41 | Bulgaria | 4.37 |
| 42 | Japan | 4.36 |
| 43 | Paraguay | 4.31 |
| 44 | Turkey | 4.3 |
| 45 | Iran, Islamic Rep. | 4.29 |
| 46 | Indonesia | 4.29 |
| 47 | Israel | 4.28 |
| 48 | Croatia | 4.28 |
| 49 | Macedonia, FYR | 4.27 |
| 50 | Vietnam | 4.25 |
| 51 | Venezuela | 4.25 |
| 52 | Spain | 4.24 |
| 53 | Nepal | 4.24 |
| 54 | Italy | 4.18 |
| 55 | Dominican Republic | 4.14 |
| 56 | Mexico | 4.13 |
| 57 | Brazil | 4.13 |
| 58 | Georgia | 4.09 |
| 59 | Nicaragua | 4.08 |
| 60 | Colombia | 4.08 |
| 61 | Moldova | 4.08 |
| 62 | Mongolia | 4.04 |
| 63 | Bangladesh | 4.03 |
| 64 | Bolivia | 4.02 |
| 65 | Albania | 4.02 |
| 66 | Sri Lanka | 4.01 |
| 67 | Philippines | 4 |
| 68 | El Salvador | 4 |
| 69 | Serbia | 4 |
| 70 | Cambodia | 3.97 |
| 71 | Portugal | 3.94 |
| 72 | Tunisia | 3.94 |
| 73 | Morocco | 3.89 |
| 74 | Guatemala | 3.83 |
| 75 | Greece | 3.68 |
| 76 | Ukraine | 3.67 |
| 77 | Honduras | 3.67 |
| 78 | Lao PDR | 3.66 |
| 79 | Armenia | 3.66 |
| 80 | Tanzania | 3.59 |
| 81 | Pakistan | 3.56 |
| 82 | Tajikistan | 3.52 |
| 83 | Jordan | 3.5 |
| 84 | Ghana | 3.5 |
| 85 | Cameroon | 3.5 |
| 86 | Kyrgyz Republic | 3.49 |
| 87 | Senegal | 3.48 |
| 88 | Mali | 3.39 |
| 89 | India | 3.38 |
| 90 | Zimbabwe | 3.37 |
| 91 | Chad | 3.31 |
| 92 | Namibia | 3.28 |
| 93 | Uganda | 3.28 |
| 94 | Kenya | 3.23 |
| 95 | Burundi | 3.22 |
| 96 | Sierra Leone | 3.21 |
| 97 | Rwanda | 3.2 |
| 98 | Lesotho | 3.12 |
| 99 | South Africa | 3.09 |
| 100 | Nigeria | 3.07 |
| 101 | Madagascar | 3.05 |
| 102 | Egypt | 2.94 |
| 103 | Mauritania | 2.89 |
| 104 | Yemen | 2.87 |
| 105 | Zambia | 2.84 |
| 106 | Malawi | 2.83 |
| 107 | Mozambique | 2.79 |
(Data sourced from the World Economic Forum)
Recent Posts