Next Story
A Glimpse Into the Environmental Performance Index of the World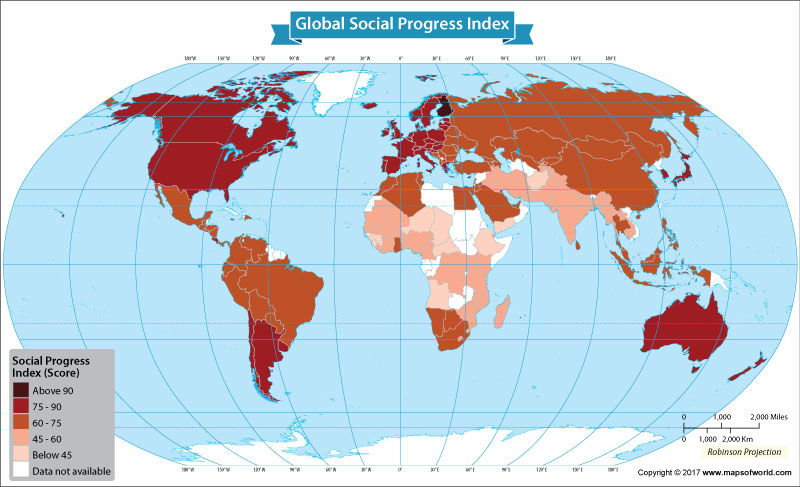 If you have a theme, we have a map.
Contact us for your custom mapping requirements
The Social Progress Index, which is published by Washington-based non-profit organization Social Progress Imperative, measures the ability of the countries to provide the social and environmental needs of their people. The well-being of the people is measured through social and environmental outcomes. The performance of the nations is judged through the areas of basic human needs, foundations of well-being and opportunity.
Basic human needs include nutrition and basic medical care, water and sanitation, shelter and personal safety. Aspects included in the foundations of well-being are access to basic knowledge, access to information and communications, health and wellness, and environmental quality. Opportunity includes personal rights, personal freedom and choice, tolerance and inclusion, and access to advanced education.
The 2016 Social Progress Index data includes a total of 133 countries, which have been ranked in social progress. As expected, the countries that have done well in the Social Progress Index are the developed countries. Finland has topped the 2016 Social Progress Index with a score of 90.09. Canada comes at the second spot with a score of 89.49 and the third place goes to Denmark which has a score of 89.39.
Other nations which have scored between 75 and 90 on the Social Progress Index are Australia, Switzerland, Sweden, United Kingdom, Japan, Germany, the United States, Poland, Greece, and many others. In fact, majority of the nations that scored between 75 and 90 were in Europe. China, Mongolia, Russia, Morocco, Indonesia, Venezuela, Lebanon, Turkey, Mexico etc were a few nations that scored between 60 and 75.
Countries that were placed at the bottom of the table were Sierra Leone, Yemen, Ethiopia, Guinea, Niger, Angola, Chad, Afghanistan, and Central African Republic. All of these countries had a score of less than 45 on the Social Progress Index.
For information of how each nation scores on the Social Progress Index, refer to the table below.
| Country | Social Progress Index (Score) |
| --- | --- |
| Finland | 90.09 |
| Canada | 89.49 |
| Denmark | 89.39 |
| Australia | 89.13 |
| Switzerland | 88.87 |
| Sweden | 88.8 |
| Norway | 88.7 |
| Netherlands | 88.65 |
| United Kingdom | 88.58 |
| New Zealand | 88.45 |
| Iceland | 88.45 |
| Ireland | 87.94 |
| Austria | 86.6 |
| Japan | 86.54 |
| Germany | 86.42 |
| Belgium | 86.19 |
| Spain | 85.88 |
| France | 84.79 |
| United States | 84.62 |
| Slovenia | 84.27 |
| Portugal | 83.88 |
| Czech Republic | 82.8 |
| Estonia | 82.62 |
| Italy | 82.49 |
| Chile | 82.12 |
| Republic of Korea | 80.92 |
| Cyprus | 80.75 |
| Uruguay | 80.12 |
| Costa Rica | 80.12 |
| Poland | 79.76 |
| Slovakia | 78.96 |
| Greece | 78.27 |
| Croatia | 77.68 |
| Lithuania | 76.94 |
| Hungary | 76.88 |
| Latvia | 76.19 |
| Israel | 75.32 |
| Argentina | 75.2 |
| United Arab Emirates | 73.69 |
| Mauritius | 73.24 |
| Panama | 73.02 |
| Romania | 72.23 |
| Bulgaria | 72.14 |
| Jamaica | 71.94 |
| Kuwait | 71.84 |
| Brazil | 71.7 |
| Serbia | 71.55 |
| Colombia | 70.84 |
| Peru | 70.09 |
| Malaysia | 70.08 |
| Mexico | 70.02 |
| Albania | 69.78 |
| Ecuador | 69.56 |
| Georgia | 69.17 |
| Montenegro | 68.17 |
| Tunisia | 68 |
| Macedonia | 67.88 |
| Turkey | 67.82 |
| South Africa | 67.6 |
| Paraguay | 67.44 |
| Thailand | 67.43 |
| Botswana | 67.03 |
| Ukraine | 66.43 |
| El Salvador | 66.36 |
| Saudi Arabia | 66.3 |
| Belarus | 66.18 |
| Armenia | 66.05 |
| Philippines | 65.92 |
| Bosnia and Herzegovina | 65.84 |
| Dominican Republic | 65.65 |
| Jordan | 65.43 |
| Bolivia | 64.73 |
| Moldova | 64.73 |
| Lebanon | 64.42 |
| Russia | 64.19 |
| Kazakhstan | 63.86 |
| Azerbaijan | 63.75 |
| Nicaragua | 63.03 |
| Kyrgyzstan | 62.91 |
| Mongolia | 62.8 |
| Venezuela | 62.6 |
| Indonesia | 62.27 |
| Sri Lanka | 62.21 |
| China | 62.1 |
| Namibia | 62.01 |
| Morocco | 61.92 |
| Guatemala | 61.68 |
| Algeria | 61.18 |
| Egypt | 60.74 |
| Honduras | 60.64 |
| Uzbekistan | 60.49 |
| Ghana | 60.37 |
| Iran | 59.45 |
| Tajikistan | 58.78 |
| Nepal | 57.4 |
| Senegal | 55.64 |
| Cambodia | 54.28 |
| India | 53.92 |
| Kenya | 53.72 |
| Malawi | 53.44 |
| Bangladesh | 52.73 |
| Laos | 52.54 |
| Lesotho | 52.39 |
| Iraq | 52.28 |
| Rwanda | 51.91 |
| Swaziland | 51.76 |
| Uganda | 50.69 |
| Benin | 50.03 |
| Tanzania | 49.99 |
| Myanmar | 49.84 |
| Congo, Republic of | 49.74 |
| Burkina Faso | 49.34 |
| Pakistan | 49.13 |
| Zimbabwe | 49.11 |
| Togo | 49.03 |
| Côte d'Ivoire | 48.97 |
| Mozambique | 47.96 |
| Cameroon | 47.22 |
| Nigeria | 46.49 |
| Djibouti | 46.3 |
| Mali | 46.24 |
| Mauritania | 46.08 |
| Madagascar | 45.91 |
| Liberia | 45.07 |
| Sierra Leone | 44.22 |
| Ethiopia | 43.5 |
| Yemen | 41.76 |
| Guinea | 41.66 |
| Niger | 41.63 |
| Angola | 39.7 |
| Chad | 36.38 |
| Afghanistan | 35.89 |
| Central African Republic | 30.03 |
(Data sourced from Social Progress Imperative)
Recent Posts