How Many Personnel Do Nations Contribute to the UN Peacekeeping Force?
Next Story
Nations Worst Hit by Internal Displacements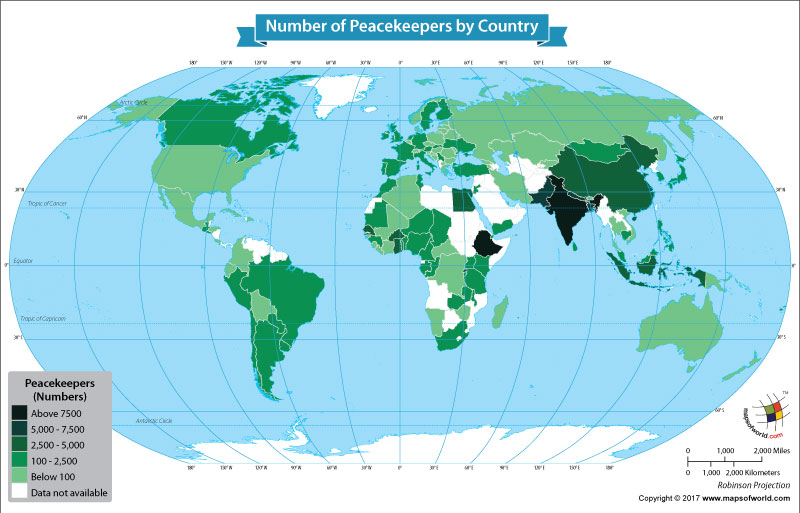 If you have a theme, we have a map.
Contact us for your custom mapping requirements
United Nations peace keeping operation is an important instrument which helps in bringing about peace in nations which have been ravaged by war or internal conflict. The Peacekeeping Operations, which comprises forces that have been contributed by the member states, help in the prevention as well as removal of threats to peace. The peacekeeping forces help nations in establishing peace by disarming opposing parties, protecting the citizens of the country and restoring law and order. However, the contribution of the nations is voluntary and the number of forces sent varies from nation to nation. It is interesting to note that the contribution of the developed countries is less than the developing nations.
According to a data by the United Nations, the African nation of Ethiopia is the largest contributor to the peacekeeping operation. As of 2017, there are 8,340 Ethiopians involved in peacekeeping missions. India and Pakistan are the second and third biggest contributors with both nations contributing 7,678 and 7,132 personnel to the UN peacekeeping force respectively. Countries such as Bangladesh, Rwanda, and Nepal have also made significant contributions. The nations have contributed 6,904, 6,149, and 5,231 peacekeepers, respectively.
Countries which had contributed between 2,500 and 5000 peacekeepers are Burkina Faso, Egypt, Senegal, Ghana, Indonesia, and China. Tanzania, Nigeria, Italy, Mongolia, Germany, Sri Lanka, the United Kingdom, Brazil, Canada, Kenya, and some other nations have contributed between 100 to 2,500 people to the UN peacekeeping operations.
Meanwhile, there are a number of nations which have made minimal contributions to the peacekeeping operation. Some of these nations which have contributed less than 100 people to the peacekeeping operations are the United States of America, Russia, Denmark, Zimbabwe, Switzerland, Australia, Colombia, Cuba, Algeria, among others. The two nations of Macedonia and Guinea-Bissau are ranked at the bottom and have contributed just one individual each to peacekeeping operations.
To get information on the number of the contribution of each country to the peacekeeping operations, refer to the table below.
| Country | Number of UN peacekeepers |
| --- | --- |
| Ethiopia | 8,340 |
| India | 7,678 |
| Pakistan | 7,132 |
| Bangladesh | 6,904 |
| Rwanda | 6,149 |
| Nepal | 5,231 |
| Burkina Faso | 2,971 |
| Egypt | 2,904 |
| Senegal | 2,840 |
| Ghana | 2,773 |
| Indonesia | 2,727 |
| China | 2,510 |
| Tanzania | 2,285 |
| Nigeria | 1,681 |
| Morocco | 1,598 |
| Chad | 1,432 |
| South Africa | 1,422 |
| Uruguay | 1,414 |
| Togo | 1,304 |
| Brazil | 1,283 |
| Niger | 1,186 |
| Cameroon | 1,144 |
| Italy | 1,086 |
| Benin | 972 |
| Malawi | 950 |
| Mongolia | 947 |
| Zambia | 946 |
| Guinea | 922 |
| Mauritania | 914 |
| Jordan | 909 |
| France | 897 |
| Malaysia | 873 |
| Cambodia | 804 |
| Burundi | 801 |
| Congo | 783 |
| Germany | 745 |
| Fiji | 652 |
| Spain | 652 |
| Republic of Korea | 621 |
| Uganda | 562 |
| Ireland | 544 |
| Sri Lanka | 504 |
| Chile | 485 |
| Argentina | 465 |
| Netherlands | 457 |
| Gabon | 432 |
| Ukraine | 425 |
| United Kingdom | 425 |
| Peru | 393 |
| Gambia | 344 |
| Serbia | 313 |
| Kenya | 274 |
| Japan | 270 |
| Sweden | 264 |
| El Salvador | 261 |
| Portugal | 244 |
| Guatemala | 240 |
| Tunisia | 233 |
| Finland | 202 |
| Austria | 201 |
| Yemen | 185 |
| Slovakia | 182 |
| Djibouti | 164 |
| Paraguay | 157 |
| Philippines | 156 |
| Turkey | 148 |
| Canada | 122 |
| Russia | 98 |
| Hungary | 93 |
| Zimbabwe | 90 |
| Romania | 88 |
| Sierra Leone | 85 |
| Liberia | 78 |
| Norway | 78 |
| United States of America | 78 |
| Honduras | 74 |
| Bolivia | 69 |
| Denmark | 63 |
| Namibia | 58 |
| Estonia | 52 |
| Greece | 51 |
| Mali | 51 |
| Bhutan | 45 |
| Bosnia and Herzegovina | 45 |
| Madagascar | 45 |
| Colombia | 43 |
| Australia | 42 |
| Czech Republic | 37 |
| Switzerland | 36 |
| Mexico | 35 |
| Armenia | 34 |
| Brunei | 30 |
| Thailand | 19 |
| Samoa | 18 |
| Slovenia | 18 |
| Croatia | 16 |
| Belgium | 15 |
| Kyrgyzstan | 15 |
| Dominican Republic | 13 |
| New Zealand | 12 |
| Cuba | 11 |
| Cote d'Ivoire | 8 |
| DR Congo | 8 |
| Moldova | 8 |
| Lithuania | 7 |
| Poland | 7 |
| Ecuador | 6 |
| Montenegro | 6 |
| Algeria | 5 |
| Belarus | 5 |
| Central African Republic | 5 |
| Solomon Islands | 5 |
| Vietnam | 5 |
| Bulgaria | 4 |
| Kazakhstan | 4 |
| Papua New Guinea | 4 |
| Costa Rica | 3 |
| Iran | 3 |
| Latvia | 3 |
| Qatar | 3 |
| Cyprus | 2 |
| Georgia | 2 |
| Guinea-Bissau | 1 |
| The FYR of Macedonia | 1 |
(Data sourced from the United Nations)
Recent Posts