The Least Expensive Cities in the World
Next Story
Countries where Arabic is an Official, Co-official, and Minority Language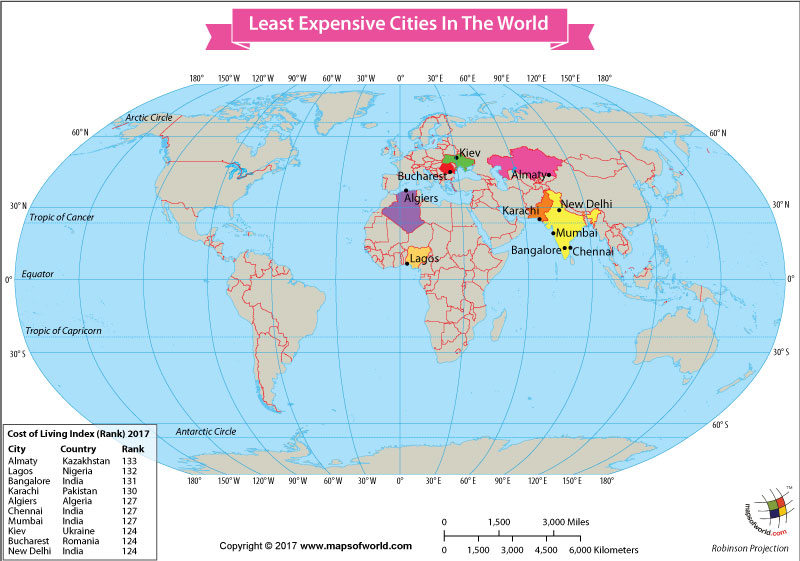 If you have a theme, we have a map.
Contact us for your custom mapping requirements
The Economist Intelligence Unit recently released the cost of living survey which compares the prices of 160 goods and services in 133 nations across the globe. On this basis, it ranks the world's most expensive and least expensive cities to live in. Of the 133 countries surveyed, four of the least expensive cities are located in India.
According to the survey, the least expensive city in the world is Almaty, the largest city in Kazakhstan. The city, which has been ranked 133, is a pocket-friendly destination, and a great place to spend a vacation with your family. Following Almaty closely is the Nigerian city of Lagos. The city ranked 132 in the cost of living survey.
Bengaluru, India's Silicon Valley, is the third least expensive city in the world. Ranked at the 131st position, Bengaluru is a cosmopolitan city, comprises friendly people, and offers great value for money. Ranked 130, the Pakistani city of Karachi is the fourth least expensive city in the world. The premier industrial and financial center of Pakistan, Karachi has dropped three places in the 2017 survey. Last year it was placed at the 127th rank.
Of the 133 countries, Algiers, the capital of Algeria, and the Indian cities of Mumbai and Chennai have ranked at the 127th spot. New Delhi, India, which is ranked 124 out of the 133 countries surveyed, is the fourth Indian city to make it among the top ten least expensive cities of the world. Comprising splendid hotels, architectural wonders and mouth-watering cuisine, New Delhi is a fascinating place to spend a vacation. The other two cities occupying the 124th rank are the Ukrainian capital of Kiev, and Bucharest, the Romanian capital. While Bucharest is home to many amazing museums, historic buildings and the cafe culture, Kiev, the birthplace of Eastern Slavic civilization, comprises fabulous cathedrals.
(Data sourced from Economist Intelligence Unit)
Recent Posts