An Insight Into How Well are Nations Developing and Deploying Their Human Capital
Next Story
Exploring the 2017 Energy Architecture Performance Index Rankings of Nations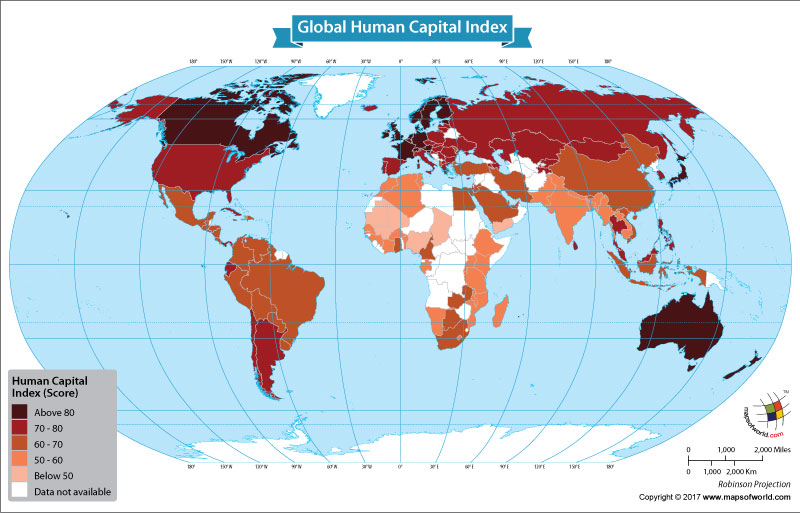 If you have a theme, we have a map.
Contact us for your custom mapping requirements
Human capital plays a very significant role in a nation's economic development. Apart from the productivity of the society, human capital is also very important for the working of a country's social, political as well as the civic institutions. To measure the ability of each nation to develop, nurture and deploy talent that would lead to its economic growth, the World Economic Forum releases the Human Capital Index. The 2016 Human Capital Index has ranked 130 countries around the world on the basis of how effective they are in developing as well as deploying their human capital. The index has assessed the learning and employment outcomes on a scale which ranges from 0 to 100. while 0 is the worst, 100 is the best. Further, to take into account a nation's full demographic profile, five age groups have been assessed. These are 0 to 14, 15 to 24, 25 to 54, 55 to 64, and over 65.
The European nation of Finland is the best country in the world in terms of leveraging as well as maximizing the potential of its human capital. According to the 2016 Human Capital Index, Finland occupied the first rank with a score of 85.86. Norway was the second best nation with a score of 84.64, while Switzerland was placed third scoring 84.61. Other countries that had score of more than 80 were Japan, Sweden, New Zealand, Germany, the United Kingdom, France, Australia, and many others.
Meanwhile, the United States, Malaysia, Greece, Bahrain, South Korea and many others were ranked between 70 and 80. Of the BRICS nations, Russia was the best performer with a score of 77.86. India, which is an emerging economy, did not fare well among BRICS nations and had a score of just 57.73.
Nations which were placed at the bottom and had scores of less than 50 were Mali, Nigeria, Chad, Yemen, and Mauritania.
The table provides information on how each country scores on the Human Capital Index.
| Rank | Country | Score |
| --- | --- | --- |
| 1 | Finland | 85.86 |
| 2 | Norway | 84.64 |
| 3 | Switzerland | 84.61 |
| 4 | Japan | 83.44 |
| 5 | Sweden | 83.29 |
| 6 | New Zealand | 82.79 |
| 7 | Denmark | 82.47 |
| 8 | Netherlands | 82.18 |
| 9 | Canada | 81.95 |
| 10 | Belgium | 81.59 |
| 11 | Germany | 81.55 |
| 12 | Austria | 81.52 |
| 13 | Singapore | 80.94 |
| 14 | Ireland | 80.79 |
| 15 | Estonia | 80.63 |
| 16 | Slovenia | 80.33 |
| 17 | France | 80.32 |
| 18 | Australia | 80.08 |
| 19 | United Kingdom | 80.04 |
| 20 | Iceland | 79.74 |
| 21 | Lithuania | 79.34 |
| 22 | Luxembourg | 79.28 |
| 23 | Israel | 78.99 |
| 24 | United States | 78.86 |
| 25 | Czech Republic | 78.45 |
| 26 | Ukraine | 78.42 |
| 27 | Latvia | 78.13 |
| 28 | Russian Federation | 77.86 |
| 29 | Kazakhstan | 77.57 |
| 30 | Poland | 77.34 |
| 31 | Cyprus | 76.97 |
| 32 | Korea, Rep. | 76.89 |
| 33 | Hungary | 76.36 |
| 34 | Italy | 75.85 |
| 35 | Malta | 75.66 |
| 36 | Cuba | 75.55 |
| 37 | Armenia | 75.39 |
| 38 | Romania | 74.99 |
| 39 | Croatia | 74.99 |
| 40 | Slovak Republic | 74.94 |
| 41 | Portugal | 74.39 |
| 42 | Malaysia | 74.26 |
| 43 | Bulgaria | 73.66 |
| 44 | Greece | 73.64 |
| 45 | Spain | 72.79 |
| 46 | Bahrain | 72.69 |
| 47 | Kyrgyz Republic | 72.35 |
| 48 | Thailand | 71.86 |
| 49 | Philippines | 71.75 |
| 50 | Sri Lanka | 71.69 |
| 51 | Chile | 71.45 |
| 52 | Panama | 71.18 |
| 53 | Ecuador | 70.84 |
| 54 | Azerbaijan | 70.72 |
| 55 | Mongolia | 70.71 |
| 56 | Argentina | 70.70 |
| 57 | Serbia | 70.54 |
| 58 | Tajikistan | 70.53 |
| 59 | Macedonia, FYR | 70.01 |
| 60 | Uruguay | 69.96 |
| 61 | Barbados | 69.78 |
| 62 | Costa Rica | 69.72 |
| 63 | Moldova | 69.67 |
| 64 | Colombia | 69.58 |
| 65 | Mexico | 69.25 |
| 66 | Qatar | 68.64 |
| 67 | Jamaica | 68.62 |
| 68 | Vietnam | 68.39 |
| 69 | United Arab Emirates | 68.25 |
| 70 | Albania | 68.23 |
| 71 | China | 67.81 |
| 72 | Indonesia | 67.61 |
| 73 | Turkey | 67.57 |
| 74 | Trinidad and Tobago | 67.04 |
| 75 | Guyana | 66.67 |
| 76 | Mauritius | 66.53 |
| 77 | Bolivia | 66.47 |
| 78 | El Salvador | 66.31 |
| 79 | Peru | 66.31 |
| 80 | Dominican Republic | 65.88 |
| 81 | Jordan | 64.70 |
| 82 | Paraguay | 64.62 |
| 83 | Brazil | 64.51 |
| 84 | Ghana | 64.26 |
| 85 | Iran, Islamic Rep. | 64.16 |
| 86 | Egypt | 63.72 |
| 87 | Saudi Arabia | 63.69 |
| 88 | South Africa | 62.97 |
| 89 | Venezuela | 62.94 |
| 90 | Zambia | 62.06 |
| 91 | Bhutan | 61.83 |
| 92 | Cameroon | 61.64 |
| 93 | Honduras | 61.60 |
| 94 | Guatemala | 61.07 |
| 95 | Nicaragua | 60.60 |
| 96 | Botswana | 60.50 |
| 97 | Kuwait | 60.27 |
| 98 | Morocco | 59.65 |
| 99 | Uganda | 59.28 |
| 100 | Cambodia | 58.88 |
| 101 | Tunisia | 58.24 |
| 102 | Kenya | 57.90 |
| 103 | Namibia | 57.90 |
| 104 | Bangladesh | 57.84 |
| 105 | India | 57.73 |
| 106 | Lao PDR | 57.66 |
| 107 | Gabon | 57.48 |
| 108 | Nepal | 57.35 |
| 109 | Myanmar | 56.52 |
| 110 | Rwanda | 56.27 |
| 111 | Haiti | 56.24 |
| 112 | Madagascar | 56.17 |
| 113 | Benin | 55.38 |
| 114 | Malawi | 54.64 |
| 115 | Mozambique | 53.64 |
| 116 | Tanzania | 53.56 |
| 117 | Algeria | 53.22 |
| 118 | Pakistan | 53.10 |
| 119 | Ethiopia | 53.02 |
| 120 | Burkina Faso | 52.11 |
| 121 | Lesotho | 51.62 |
| 122 | Senegal | 51.49 |
| 123 | Côte d'Ivoire | 50.34 |
| 124 | Burundi | 50.17 |
| 125 | Guinea | 50.17 |
| 126 | Mali | 49.37 |
| 127 | Nigeria | 48.86 |
| 128 | Chad | 44.23 |
| 129 | Yemen | 42.98 |
| 130 | Mauritania | 42.33 |
(Data sourced from World Economic Forum)
Recent Posts