A Glimpse at the Top Adventure Tourism Destinations in the World
Next Story
Countries That Have the Most Migratory Birds Species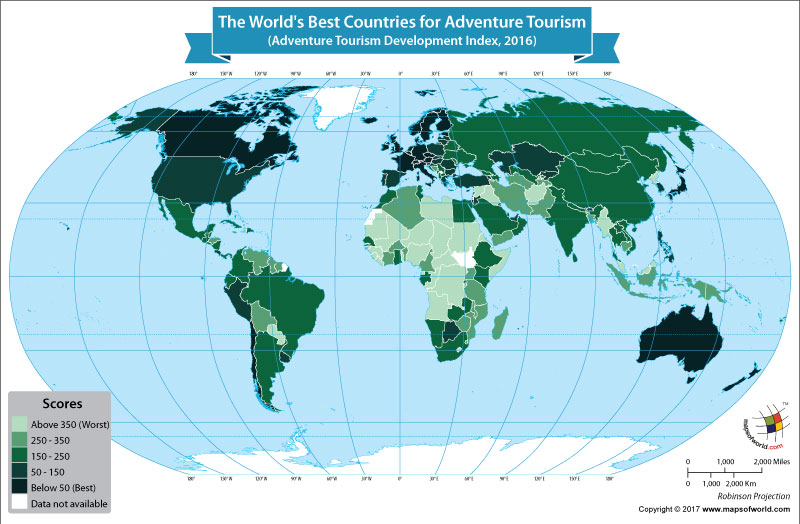 If you have a theme, we have a map.
Contact us for your custom mapping requirements
The past few years have witnessed the growing popularity of adventure tourism around the world. Adventure tourism can be defined as traveling to remote and exotic areas and taking part in outdoor activities. Since it is an important part of the tourism sector and is a major revenue earner, nations around the world are paying more attention to adventure tourism. To access the adventure tourism competitiveness of nations, the Adventure Travel Trade Association and The George Washington University regularly publish the Adventure Tourism Development Index. The index comprises 10 pillars which are government policies supporting sustainable development, safety, natural resources, health, adventure resources, entrepreneurship, humanitarian, infrastructure, cultural resources, and Adventure Image/Brand. Here the best performing nations have low scores while poor performers score high.
According to the Adventure Tourism Development Index published in 2016, Iceland was the best performing nation with a score of 12. Coming at the second spot was Germany, which scored 19. New Zealand also did remarkably well and was the third best performing nation with a score of 23. The other top performers, which had scores of less than 50 were Norway, Switzerland, Canada, Australia, Finland, Ireland, Japan, the United Kingdom, Israel and a few other nations. In fact, of the 23 nations that scored less than 50, 17 were European nations.
Nations where the score ranged between 50 and 150 were Spain, Bulgaria, Poland, South Korea, Greece, Jordan, Costa Rica, Turkey, Singapore, Bhutan, Qatar and other nations. The two Asian nations of China and India, which are home to numerous tourist destinations and adventure tourism attractions were not very favorably placed on the list. While China had a score of 199, India was placed much below with a score of 247.
Nations placed at the bottom and with scores of above 350 were Myanmar, Niger, Angola, Togo, Malaysia, Nigeria, Afghanistan, Haiti, etc. Meanwhile, the African nation of Somalia was placed right at the bottom with a score of 487.
To get a better understanding of how nations rank on the Adventure Tourism Development Index, refer to the table below.
| Country | ATDI Score |
| --- | --- |
| Iceland | 12 |
| Germany | 19 |
| New Zealand | 23 |
| Norway | 25 |
| Switzerland | 26 |
| Canada | 30 |
| Australia | 33 |
| Finland | 33 |
| Czech Republic | 33 |
| Austria | 35 |
| Denmark | 35 |
| Ireland | 35 |
| Japan | 36 |
| United Kingdom | 38 |
| Luxembourg | 39 |
| Belgium | 41 |
| Israel | 41 |
| Sweden | 43 |
| Estonia | 43 |
| Chile | 45 |
| Italy | 47 |
| Netherlands | 47 |
| France | 48 |
| Spain | 51 |
| United States | 51 |
| Slovak Republic | 53 |
| Malta | 57 |
| Slovenia | 59 |
| Cyprus | 62 |
| Bulgaria | 64 |
| Poland | 64 |
| Monaco | 65 |
| Portugal | 66 |
| Korea, Rep. | 66 |
| Greece | 68 |
| Liechtenstein | 73 |
| Romania | 74 |
| Andorra | 80 |
| Hungary | 82 |
| Jordan | 91 |
| Latvia | 99 |
| Costa Rica | 100 |
| Croatia | 102 |
| Lithuania | 105 |
| Uruguay | 116 |
| Turkey | 117 |
| Botswana | 123 |
| United Arab Emirates | 127 |
| Dominica | 129 |
| Armenia | 133 |
| Philippines | 134 |
| Kazakhstan | 135 |
| Barbados | 137 |
| Peru | 137 |
| Singapore | 140 |
| Qatar | 143 |
| Mauritius | 144 |
| Kyrgyz Republic | 146 |
| Bhutan | 148 |
| Mongolia | 152 |
| Georgia | 153 |
| Russian Federation | 153 |
| Rwanda | 153 |
| Thailand | 155 |
| Brazil | 162 |
| Belize | 163 |
| Saudi Arabia | 168 |
| Oman | 169 |
| Mexico | 172 |
| Panama | 172 |
| Bahrain | 174 |
| Serbia | 174 |
| St. Vincent and the Grenadines | 180 |
| Morocco | 181 |
| Ukraine | 181 |
| Azerbaijan | 182 |
| Kuwait | 182 |
| Montenegro | 182 |
| Bahamas, The | 183 |
| Brunei Darussalam | 186 |
| Zambia | 186 |
| Argentina | 187 |
| South Africa | 188 |
| Albania | 189 |
| Micronesia, Fed. Sts. | 190 |
| Namibia | 193 |
| Lebanon | 195 |
| China | 199 |
| Ghana | 201 |
| Tunisia | 202 |
| Cape Verde | 204 |
| Trinidad and Tobago | 204 |
| Nepal | 209 |
| Cuba | 211 |
| Egypt, Arab Rep. | 211 |
| Moldova | 211 |
| Seychelles | 211 |
| Colombia | 212 |
| Vietnam | 215 |
| Fiji | 216 |
| Belarus | 220 |
| Palau | 220 |
| Sri Lanka | 223 |
| Dominican Republic | 224 |
| St. Lucia | 225 |
| Samoa | 226 |
| El Salvador | 230 |
| Lao PDR | 232 |
| Senegal | 232 |
| Macedonia, FYR | 233 |
| Nicaragua | 236 |
| Ecuador | 240 |
| Uzbekistan | 241 |
| Guatemala | 243 |
| Kenya | 244 |
| Gabon | 246 |
| Ethiopia | 247 |
| India | 247 |
| Jamaica | 253 |
| Vanuatu | 255 |
| Bosnia and Herzegovina | 256 |
| Indonesia | 258 |
| Pakistan | 264 |
| Cambodia | 266 |
| St. Kitts and Nevis | 268 |
| Tajikistan | 268 |
| Suriname | 271 |
| Malawi | 272 |
| Bolivia | 273 |
| Maldives | 276 |
| San Marino | 276 |
| Algeria | 281 |
| Guyana | 281 |
| Iran, Islamic Rep. | 281 |
| Tanzania | 282 |
| Turkmenistan | 292 |
| Antigua and Barbuda | 298 |
| Swaziland | 304 |
| Kiribati | 305 |
| Yemen, Rep. | 305 |
| Zimbabwe | 310 |
| Gambia, The | 312 |
| Cote d'Ivoire | 313 |
| Marshall Islands | 315 |
| Madagascar | 318 |
| Benin | 319 |
| Sao Tome and Principe | 324 |
| Uganda | 325 |
| Comoros | 326 |
| Papua New Guinea | 327 |
| Bangladesh | 328 |
| Cameroon | 334 |
| Venezuela, RB | 335 |
| Mozambique | 336 |
| Solomon Islands | 336 |
| Grenada | 343 |
| Honduras | 347 |
| Burkina Faso | 349 |
| Mali | 351 |
| Myanmar | 351 |
| Paraguay | 352 |
| Korea, Dem. Rep. | 355 |
| Lesotho | 357 |
| Burundi | 361 |
| Tonga | 361 |
| Sierra Leone | 362 |
| Timor-Leste | 370 |
| Niger | 371 |
| Libya | 372 |
| Mauritania | 377 |
| Djibouti | 378 |
| Syrian Arab Republic | 379 |
| Togo | 381 |
| Guinea-Bissau | 388 |
| Guinea | 391 |
| Malaysia | 397 |
| Equatorial Guinea | 398 |
| Liberia | 401 |
| Angola | 404 |
| Congo, Rep. | 420 |
| West Bank and Gaza | 421 |
| Haiti | 422 |
| Central African Republic | 425 |
| Nigeria | 426 |
| Eritrea | 430 |
| Congo, Dem. Rep. | 447 |
| Chad | 452 |
| Afghanistan | 454 |
| Sudan | 460 |
| Iraq | 465 |
| Somalia | 487 |
(Data sourced from Adventure Travel Trade Association)
Recent Posts