A Glimpse at How Nations Score on the International Property Rights Index
Next Story
Winners of the World Figure Skating Championships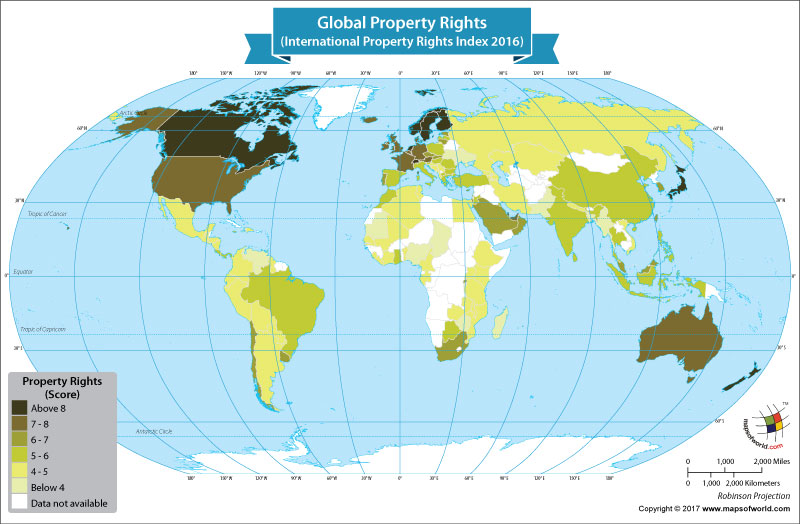 If you have a theme, we have a map.
Contact us for your custom mapping requirements
Property rights are vital for establishing an environment of freedom within nations as well for their economic prosperity. The nations that have strong property rights usually have sound economies. Meanwhile, nations where property rights are weak usually lack in robust and innovative economic markets. Thus establishing a robust property rights system is of prime importance for ushering in  economic growth. To assess the state of property rights in each nation, Washington, D.C, based Property Rights Alliance publishes the International Property Rights Index.
The index measures the three main components of a sound property rights system: the Legal and Political Environment, Physical Property Rights, and Intellectual Property Rights. The nations are scored according to the strength of their international property rights.
According to the 2016 International Property Rights Index, the European nation of Finland has the strongest property rights. The nation has topped the list with a score of 8.4. The three nations of New Zealand, Luxembourg, and Norway have scored 8.3 each. The other nations that have scored 8 and above are Switzerland, Japan Singapore, Sweden, Canada and the Netherlands.
The United Kingdom, the United States, Germany, Denmark, Australia, Qatar, and some other nations have scored between 7 and 8. Meanwhile, nations that are placed midway and have scores ranging between 5 and 6 are Poland, Spain, Italy, Ghana, China, Greece, Morocco, India and some other countries.
However, countries that had weak property rights and stood at the bottom of the table were Zimbabwe, Bangladesh, Myanmar, Pakistan, Ukraine, Lebanon, etc. These nations had scores of less than four.
(Data sourced from the Property Rights Alliance)
Recent Posts