A Glimpse Into the Environmental Performance Index of the World
Next Story
The World's Safest and Least Safe Countries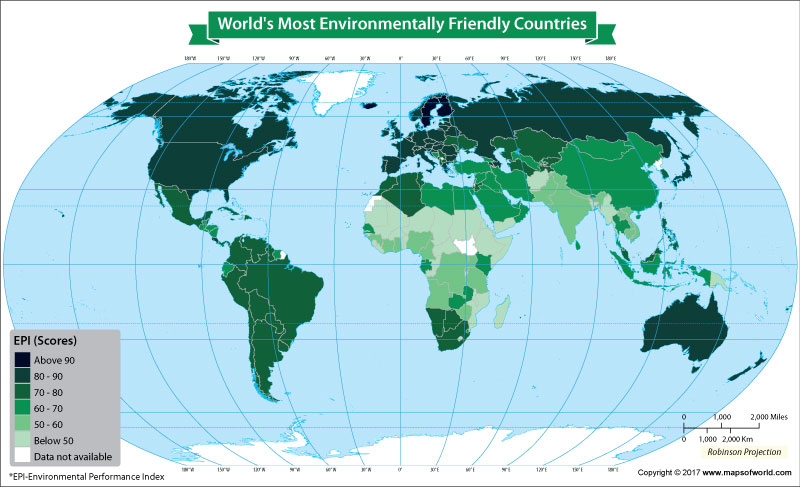 If you have a theme, we have a map.
Contact us for your custom mapping requirements
Environmental issues such as global warming and climate change have forced many nations around the world to adopt environmentally-friendly solutions such as renewable energy, which include wind and solar power, recycling products and using green technologies.
The Yale University and Columbia University, in collaboration with the World Economic Forum and the Joint Research Centre of the European Commission, recently released the Environmental Performance Index. The index quantifies a nation's environmental policies. In the 2016 Environmental Performance Index, 180 countries have been ranked on the basis of how they protect the ecosystem. The index uses 20 criteria that fall in the categories of protecting human health as well as the ecosystem.
According to the 2016 Environmental Performance Index, the Nordic nations of Finland, Iceland and Sweden, are the most environmentally-friendly nations. Occupying the first, second and third ranks, the three nations had scores of 90.68, 90.51, and 90.43.
Nations that have ranked high on the list and have scored between 80 and 90 were France, the United Kingdom, Australia, New Zealand, Switzerland, Greece, the United States, Czech Republic, the Netherlands, and many others. Occupying the range between 70 and 80 were countries like Argentina, Serbia, Macedonia, Colombia, Kazakhstan, Malaysia etc.
Among the BRICS nations, Russia was the best performing with a score of 83.52, while India was the least performing with a score of just 53.58. Countries that did not fare very well on the list and had score of less than 50 were Ethiopia, Lesotho, Sierra Leone, Bangladesh, Afghanistan. Etc.
Meanwhile, the lowest ranked country in the Environmental Performance Index was Somalia, which ranked at the 180th spot and had a score of just 27.66.
For a better understanding of how each nation has fared on the 2016 Environmental Performance Index, refer to the table below.
| Rank | Country | Score |
| --- | --- | --- |
| 1 | Finland | 90.68 |
| 2 | Iceland | 90.51 |
| 3 | Sweden | 90.43 |
| 4 | Denmark | 89.21 |
| 5 | Slovenia | 88.98 |
| 6 | Spain | 88.91 |
| 7 | Portugal | 88.63 |
| 8 | Estonia | 88.59 |
| 9 | Malta | 88.48 |
| 10 | France | 88.2 |
| 11 | New Zealand | 88 |
| 12 | United Kingdom | 87.38 |
| 13 | Australia | 87.22 |
| 14 | Singapore | 87.04 |
| 15 | Croatia | 86.98 |
| 16 | Switzerland | 86.93 |
| 17 | Norway | 86.9 |
| 18 | Austria | 86.64 |
| 19 | Ireland | 86.6 |
| 20 | Luxembourg | 86.58 |
| 21 | Greece | 85.81 |
| 22 | Latvia | 85.71 |
| 23 | Lithuania | 85.49 |
| 24 | Slovakia | 85.42 |
| 25 | Canada | 85.06 |
| 26 | United States of America | 84.72 |
| 27 | Czech Republic | 84.67 |
| 28 | Hungary | 84.6 |
| 29 | Italy | 84.48 |
| 30 | Germany | 84.26 |
| 31 | Azerbaijan | 83.78 |
| 32 | Russia | 83.52 |
| 33 | Bulgaria | 83.4 |
| 34 | Romania | 83.24 |
| 35 | Belarus | 82.3 |
| 36 | Netherlands | 82.03 |
| 37 | Armenia | 81.6 |
| 38 | Poland | 81.26 |
| 39 | Japan | 80.59 |
| 40 | Cyprus | 80.24 |
| 41 | Belgium | 80.15 |
| 42 | Costa Rica | 80.03 |
| 43 | Argentina | 79.84 |
| 44 | Ukraine | 79.69 |
| 45 | Cuba | 79.04 |
| 46 | Brazil | 78.9 |
| 47 | Montenegro | 78.89 |
| 48 | Serbia | 78.67 |
| 49 | Israel | 78.14 |
| 50 | Macedonia | 78.02 |
| 51 | Panama | 78 |
| 52 | Chile | 77.67 |
| 53 | Tunisia | 77.28 |
| 54 | Jamaica | 77.02 |
| 55 | Moldova | 76.69 |
| 56 | Venezuela | 76.23 |
| 57 | Colombia | 75.93 |
| 58 | Dominican Republic | 75.32 |
| 59 | Fiji | 75.29 |
| 60 | Taiwan | 74.88 |
| 61 | Albania | 74.38 |
| 62 | Trinidad and Tobago | 74.34 |
| 63 | Malaysia | 74.23 |
| 64 | Morocco | 74.18 |
| 65 | Uruguay | 73.98 |
| 66 | Philippines | 73.7 |
| 67 | Mexico | 73.59 |
| 68 | Belize | 73.55 |
| 69 | Kazakhstan | 73.29 |
| 70 | Dominica | 73.25 |
| 71 | Kyrgyz Republic | 73.13 |
| 72 | Tajikistan | 73.05 |
| 73 | Peru | 72.95 |
| 74 | Jordan | 72.24 |
| 75 | Guyana | 71.14 |
| 76 | Bolivia | 71.09 |
| 77 | Mauritius | 70.85 |
| 78 | Namibia | 70.84 |
| 79 | Botswana | 70.72 |
| 80 | South Korea | 70.61 |
| 81 | South Africa | 70.52 |
| 82 | Paraguay | 70.36 |
| 83 | Algeria | 70.28 |
| 84 | Turkmenistan | 70.24 |
| 85 | Samoa | 70.2 |
| 86 | Bahrain | 70.07 |
| 87 | Qatar | 69.94 |
| 88 | Honduras | 69.64 |
| 88 | Guatemala | 69.64 |
| 90 | Equatorial Guinea | 69.59 |
| 91 | Thailand | 69.54 |
| 92 | United Arab Emirates | 69.35 |
| 93 | The Bahamas | 69.34 |
| 94 | Lebanon | 69.14 |
| 95 | Saudi Arabia | 68.63 |
| 96 | Suriname | 68.58 |
| 97 | El Salvador | 68.07 |
| 98 | Brunei Darussalam | 67.86 |
| 99 | Turkey | 67.68 |
| 100 | Gabon | 67.37 |
| 101 | Syria | 66.91 |
| 102 | Tonga | 66.86 |
| 103 | Ecuador | 66.58 |
| 104 | Egypt | 66.45 |
| 105 | Iran | 66.32 |
| 106 | Zambia | 66.06 |
| 107 | Indonesia | 65.85 |
| 108 | Sri Lanka | 65.55 |
| 109 | China | 65.1 |
| 110 | Bhutan | 64.99 |
| 111 | Georgia | 64.96 |
| 112 | Seychelles | 64.92 |
| 113 | Kuwait | 64.41 |
| 114 | Mongolia | 64.39 |
| 115 | Nicaragua | 64.19 |
| 116 | Iraq | 63.97 |
| 117 | Senegal | 63.73 |
| 118 | Uzbekistan | 63.67 |
| 119 | Libya | 63.29 |
| 120 | Grenada | 63.28 |
| 120 | Bosnia and Herzegovina | 63.28 |
| 122 | Antigua and Barbuda | 62.55 |
| 123 | Kenya | 62.49 |
| 124 | Swaziland | 60.63 |
| 125 | Kiribati | 60.48 |
| 126 | Oman | 60.13 |
| 127 | Cote d'Ivoire | 59.89 |
| 128 | Congo | 59.56 |
| 129 | Zimbabwe | 59.25 |
| 130 | Ghana | 58.89 |
| 131 | Viet Nam | 58.5 |
| 132 | Tanzania | 58.34 |
| 133 | Nigeria | 58.27 |
| 134 | Vanuatu | 57.74 |
| 135 | Uganda | 57.56 |
| 136 | Cameroon | 57.13 |
| 137 | Maldives | 57.1 |
| 138 | Timor-Leste | 55.79 |
| 139 | Guinea | 55.4 |
| 140 | Barbados | 54.96 |
| 141 | India | 53.58 |
| 142 | The Gambia | 52.09 |
| 143 | Cape Verde | 51.98 |
| 144 | Pakistan | 51.42 |
| 145 | Angola | 51.32 |
| 146 | Cambodia | 51.24 |
| 147 | Rwanda | 50.34 |
| 148 | Laos | 50.29 |
| 149 | Nepal | 50.21 |
| 150 | Yemen | 49.79 |
| 151 | Malawi | 49.69 |
| 152 | Comoros | 49.2 |
| 153 | Myanmar | 48.98 |
| 154 | Sao Tome and Principe | 48.28 |
| 155 | Guinea-Bissau | 48.2 |
| 156 | Papua New Guinea | 48.02 |
| 157 | Lesotho | 47.17 |
| 158 | Solomon Islands | 46.92 |
| 159 | Central African Republic | 46.46 |
| 160 | Mauritania | 46.31 |
| 161 | Togo | 46.1 |
| 162 | Sierra Leone | 45.98 |
| 163 | Ethiopia | 45.83 |
| 164 | Djibouti | 45.29 |
| 165 | Burkina Faso | 43.71 |
| 166 | Benin | 43.66 |
| 167 | Liberia | 43.42 |
| 168 | Burundi | 43.37 |
| 169 | Haiti | 43.28 |
| 170 | Sudan | 42.25 |
| 171 | Dem. Rep. Congo | 42.05 |
| 172 | Mozambique | 41.82 |
| 173 | Bangladesh | 41.77 |
| 174 | Mali | 41.48 |
| 175 | Chad | 37.83 |
| 176 | Afghanistan | 37.5 |
| 177 | Niger | 37.48 |
| 178 | Madagascar | 37.1 |
| 179 | Eritrea | 36.73 |
| 180 | Somalia | 27.66 |
Recent Posts