A Glimpse Into How Countries Score on the 2017 Index of Economic Freedom
Next Story
Countries with the Largest Electric Car Stocks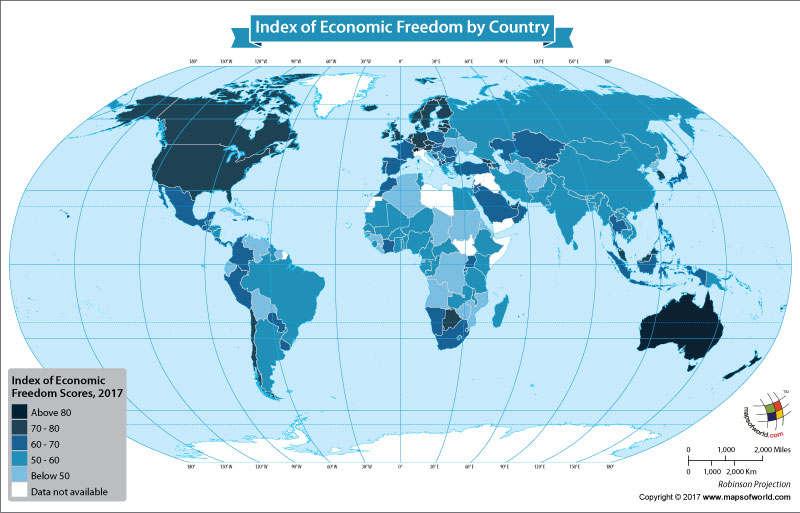 If you have a theme, we have a map.
Contact us for your custom mapping requirements
Economic freedom plays a very vital role in the development of the society. Economic freedom means that a person is free to work, consume, invest and produce in the way she or he pleases. Governments of nations that are economically free allow free movement of capital, goods and labor. Economic prosperity is a vital tool that leads to the greater prosperity of a nation.
To measure the degree of economic freedom in the nations around the world, The Heritage Foundation and The Wall Street Journal have been releasing the Index of Economic Freedom since 1995. The index, which is published annually, covers 12 freedoms which are property rights, government integrity, judicial effectiveness, tax burden, government spending, fiscal health, business freedom, labor freedom, monetary freedom, trade freedom, investment freedom, and financial freedom. The countries are scored between 0 and 100 with 0 being least free and 100 the most free.
The 2017 Index of Economic Freedom has ranked Hong Kong as the world's freest economy. Hong Kong has scored 89.8 out of 100 points. Singapore and New Zealand are on the second and third spot with scores of 88.6 and 83.7. Switzerland and Australia are the fourth and fifth most economically free countries in the world. Both these nations have scored 81.5 and 81 out of 100 points.
Countries that are ranked between 70 and 80 are Canada, the United States, the United Kingdom, the Netherlands, Denmark, Germany, South Korea, Malaysia, United Arab Emirates and many other countries. Among BRICS nations, South Africa is the freest economy with a score of 62.3, while India ranks at the bottom with a score of 52.6.
Countries which have scored less than 50 are Mozambique, Afghanistan, Sudan, Angola, Zimbabwe, Turkmenistan, Cuba, and some other nations. However, North Korea is placed at the bottom of the 2017 Index of Economic Freedom rankings. The country had a dismal score of just 4.9 out of 100 points.
| Name | overall score |
| --- | --- |
| Hong Kong | 89.8 |
| Singapore | 88.6 |
| New Zealand | 83.7 |
| Switzerland | 81.5 |
| Australia | 81 |
| Estonia | 79.1 |
| Canada | 78.5 |
| United Arab Emirates | 76.9 |
| Ireland | 76.7 |
| Chile | 76.5 |
| Taiwan | 76.5 |
| United Kingdom | 76.4 |
| Georgia | 76 |
| Luxembourg | 75.9 |
| Lithuania | 75.8 |
| The Netherlands | 75.8 |
| Denmark | 75.1 |
| United States | 75.1 |
| Sweden | 74.9 |
| Latvia | 74.8 |
| Mauritius | 74.7 |
| Iceland | 74.4 |
| South Korea | 74.3 |
| Finland | 74 |
| Norway | 74 |
| Germany | 73.8 |
| Malaysia | 73.8 |
| Czech Republic | 73.3 |
| Qatar | 73.1 |
| Austria | 72.3 |
| Macau | 70.7 |
| Macedonia | 70.7 |
| Armenia | 70.3 |
| Botswana | 70.1 |
| Brunei Darussalam | 69.8 |
| Colombia | 69.7 |
| Israel | 69.7 |
| Romania | 69.7 |
| Uruguay | 69.7 |
| Japan | 69.6 |
| Jamaica | 69.5 |
| Kazakhstan | 69 |
| Peru | 68.9 |
| Bahrain | 68.5 |
| Poland | 68.3 |
| Bulgaria | 67.9 |
| Cyprus | 67.9 |
| Kosovo | 67.9 |
| Belgium | 67.8 |
| Malta | 67.7 |
| Rwanda | 67.6 |
| Vanuatu | 67.4 |
| Jordan | 66.7 |
| Panama | 66.3 |
| Thailand | 66.2 |
| Hungary | 65.8 |
| Slovakia | 65.7 |
| Philippines | 65.6 |
| Saint Vincent and the Grenadines | 65.2 |
| Turkey | 65.2 |
| Kuwait | 65.1 |
| Costa Rica | 65 |
| Saint Lucia | 65 |
| Albania | 64.4 |
| Saudi Arabia | 64.4 |
| El Salvador | 64.1 |
| Dominica | 63.7 |
| Azerbaijan | 63.6 |
| Mexico | 63.6 |
| Spain | 63.6 |
| Fiji | 63.4 |
| France | 63.3 |
| Côte d'Ivoire | 63 |
| Guatemala | 63 |
| Tonga | 63 |
| Dominican Republic | 62.9 |
| Portugal | 62.6 |
| Italy | 62.5 |
| Namibia | 62.5 |
| Paraguay | 62.4 |
| South Africa | 62.3 |
| Oman | 62.1 |
| Montenegro | 62 |
| Indonesia | 61.9 |
| Seychelles | 61.8 |
| Morocco | 61.5 |
| Trinidad and Tobago | 61.2 |
| Kyrgyz Republic | 61.1 |
| Swaziland | 61.1 |
| The Bahamas | 61.1 |
| Uganda | 60.9 |
| Bosnia and Herzegovina | 60.2 |
| Burkina Faso | 59.6 |
| Cambodia | 59.5 |
| Croatia | 59.4 |
| Benin | 59.2 |
| Nicaragua | 59.2 |
| Slovenia | 59.2 |
| Serbia | 58.9 |
| Honduras | 58.8 |
| Belarus | 58.6 |
| Belize | 58.6 |
| Gabon | 58.6 |
| Mali | 58.6 |
| Tanzania | 58.6 |
| Guyana | 58.5 |
| Bhutan | 58.4 |
| Samoa | 58.4 |
| Tajikistan | 58.2 |
| Moldova | 58 |
| China | 57.4 |
| Madagascar | 57.4 |
| Sri Lanka | 57.4 |
| Nigeria | 57.1 |
| Russia | 57.1 |
| Cabo Verde | 56.9 |
| Democratic Republic of Congo | 56.4 |
| Ghana | 56.2 |
| Guinea-Bissau | 56.1 |
| Senegal | 55.9 |
| Comoros | 55.8 |
| Zambia | 55.8 |
| Tunisia | 55.7 |
| São Tomé and Príncipe | 55.4 |
| Nepal | 55.1 |
| Bangladesh | 55 |
| Greece | 55 |
| Solomon Islands | 55 |
| Mongolia | 54.8 |
| Barbados | 54.5 |
| Mauritania | 54.4 |
| Micronesia | 54.1 |
| Laos | 54 |
| Lesotho | 53.9 |
| Kenya | 53.5 |
| The Gambia | 53.4 |
| Lebanon | 53.3 |
| Burundi | 53.2 |
| Togo | 53.2 |
| Brazil | 52.9 |
| Pakistan | 52.8 |
| Ethiopia | 52.7 |
| Egypt | 52.6 |
| India | 52.6 |
| Sierra Leone | 52.6 |
| Burma | 52.5 |
| Vietnam | 52.4 |
| Uzbekistan | 52.3 |
| Malawi | 52.2 |
| Cameroon | 51.8 |
| Central African Republic | 51.8 |
| Kiribati | 50.9 |
| Papua New Guinea | 50.9 |
| Niger | 50.8 |
| Iran | 50.5 |
| Argentina | 50.4 |
| Maldives | 50.3 |
| Mozambique | 49.9 |
| Haiti | 49.6 |
| Ecuador | 49.3 |
| Liberia | 49.1 |
| Chad | 49 |
| Afghanistan | 48.9 |
| Sudan | 48.8 |
| Angola | 48.5 |
| Ukraine | 48.1 |
| Suriname | 48 |
| Bolivia | 47.7 |
| Guinea | 47.6 |
| Turkmenistan | 47.4 |
| Djibouti | 46.7 |
| Algeria | 46.5 |
| Timor-Leste | 46.3 |
| Equatorial Guinea | 45 |
| Zimbabwe | 44 |
| Eritrea | 42.2 |
| Republic of Congo | 40 |
| Cuba | 33.9 |
| Venezuela | 27 |
| North Korea | 4.9 |
(Data sourced by the Heritage Foundation)
Recent Posts