A Guide to Which Countries Drive on the Right Side or the Left
Next Story
Countries Where US Military Personnel are Deployed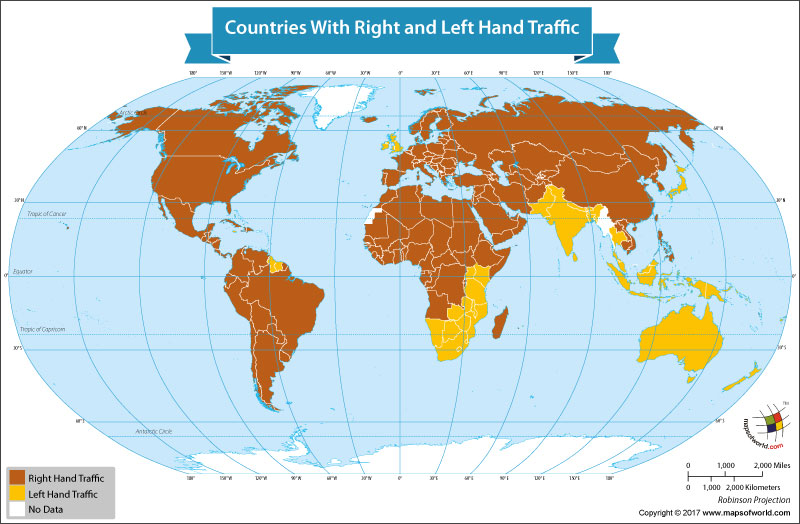 If you have a theme, we have a map.
Contact us for your custom mapping requirements
Every nation has its own rules and this applies to on which part of the road people need to drive. Traffic around the world either drives on the right or on the left. Currently, a majority of the countries drive on the right hand side of the road. According to estimates, currently 163 nations and territories are driving on the right hand side while 76 countries and territories are using left hand traffic. In fact, nations which were once under the British rule drive on the left side.
The nations of the Indian sub-continent, which include, India, Pakistan, Nepal, Sri Lanka, Bangladesh, Bhutan, and Maldives drive on the left hand side. Meanwhile, there are just four nations in Europe that drive on the left hand side. These are Malta, Ireland, the United Kingdom, and Cyprus. Other nations that drive on the left side are Namibia, Zimbabwe, Botswana, Grenada, Malaysia, Mauritius, Singapore, Tanzania, Australia, New Zealand, Japan, South Africa, and many other nations.
Europe primarily drives on the right hand. Some prominent European countries using RHT are Austria, Finland, France, Iceland, Italy, the Netherlands, Poland, Spain, Belgium, Germany, and many other nations. The North American nations of Canada, the United States, and Mexico drive on the right hand side. Many Asian countries also drive on the right such as China, Kazakhstan, Kuwait, Laos, Mongolia, Qatar, Saudi Arabia, and others. African countries that fall in this category are Tunisia, Togo, Sudan, Senegal, Niger, Mali, and Madagascar, to name a few.
For a further understanding of which countries use left hand traffic and which ones right, refer to the table below.
| Country | Road traffic |
| --- | --- |
|  Barbados | LHT |
|  East Timor | LHT |
|  Fiji | LHT |
|  Namibia | LHT |
|  Saint Kitts and Nevis | LHT |
|  Saint Lucia | LHT |
|  Saint Vincent and the Grenadines | LHT |
|  Samoa | LHT |
|  United Kingdom | LHT |
|  Zimbabwe | LHT |
|  Antigua and Barbuda | LHT |
|  Bahamas | LHT |
|  Bangladesh | LHT |
|  Bhutan | LHT |
|  Botswana | LHT |
|  Brunei | LHT |
|  Cyprus | LHT |
|  Dominica | LHT |
|  Grenada | LHT |
|  Guyana | LHT |
|  India | LHT |
|  Ireland | LHT |
|  Jamaica | LHT |
|  Kiribati | LHT |
|  Lesotho | LHT |
|  Malawi | LHT |
|  Malaysia | LHT |
|  Maldives | LHT |
|  Malta | LHT |
|  Mauritius | LHT |
|  Nauru | LHT |
|  Pakistan | LHT |
|  Papua New Guinea | LHT |
|  Seychelles | LHT |
|  Singapore | LHT |
|  Solomon Islands | LHT |
|  Sri Lanka | LHT |
|  Suriname | LHT |
|  Swaziland | LHT |
|  Tanzania | LHT |
|  Tonga | LHT |
|  Tuvalu | LHT |
|  Uganda | LHT |
|  Zambia | LHT |
|  Australia | LHT |
|  Indonesia | LHT |
|  New Zealand | LHT |
|  Thailand | LHT |
|  Japan | LHT |
|  Kenya | LHT |
|  Mozambique | LHT |
|  Nepal | LHT |
|  South Africa | LHT |
|  Trinidad and Tobago | LHT |
|  Afghanistan | RHT |
|  Argentina | RHT |
|  Austria | RHT |
|  Bahrain | RHT |
|  Belize | RHT |
|  Brazil | RHT |
|  Burundi | RHT |
|  Cambodia | RHT |
|  Canada | RHT |
|  Denmark | RHT |
|  Finland | RHT |
|  France | RHT |
|  Ghana | RHT |
|  Iceland | RHT |
|  Italy | RHT |
|  North Korea and  South Korea | RHT |
|  Kyrgyzstan | RHT |
|  Mauritania | RHT |
|  Myanmar | RHT |
|  Netherlands | RHT |
|  Nigeria | RHT |
|  Oman | RHT |
|  Panama | RHT |
|  Paraguay | RHT |
|  Philippines | RHT |
|  Poland | RHT |
|  Sierra Leone | RHT |
|  Somalia | RHT |
|  South Sudan | RHT |
|  Spain | RHT |
|  Taiwan | RHT |
|  Ukraine | RHT |
|  United States | RHT |
|  Yemen | RHT |
|  Gambia | RHT |
|  Micronesia | RHT |
|  China | RHT |
|  Vanuatu | RHT |
|  Albania | RHT |
|  Algeria | RHT |
|  Andorra | RHT |
|  Angola | RHT |
|  Armenia | RHT |
|  Azerbaijan | RHT |
|  Belgium | RHT |
|  Belarus | RHT |
|  Benin | RHT |
|  Bolivia | RHT |
|  Bosnia and Herzegovina | RHT |
|  Bulgaria | RHT |
|  Burkina Faso | RHT |
|  Cameroon | RHT |
|  Cape Verde | RHT |
|  Central African Republic | RHT |
|  Chad | RHT |
|  Chile | RHT |
|  Colombia | RHT |
|  Comoros | RHT |
|  Congo | RHT |
|  Democratic Republic of Congo | RHT |
|  Costa Rica | RHT |
|  Côte d'Ivoire | RHT |
|  Croatia | RHT |
|  Cuba | RHT |
|  Czech Republic | RHT |
|  Djibouti | RHT |
|  Dominican Republic | RHT |
|  Ecuador | RHT |
|  Egypt | RHT |
|  El Salvador | RHT |
|  Equatorial Guinea | RHT |
|  Eritrea | RHT |
|  Estonia | RHT |
|  Ethiopia | RHT |
|  Gabon | RHT |
|  Georgia | RHT |
|  Greece | RHT |
|  Guatemala | RHT |
|  Guinea | RHT |
|  Guinea-Bissau | RHT |
|  Haiti | RHT |
|  Honduras | RHT |
|  Hungary | RHT |
|  Iran | RHT |
|  Iraq | RHT |
|  Israel | RHT |
|  Jordan | RHT |
|  Kazakhstan | RHT |
|  Kuwait | RHT |
|  Laos | RHT |
|  Latvia | RHT |
|  Lebanon | RHT |
|  Liberia | RHT |
|  Libya | RHT |
|  Liechtenstein | RHT |
|  Lithuania | RHT |
|  Luxembourg | RHT |
|  Macedonia | RHT |
|  Madagascar | RHT |
|  Mali | RHT |
|  Marshall Islands | RHT |
|  Mexico | RHT |
|  Moldova | RHT |
|  Monaco | RHT |
|  Mongolia | RHT |
|  Montenegro | RHT |
|  Morocco | RHT |
|  Nicaragua | RHT |
|  Niger | RHT |
|  Norway | RHT |
|  Palau | RHT |
|  Palestine | RHT |
|  Peru | RHT |
|  Qatar | RHT |
|  Romania | RHT |
|  Russia | RHT |
|  San Marino | RHT |
|  São Tomé and Príncipe | RHT |
|  Saudi Arabia | RHT |
|  Senegal | RHT |
|  Serbia | RHT |
|  Slovakia | RHT |
|  Slovenia | RHT |
|  Sudan | RHT |
|  Sweden | RHT |
|   Switzerland | RHT |
|  Syria | RHT |
|  Tajikistan | RHT |
|  Togo | RHT |
|  Tunisia | RHT |
|  Turkey | RHT |
|  Turkmenistan | RHT |
|  United Arab Emirates | RHT |
|  Uzbekistan | RHT |
|  Venezuela | RHT |
|  Vietnam | RHT |
|  Portugal | RHT |
|  Rwanda | RHT |
|  Germany | RHT |
|  Uruguay | RHT |
Recent Posts