Exploring the Global Entrepreneurship Index by Country
Next Story
A Look at the Visa Requirements for Australian Travelers by Country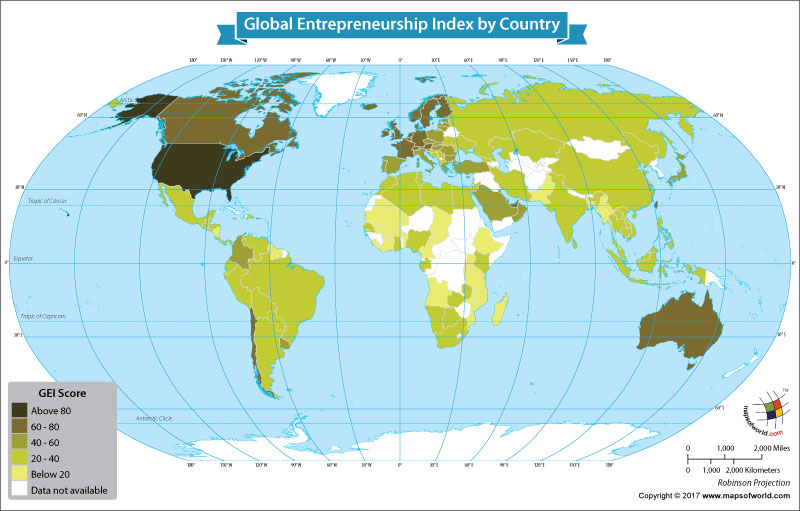 If you have a theme, we have a map.
Contact us for your custom mapping requirements
Enterprise is very important for the economic growth of a nation. Enterprises not only lead to innovation and productivity growth but also add more jobs to the economy. Thus the growth of entrepreneurship is vital to reduce unemployment. To measure the health of the entrepreneurship ecosystems among the nations, the Global Entrepreneurship and Development Institute regularly publishes the Global Entrepreneurship Index. Countries that have the right policies and infrastructure that supports entrepreneurship have done well on the index and are placed at the top. Some of the criteria of the GEI scores are skills in the fields of start-ups, quality of education, perceptions on entrepreneurship in the society among others.
According to the 2016 Global Entrepreneurship Index, the United States is the best performing nation. Ranked first the nation had a score of 86.2. Coming at the second spot was Canada with a score of 79.5, while Australia ranked third and had a score of 78. Other nations which had scores between 60 and 80 were the United Kingdom, Switzerland, Germany, Singapore, Belgium, the United Arab Emirates and some other countries.
Countries which had scores between 40 and 60 were Israel, Qatar, Japan, Portugal, Turkey, Spain, Hungary, Poland and others. Russia, Algeria, Iran, Venezuela, Indonesia, Jordan, Thailand, India, China, and some others had scores between 20 and 40. Meanwhile, countries standing at the bottom of the table with scores less than 20 were Rwanda, Ethiopia, Liberia, Benin, Bangladesh, Mali, Chad etc.
The table below provides information on the Global Entrepreneurship Index score of each nation.
| Country | GEI Score |
| --- | --- |
| United States | 86.2 |
| Canada | 79.5 |
| Australia | 78 |
| Denmark | 76 |
| Sweden | 75.9 |
| Taiwan | 69.7 |
| Iceland | 68.9 |
| Switzerland | 67.8 |
| United Kingdom | 67.7 |
| France | 66.4 |
| Singapore | 66 |
| Ireland | 65.6 |
| Netherlands | 65.4 |
| Germany | 64.6 |
| Austria | 62.9 |
| Chile | 62.1 |
| Belgium | 62.1 |
| Finland | 61.8 |
| United Arab Emirates | 61.4 |
| Norway | 61.1 |
| Israel | 57.4 |
| Estonia | 57.3 |
| Luxembourg | 57.2 |
| Qatar | 56.7 |
| Lithuania | 54.8 |
| Latvia | 53.5 |
| Korea | 53.4 |
| Turkey | 52.7 |
| Bahrain | 52.4 |
| Japan | 50.6 |
| Slovenia | 50.4 |
| Spain | 50.2 |
| Portugal | 50 |
| Poland | 49.3 |
| Puerto Rico | 48.1 |
| Saudi Arabia | 47.8 |
| Slovakia | 46.4 |
| Oman | 45.9 |
| Kuwait | 45.6 |
| Hong Kong | 45.4 |
| Hungary | 45.1 |
| Romania | 44.9 |
| Colombia | 44.8 |
| Czech Republic | 44.2 |
| Greece | 42.1 |
| Bulgaria | 41.6 |
| Uruguay | 41.3 |
| Italy | 41.1 |
| Cyprus | 41 |
| Lebanon | 39.9 |
| Croatia | 39.9 |
| South Africa | 38.5 |
| Barbados | 38.5 |
| Montenegro | 37.5 |
| Brunei Darussalam | 37.3 |
| Malaysia | 37 |
| Macedonia | 36.6 |
| Costa Rica | 36.2 |
| Kazakhstan | 35.4 |
| China | 34.9 |
| Argentina | 34.8 |
| Tunisia | 34.4 |
| Ukraine | 33.5 |
| Jordan | 33.5 |
| Thailand | 33.4 |
| Botswana | 33.1 |
| Panama | 32.4 |
| Russia | 32.2 |
| Bolivia | 32.1 |
| Peru | 32 |
| Dominican Republic | 31.7 |
| Moldova | 31.3 |
| Namibia | 31.3 |
| Serbia | 30.9 |
| Algeria | 30.5 |
| Albania | 30 |
| Belize | 29.8 |
| Morocco | 29.5 |
| Libya | 28.9 |
| Iran | 28.8 |
| Georgia | 28.7 |
| Bosnia and Herzegovina | 28.6 |
| Trinidad & Tobago | 28.2 |
| Vietnam | 28.2 |
| Nigeria | 28.1 |
| Gabon | 27.8 |
| Mexico | 27.6 |
| Ecuador | 27.4 |
| Egypt | 27.3 |
| Jamaica | 27.3 |
| Philippines | 27 |
| Brazil | 26.1 |
| Paraguay | 26 |
| Lao PDR | 25.9 |
| Swaziland | 25.8 |
| El Salvador | 25.6 |
| Sri Lanka | 25.5 |
| India | 24.9 |
| Ghana | 24.5 |
| Venezuela | 24.1 |
| Cambodia | 23 |
| Zambia | 22.8 |
| Indonesia | 22.8 |
| Kenya | 22.1 |
| Honduras | 21.9 |
| Senegal | 21.7 |
| Guatemala | 21.1 |
| Guyana | 19.8 |
| Pakistan | 19.8 |
| Nicaragua | 19.4 |
| Suriname | 19.3 |
| Angola | 18.6 |
| Rwanda | 18.3 |
| Ethiopia | 17.6 |
| Cameroon | 17.6 |
| Mozambique | 17.6 |
| Myanmar | 17.5 |
| Gambia, The | 17.4 |
| Liberia | 17.3 |
| Côte d'Ivoire | 17 |
| Tanzania | 16.8 |
| Mali | 16.6 |
| Uganda | 15.8 |
| Benin | 15.8 |
| Bangladesh | 15.2 |
| Burkina Faso | 15.1 |
| Madagascar | 14.6 |
| Sierra Leone | 14.3 |
| Mauritania | 13.2 |
| Malawi | 12.4 |
| Burundi | 11.9 |
| Chad | 9.9 |
Recent Posts