Exploring the 2017 Energy Architecture Performance Index Rankings of Nations
Next Story
Countries With the Most Grand Prix Motorcycle Racing World Championships
If you have a theme, we have a map.
Contact us for your custom mapping requirements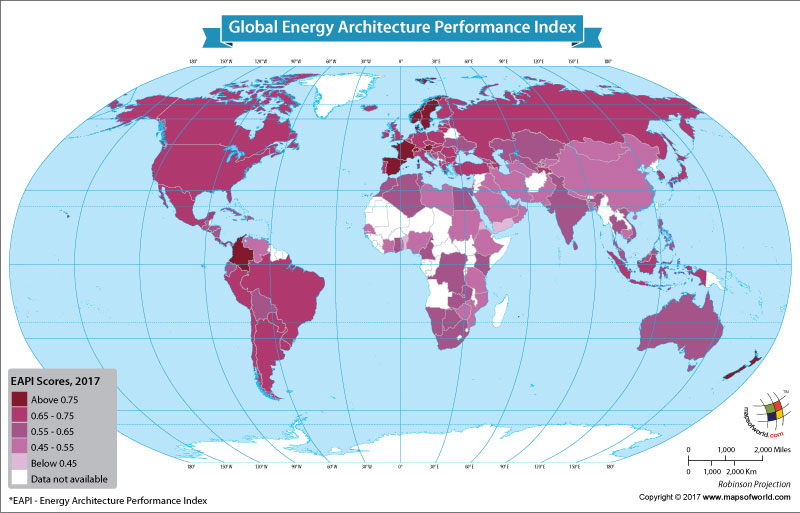 The World Map Depicts the Global Energy Architecture Performance Index
The World Economic Forum (WEF) has been annually releasing the Energy Architecture Performance Index where each nation is ranked on its ability to provide energy across three dimensions of the energy triangle. These are economic growth and development, environmental sustainability, and energy access and security. The 2017 Energy Architecture Performance Index, which WEF has released in collaboration with Accenture Strategy, measures the energy system performance of 127 nations. The countries have been ranked on a scale between 0 and 1. The WEF findings have stated that the biggest energy consumers in the world are grappling with challenges of their large and complex energy systems and as such are struggling to take the top positions on the index. Due to this, nimble economies have overtaken the big energy consumers.
According to the 2017 Energy Architecture Performance Index, Switzerland is the top performer with a score of 0.80. Norway and Sweden come at the second and third place with scores of 0.79 and 0.78. Along with these three nations, the other European countries that have scored more than 0.75 are Denmark, France, Austria, and Spain. Colombia and New Zealand are the only two non-European nations that have scores of more than 0.75.
The United Kingdom, Germany, Ireland, Italy, Canada, Singapore, Japan, the United States and many other countries had scores between 0.65 and 0.75. The two Asian nations of India and China, which are some of the largest consumers of energy, have scores of 0.55 and 0.53 respectively.
Meanwhile the lowest ranked nations are Eritrea, Benin, Lebanon, Yemen and Bahrain. All these nations have scores of less than 0.45.
For a better understanding of how each nation has scored on the 2017 Energy Architecture Performance Index, refer to the table below.
| Ranking | Country | score |
| --- | --- | --- |
| 1 | Switzerland | 0.80 |
| 2 | Norway | 0.79 |
| 3 | Sweden | 0.78 |
| 4 | Denmark | 0.77 |
| 5 | France | 0.77 |
| 6 | Austria | 0.76 |
| 7 | Spain | 0.75 |
| 8 | Colombia | 0.75 |
| 9 | New Zealand | 0.75 |
| 10 | Uruguay | 0.74 |
| 11 | Portugal | 0.74 |
| 12 | Finland | 0.73 |
| 13 | Slovenia | 0.73 |
| 14 | Costa Rica | 0.73 |
| 15 | United Kingdom | 0.72 |
| 16 | Ireland | 0.72 |
| 17 | Latvia | 0.71 |
| 18 | Croatia | 0.71 |
| 19 | Germany | 0.71 |
| 20 | Slovak Republic | 0.71 |
| 21 | Hungary | 0.71 |
| 22 | Paraguay | 0.70 |
| 23 | Luxembourg | 0.70 |
| 24 | Romania | 0.70 |
| 25 | Albania | 0.70 |
| 26 | Iceland | 0.70 |
| 27 | Peru | 0.70 |
| 28 | Argentina | 0.70 |
| 29 | Italy | 0.70 |
| 30 | Brazil | 0.70 |
| 31 | Czech Republic | 0.69 |
| 32 | Canada | 0.69 |
| 33 | Netherlands | 0.69 |
| 34 | Belgium | 0.69 |
| 35 | Lithuania | 0.68 |
| 36 | Azerbaijan | 0.67 |
| 37 | Poland | 0.67 |
| 38 | Greece | 0.67 |
| 39 | Singapore | 0.67 |
| 40 | Chile | 0.67 |
| 41 | Turkey | 0.66 |
| 42 | Bulgaria | 0.66 |
| 43 | Korea, Rep. | 0.66 |
| 44 | Mexico | 0.66 |
| 45 | Japan | 0.66 |
| 46 | Tajikistan | 0.65 |
| 47 | Panama | 0.65 |
| 48 | Russian Federation | 0.65 |
| 49 | El Salvador | 0.65 |
| 50 | Indonesia | 0.65 |
| 51 | Israel | 0.65 |
| 52 | United States | 0.65 |
| 53 | Australia | 0.64 |
| 54 | Congo, Rep. | 0.64 |
| 55 | Georgia | 0.64 |
| 56 | Estonia | 0.64 |
| 57 | Morocco | 0.64 |
| 58 | Armenia | 0.63 |
| 59 | Sri Lanka | 0.63 |
| 60 | Philippines | 0.63 |
| 61 | Cuba | 0.63 |
| 62 | Kazakhstan | 0.62 |
| 63 | Dominican Republic | 0.62 |
| 64 | Thailand | 0.61 |
| 65 | Tunisia | 0.61 |
| 66 | Namibia | 0.61 |
| 67 | Cyprus | 0.60 |
| 68 | Ecuador | 0.60 |
| 69 | Guatemala | 0.59 |
| 70 | Serbia | 0.59 |
| 71 | Malta | 0.58 |
| 72 | Nicaragua | 0.58 |
| 73 | Ukraine | 0.58 |
| 74 | Ghana | 0.58 |
| 75 | Macedonia, FYR | 0.58 |
| 76 | South Africa | 0.58 |
| 77 | Vietnam | 0.57 |
| 78 | Bolivia | 0.57 |
| 79 | Republic of Moldova | 0.57 |
| 80 | Cameroon | 0.57 |
| 81 | Algeria | 0.57 |
| 82 | Honduras | 0.56 |
| 83 | Kenya | 0.55 |
| 84 | Bosnia and Herzegovina | 0.55 |
| 85 | Uzbekistan | 0.55 |
| 86 | Malaysia | 0.55 |
| 87 | India | 0.55 |
| 88 | Zambia | 0.55 |
| 89 | Belarus | 0.55 |
| 90 | Egypt, Arab Rep. | 0.55 |
| 91 | Botswana | 0.55 |
| 92 | Jamaica | 0.54 |
| 93 | Sudan | 0.54 |
| 94 | Kyrgyz Republic | 0.54 |
| 95 | China | 0.53 |
| 96 | Brunei Darussalam | 0.53 |
| 97 | Venezuela | 0.53 |
| 98 | Mozambique | 0.53 |
| 99 | Cambodia | 0.53 |
| 100 | Zimbabwe | 0.53 |
| 101 | Pakistan | 0.52 |
| 102 | Cote d'Ivoire | 0.52 |
| 103 | Senegal | 0.52 |
| 104 | Bangladesh | 0.51 |
| 105 | Libya | 0.50 |
| 106 | Iraq | 0.50 |
| 107 | United Arab Emirates | 0.50 |
| 108 | Jordan | 0.49 |
| 109 | Trinidad and Tobago | 0.49 |
| 110 | Nigeria | 0.49 |
| 111 | Togo | 0.49 |
| 112 | Mongolia | 0.49 |
| 113 | Nepal | 0.49 |
| 114 | Ethiopia | 0.49 |
| 115 | Kuwait | 0.48 |
| 116 | Qatar | 0.48 |
| 117 | Turkmenistan | 0.47 |
| 118 | Haiti | 0.47 |
| 119 | Tanzania | 0.47 |
| 120 | Iran, Islamic Rep. | 0.46 |
| 121 | Saudi Arabia | 0.46 |
| 122 | Oman | 0.45 |
| 123 | Eritrea | 0.44 |
| 124 | Benin | 0.44 |
| 125 | Lebanon | 0.44 |
| 126 | Yemen, Rep. | 0.42 |
| 127 | Bahrain | 0.37 |
(Data sourced from World Economic Forum)
Recent Posts