Nobel Prize Winners in Physics by Country
Next Story
India and China Contributing the Maximum to International Student Mobility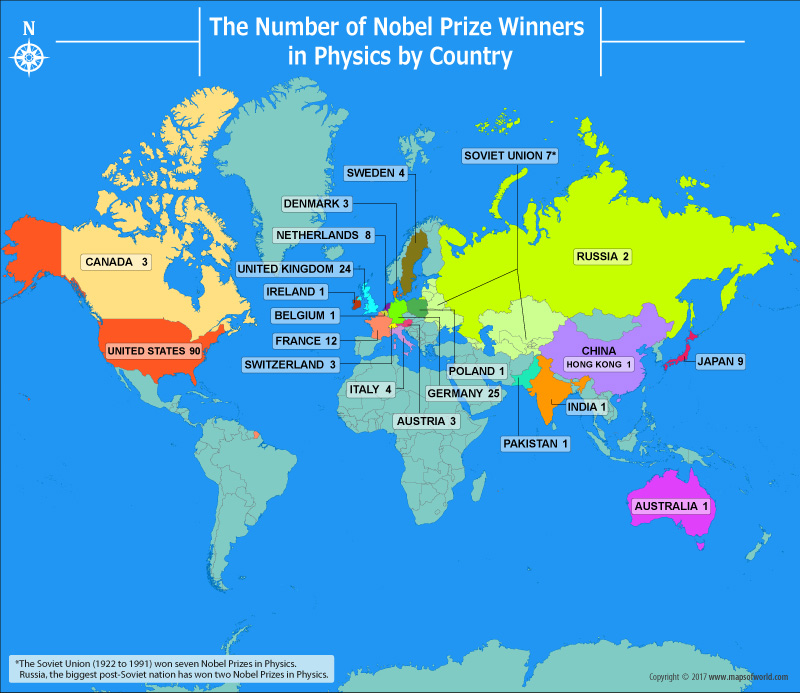 If you have a theme, we have a map.
Contact us for your custom mapping requirements
One of the most prestigious prizes in the world, the Nobel Prize in Physics is presented every year to those who have made outstanding contributions in the field of physics. Presented by the Royal Swedish Academy of Sciences, the prize has been awarded since 1901. Wilhelm Röntgen, a German Dutch physicist, who had played a pivotal role in the discovery of x-ray, was the first recipient of the Nobel Prize in Physics.
The United States of America leads the ranking of Nobel Prize in Physics winners by country. From 1901 until today, the United States has had a total of 90 winners.
Though Germany comes at the second spot, but it is way behind the United States with 25 winners. Nine of these were won by West German physicists between the years 1949-to-1990, when the country was divided into East Germany and West Germany. After Germany was unified into a single nation on October 3, 1990, the nation has had another 16 winners taking the total number to 25. The United Kingdom, with its 24 Nobel Prize in Physics winners occupies the third place.
France has till date bagged 12 Nobel Prizes in Physics, while Japan has had nine winners. The Soviet Union, which was founded on December 30, 1922, has had seven Nobel Prize in Physics winners, but after its dissolution Russia has been able to make a mark with only two prize winners.
Other countries to have the Nobel Prize in Physics winners include Australia, Austria, Belgium, India, Pakistan and others.
Click here to view
List of Nobel Prize Winners 2016
Recent Posts