This is When Countries will be Celebrating New Year
Next Story
Gender Gap in Internet use: Male Users Outnumber Female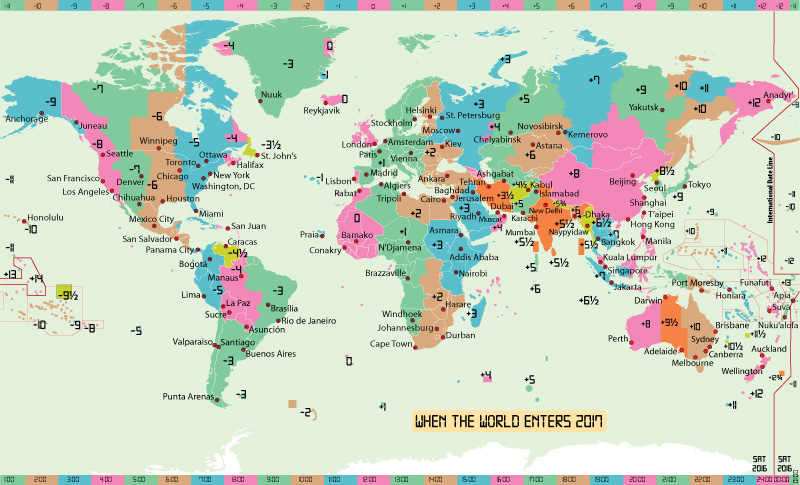 If you have a theme, we have a map.
Contact us for your custom mapping requirements
The New Year is here, and people across the world are gearing up to celebrate the arrival of the 2017 in style; the celebrations will be spread across the first week of January. As it is a known fact that the sun rises from the east, so countries that lie on this side of the continent are the first ones to celebrate New Year. While Oceania and Asia would be the first continents to welcome the New Year, South and North America would be the last.
So, when on December 31 the people of Japan break out in applause at 12 midnight, people in New York, where the time would be 10 am of December 31, would still be beginning their day. For instance, Kiribati, an island nation in the central Pacific Ocean, is the first nation in the world to celebrate the New Year. Chatham Island in New Zealand come at the second spot to welcome the first dawn of the New Year.
New Year is celebrated at different times in the United States. As the ball descends and signals the start of the New Year in New York, people on the West Coast would be three hours away from welcoming the New Year. As London, the capital of the United Kingdom and one of the most happening places in the world, lies five hours ahead of New York, so the New year would come early here, while Paris is six hours ahead and so are many other European cities.
So, at which time you would be celebrating New Year depends on the city or region you are living in. Get to know at what time different cities around the world would be celebrating the New Year by referring to the map above.
Recent Posts