Countries Where US Military Personnel are Deployed
Next Story
The Growing Threat of Dementia Around the World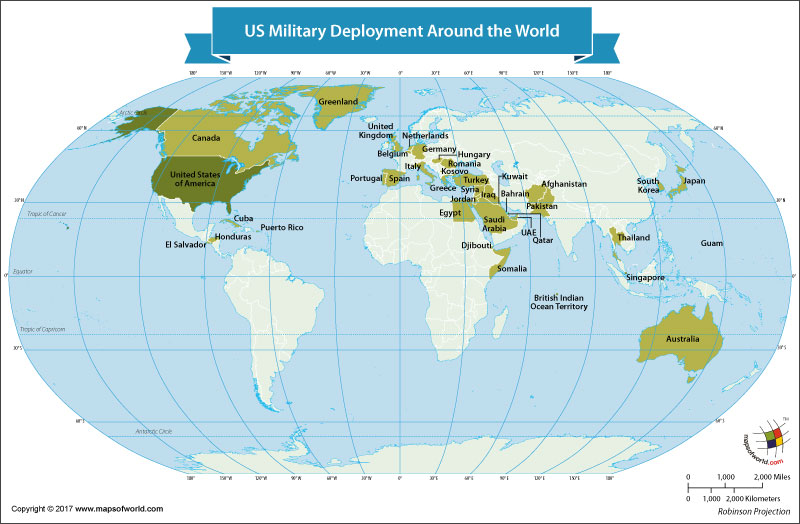 If you have a theme, we have a map.
Contact us for your custom mapping requirements
The United States has one of the largest and strongest defense forces in the world. Apart from keeping the borders of the nation secure, the forces also play a vital role in fighting terrorism around the world and providing stability to strife-torn nations. Currently, the US defense forces are not just stationed in the United States but are either deployed or have military bases in many other nations. At present, there are around 300,000 active duty personnel who are working outside of the United States and its territories. While some are involved in combat duties in Afghanistan, others are involved in peacekeeping missions, military attaches or are providing security to US embassies across the world.
According to estimates, there are 949,011 military personnel present in their home country. There are another 37,788, and 18,833 personnel stationed in the states of Hawaii and Alaska. Outside of the country, Japan has the largest concentration of US military personnel. There are an estimated 39,345 US military personnel currently stationed in Japan. South Korea, which is witnessing increased tensions with neighboring North Korea, is home to 23,468 US defense personnel.
Meanwhile, strife-torn and terror-hit nations such as Afghanistan, Iraq, and Syria are home to 9,294, 5,540, and 204 personnel who are deployed there.
Europe too is home to a large number of US defense personnel. Among the European nations, the largest number of American defense personnel are deployed in Germany. Currently there are 34,805 personnel stationed in Germany, followed by Italy where the number stands at 12,102. A significant number of US defense forces are also deployed in the United Kingdom. Here the number stands at 8,479. Since, 1942, the United States has maintained air bases in the United Kingdom.
Some other European nations are Belgium where there are 842 personnel, 407 in Greece, 158 in Greenland, 212 in Hungary, 378 in Kosovo, 398, in the Netherlands, etc.
While there are 806 personnel serving at Guantanamo Bay in Cuba, some 115 personnel are based in Pakistan, which is the lowest among the list. Some other nations where the US forces are currently deployed are Australia, Bahrain, Canada, Egypt, Jordan, Kuwait, to name a few.
The table below provides information on the number of US defense personnel stationed in each nation.
| Country | Number of personnel |
| --- | --- |
| United States | 949,011 |
| Japan | 39,345 |
| Hawaii | 37,788 |
| Germany | 34,805 |
| South Korea | 23,468 |
| Alaska | 18,833 |
| Italy | 12,102 |
| Afghanistan | 9,294 |
| United Kingdom | 8,479 |
| Kuwait | 6,296 |
| Iraq | 5,540 |
| Bahrain | 5,504 |
| Guam | 3,831 |
| Spain | 3,256 |
| Qatar | 2,976 |
| Turkey | 2,234 |
| Djibouti | 1,961 |
| Jordan | 1,759 |
| United Arab Emirates | 1,079 |
| Belgium | 842 |
| Cuba (Guantanamo Bay) | 806 |
| Romania | 667 |
| Greece | 407 |
| Netherlands | 398 |
| El Salvador | 387 |
| Honduras | 384 |
| Kosovo | 378 |
| Egypt | 375 |
| Saudi Arabia | 352 |
| Thailand | 289 |
| British Indian Ocean Territory | 275 |
| Hungary | 212 |
| Syria | 204 |
| Australia | 188 |
| Portugal | 185 |
| Singapore | 178 |
| Greenland | 158 |
| Puerto Rico | 145 |
| Canada | 141 |
| Somalia | 134 |
| Pakistan | 115 |
(Data sourced from Wikipedia)
Recent Posts