Countries that share their border with just one nation
Next Story
Countries that have won the Wimbledon tournament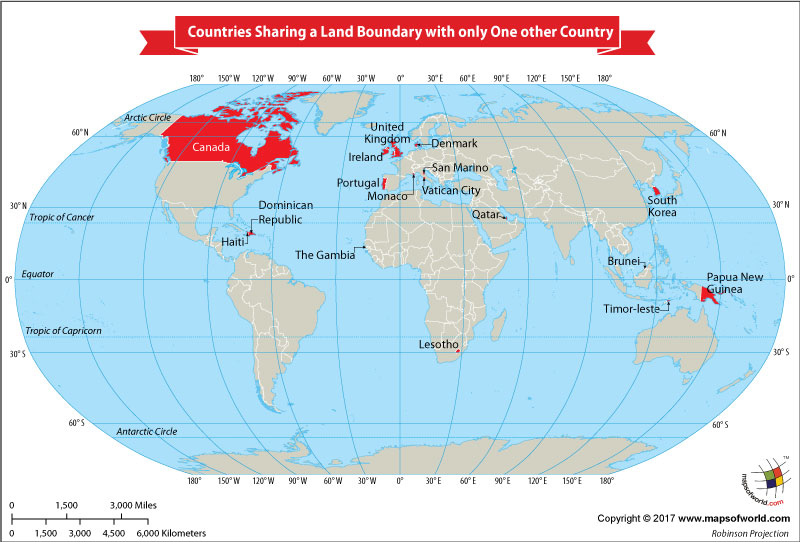 If you have a theme, we have a map.
Contact us for your custom mapping requirements
Borders between countries can range from simple to complicated. While some are peaceful, others are not. There are many countries which share their border with a number of other nations, but only a few have just one neighbor. Currently there are 17 nations across the globe which share their land border with just one other nation.
In North American, Canada shares its border with the United States. The border between the two countries, which is 5,525 miles long, is the longest international border in the world. Canada is a strong ally of the United States and as such, the Canada-USA border is one of the most peaceful borders in the world.
South Korea shares a 160-mile-long border with North Korea. Created in 1953, the Korean Demilitarized Zone is the most militarized zone and border in the world. Vatican City, which is completely surrounded by Italy, is the smallest country in the world covering just 0.2 square miles. Just like Vatican City, San Marino is another nation that is completely surrounded by Italy. The country covers an area of just 24 square miles and comprises a population of roughly 33,000.
The only country that Ireland shares its borders with is the United Kingdom. Similarly, the United Kingdom also shares land borders only with Ireland. Lesotho is a landlocked country, which is completely surrounded by South Africa. The country covers an area of 11,720 square miles and has a population of approximately 2 million. The Scandinavian country, Denmark shares its borders with Germany.
Saudi Arabia is the only country with which Qatar shares its border. The rest of the territory of Qatar is surrounded by the Persian Gulf. Portugal shares a 754-mile-long land border with Spain, while the rest of the country is surrounded by the Atlantic Ocean. Both Papua New Guinea and Timor-Leste share their border with just one nation – Indonesia.
The other countries that share their land border with just one country are; Brunei (Malaysia), Dominican Republic (Haiti), The Gambia (Senegal), Haiti (Dominican Republic), and Monaco (France).
Recent Posts