Countries that Consume the Most Pasta
Next Story
2016 US Well-Being Index: Hawaii tops the rankings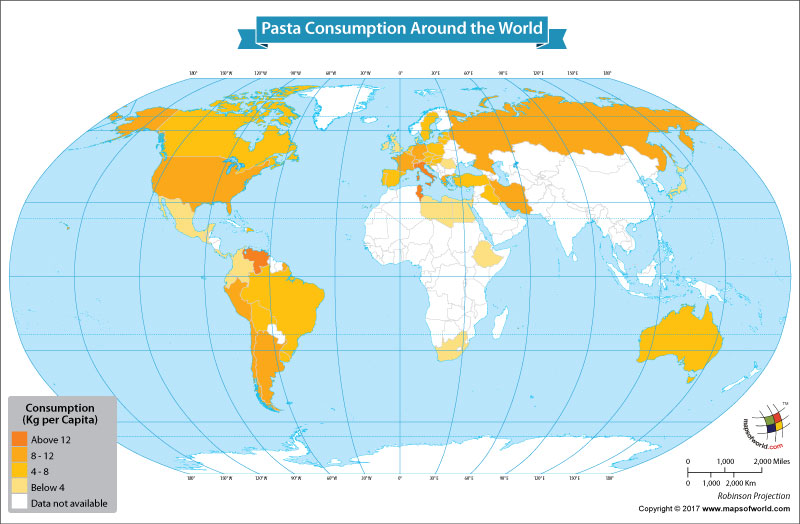 If you have a theme, we have a map.
Contact us for your custom mapping requirements
Pasta is a popular delicacy that is much loved by people around the world. However, in many countries pasta is a delicacy that may be consumed occasionally, while in some it is a staple diet and is eaten on a daily basis. Pasta, which is an integral part of Italian cuisine, is typically a noodle. It is made from unleavened dough of the durum wheat flour. The dough is then mixed with water and is then formed into sheets. Thereafter the sheets are cooked either by baking or boiling. It is estimated that there are some 600 shapes of pasta that are made across the globe; however, there are two types of pasta – dried and fresh.
It is no secret that the Italians love pasta. According to the International Pasta Organisation, Italy witnessed the largest consumption of pasta in 2013. As per a data by the organization, the kg per capita consumption of pasta in Italy stood at 25.3. Tunisia was the second nation where pasta was widely consumed. Here the consumption of pasta stood at 16 kg per capita. With 12.2 kg of pasta being consumed by a person in Venezuela, this South American nation comes at the third spot. Greece, where the kg per capita consumption of pasta stood at 11.5 in 2013, was placed fourth.
Other nations where the consumption of pasta stood between 8 and 12 kg per capita were Switzerland, the United States, Iran, Chile, Argentina, Peru, France, Germany, and Russia. Meanwhile, some nations where the consumption of pasta was less than 4 kg per capita in 2013 were Mexico, Japan, South Africa, United Kingdom, Denmark, Egypt, Libya etc.
For information on how much pasta is consumed in each nation, refer to the table below.
| Country | Consumption 2013 (kg per capita) |
| --- | --- |
| Italy | 25.3 |
| Tunisia | 16.0 |
| Venezuela | 12.2 |
| Greece | 11.5 |
| Switzerland | 9.2 |
| United States | 8.8 |
| Iran | 8.5 |
| Chile | 8.4 |
| Argentina | 8.3 |
| Peru | 8.2 |
| France | 8.1 |
| Germany | 8.0 |
| Russia | 8.0 |
| Uruguay | 7.5 |
| Croatia | 7.5 |
| Sweden | 7.0 |
| Turkey | 6.8 |
| Portugal | 6.7 |
| Canada | 6.5 |
| Hungary | 6.4 |
| Iran | 6.2 |
| Brazil | 6.0 |
| Czech Republic | 6.0 |
| Austria | 5.6 |
| Belgium – Luxembourg | 5.4 |
| Estonia | 5.3 |
| Spain | 5.3 |
| Poland | 5.2 |
| Slovak Republic | 5.0 |
| Slovenia | 4.9 |
| Bolivia | 4.8 |
| Netherlands | 4.4 |
| Lithuania | 4.4 |
| Latvia | 4.1 |
| Dominican Rep. | 4.0 |
| Australia | 4.0 |
| Israel | 4.0 |
| Ecuador | 3.9 |
| Panama | 3.8 |
| Costa Rica | 3.8 |
| Finland | 3.2 |
| Mexico | 3.2 |
| Guatemala | 3.0 |
| Colombia | 2.7 |
| Romania | 2.7 |
| United Kingdom | 2.5 |
| Denmark | 2.0 |
| Libya | 2.0 |
| South Africa | 1.9 |
| Japan | 1.7 |
| Egypt | 1.2 |
| Ireland | 1.0 |
| El Salvador | 1.0 |
(Data sourced from the International Pasta Organisation)
Recent Posts