Busiest airports in the world
Next Story
Top 10 Rugby playing nations in the world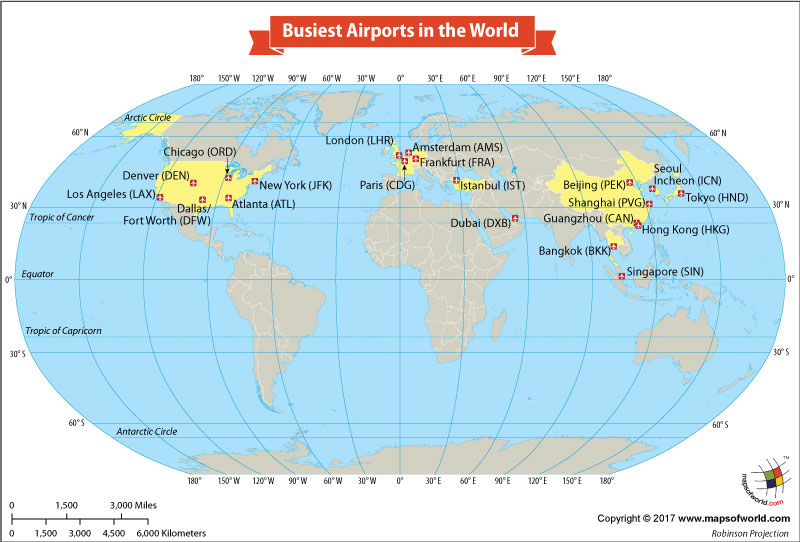 If you have a theme, we have a map.
Contact us for your custom mapping requirements
Hartsfield-Jackson International, in Atlanta, GA, takes the first position as the world's busiest airport in 2016. The figures are based on the preliminary data released by the airport trade group and Airports Council International, on April 19, 2017, for the year 2016. Atlanta also counted more than 100 million passengers for the second year in a row, making it the first airport in the world to break that record. 104,171,935 passengers passed through its terminals in 2016.
In second place, in terms of passenger traffic, was Beijing Capital International Airport. It recorded 94,393,454 in passenger traffic. Beijing is the hub for airlines such as Air China, China Eastern Airlines, Hainan Airlines, and China Southeastern Airlines. In 2008, after the Summer Olympics, a new terminal was added to the airport, making it the second largest terminal after Dubai Airport Terminal 3.
Dubai Airport stands strong at number three, having handled 83.6 million travelers in 2016. The airport is still the busiest in the world in terms of international passengers, and third busiest overall after Beijing Capital and Atlanta. From just 16 million fliers in 2002 to 83.6 million now, Dubai airport's growth has been astonishing, showing a 423% increase.
Los Angeles Airport, or LAX, takes the fourth place, seeing 80,921,527 passengers in 2016. LA X is the hub for; American, Delta, United, and Virgin America. Moreover, Los Angeles is also a focus city for Allegiant Air, Quantas, and Air New Zealand, and the main gateway either for Europe, Latin America, Asia, and Oceania.
Tokyo Airport holds the same rank as last year in terms of passenger traffic.
In the sixth position is Chicago O'Hare, which has direct flights to over 210 destinations in the US, North America, South America, Asia, and Europe. London Heathrow stands at number seven in the world and is the busiest airport in the UK in passenger traffic. Heathrow registered 75,715,474 as passenger traffic for 2016.
Hong Kong International Airport at eighth, and is a former multiple winner of the 'Airport of the Year' title at the World Airport Awards. It serves over 100 airlines operating flights to about 180 locations worldwide, including 44 destinations on the Chinese mainland. At ninth position is Shanghai Airport, recording 66,002,414 in passenger traffic. At the tenth spot, stands Paris Charles de Gaulle Airport, which recorded a 3.1% rise in the number of passengers from 2014.
| Airport | Passengers | Rank – 2016 | Rank – 2015 |
| --- | --- | --- | --- |
| Atlanta (ATL) | 104,171,935 (up 2.6%) | 1st | 1st |
| Beijing (PEK) | 94,393,454 (up 5%) | 2nd | 2nd |
| Dubai International (DXB) | 83,654,250 (up 7.2%) | 3rd | 3rd |
| Los Angeles (LAX) | 80,921,527 (up 8%) | 4th | 7th |
| Tokyo Haneda (HND) | 79,699,762 (up 5.5%) | 5th | 5th |
| Chicago O'Hare (ORD) | 77,960,588 (up 1.3%) | 6th | 4th |
| London Heathrow (LHR) | 75,715,474 (up 1%) | 7th | 6th |
| Hong Kong (HKG) | 70,305,857 (up 3%) | 8th | 8th |
| Shanghai (PVG) | 66,002,414 (up 9.8%) | 9th | 13th |
| Paris Charles de Gaulle (CDG) | 65,933,145 (up 0.3%) | 10th | 9th |
| Dallas/Fort Worth (DFW) | 65,670,697 (up 0.2%) | 11th | 10th |
| Amsterdam (AMS) | 63,625,534 (up 9.2%) | 12th | 14th |
| Frankfurt (FRA) | 60,786,937 (down 0.4%) | 13th | 12th |
| Istanbul (IST) | 60,119,876 (down 1.9%) | 14th | 11th |
| Guangzhou, China (CAN) | 59,732,147 (up 8.2%) | 15th | 17th |
| New York JFK (JFK) | 58,873,386 (up 3.5%) | 16th | 15th |
| Singapore (SIN) | 58,698,000 (up 5.9%) | 17th | 16th |
| Denver (DEN) | 58,266,515 (up 7.9%) | 18th | 19th |
| Seoul Incheon (ICN) | 57,849,814 (up 17.1%) | 19th | 22nd |
| Bangkok Suvarnabhumi (BKK) | 55,892,428 (up 5.7%) | 20th | 20th |
Recent Posts