What is the Average Height of Males Around the World?
Next Story
Analyzing the Impact of Terrorism Around the World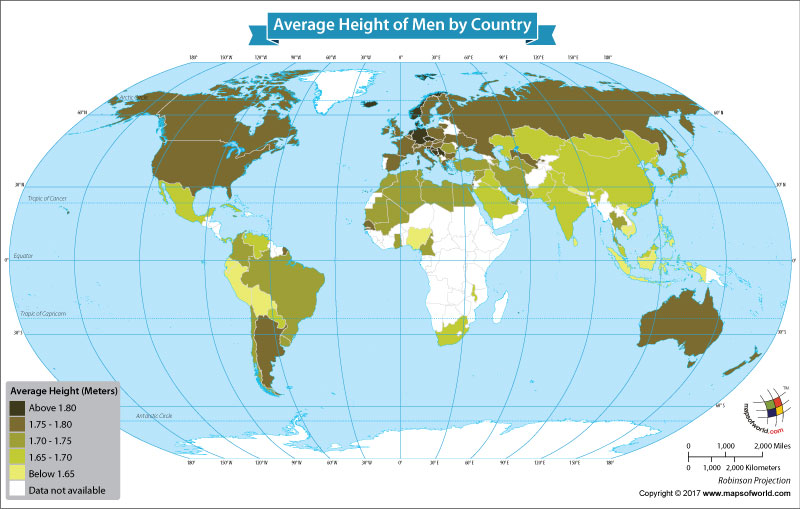 If you have a theme, we have a map.
Contact us for your custom mapping requirements
Have you ever wondered which nations have the tallest men in the world, or even the shortest? If you have thought about it and are still searching for an answer, let us tell you that Bosnia and Herzegovina and the Netherlands have the tallest men in the world. According to a data by the averageheight.co, in these two nations the average height of males stands at a whopping 1.84 meters. Close on the heels of these two nations were Montenegro and Denmark with average heights of approximately 1.83 meters.
But the other European nations such as Croatia, Czech Republic, Slovenia, Norway, Iceland, Serbia, Germany, and Luxembourg are also not far behind. Here also men have very good heights with the average height being approximately above 1.80 meters. Men in the countries of Ireland, Russia, Spain, Australia, Canada, Senegal, Switzerland, the United Kingdom, Uzbekistan, France, the United States etc, may not be as tall as those in the countries mentioned above, still they have reasonably good height. In these nations the average height of males is approximately between 1.75 and 1.79 meters.
The average height of males in nations such as Colombia, Iran, Qatar, Libya, Japan, Singapore, Brazil, and a few other nations stands between 1.70 to 1.75 meters. Countries where the average height of men was between 1.65 to 1.70 meters were Saudi Arabia, South Africa, China, India, and Pakistan, to name a few.
Standing at the other end of the spectrum are nations such as Cambodia, Nigeria, Peru, Sri Lanka, Ecuador, Nepal, Bolivia, the Philippines, Vietnam and Indonesia with average heights of males less than 1.65 meters.
The table below provides information on the average height of males per country.
| Country | Meters |
| --- | --- |
| Bosnia and Herzegovina | 1.84 |
| Netherlands | 1.84 |
| Montenegro | 1.83 |
| Denmark | 1.83 |
| Norway | 1.82 |
| Serbia | 1.82 |
| Germany | 1.81 |
| Iceland | 1.81 |
| Croatia | 1.81 |
| Czech Republic | 1.80 |
| Slovenia | 1.80 |
| Luxembourg | 1.80 |
| Slovakia | 1.79 |
| Austria | 1.79 |
| Estonia | 1.79 |
| Finland | 1.79 |
| Poland | 1.79 |
| Belgium | 1.79 |
| Greece | 1.78 |
| Spain | 1.78 |
| Sweden | 1.78 |
| Ireland | 1.78 |
| Lithuania | 1.77 |
| Russia | 1.77 |
| Israel | 1.77 |
| New Zealand | 1.77 |
| United Kingdom | 1.77 |
| Hungary | 1.77 |
| Italy | 1.77 |
| Ukraine | 1.77 |
| United States of America | 1.76 |
| Tonga | 1.76 |
| Lebanon | 1.76 |
| Australia | 1.76 |
| France | 1.76 |
| Switzerland | 1.75 |
| Uzbekistan | 1.75 |
| Bulgaria | 1.75 |
| Canada | 1.75 |
| Senegal | 1.75 |
| Argentina | 1.75 |
| Albania | 1.74 |
| Turkey | 1.74 |
| Portugal | 1.74 |
| Korea, South | 1.74 |
| United Arab Emirates | 1.73 |
| Brazil | 1.73 |
| Syria | 1.73 |
| Morocco | 1.73 |
| Tunisia | 1.72 |
| Algeria | 1.72 |
| Mauritania | 1.72 |
| Romania | 1.72 |
| Turkmenistan | 1.72 |
| Azerbaijan | 1.72 |
| Jamaica | 1.72 |
| Taiwan | 1.71 |
| Libya | 1.71 |
| Mali | 1.71 |
| Chile | 1.71 |
| Qatar | 1.71 |
| Japan | 1.71 |
| Cameroon | 1.71 |
| Colombia | 1.71 |
| Singapore | 1.71 |
| Egypt | 1.70 |
| Iran | 1.70 |
| Thailand | 1.70 |
| Uruguay | 1.70 |
| Malta | 1.70 |
| Ghana | 1.70 |
| Pakistan | 1.69 |
| Kazakhstan | 1.69 |
| Paraguay | 1.69 |
| Venezuela | 1.69 |
| Saudi Arabia | 1.69 |
| Mongolia | 1.68 |
| Cuba | 1.68 |
| Gambia, The | 1.68 |
| South Africa | 1.68 |
| China | 1.67 |
| Mexico | 1.67 |
| Malaysia | 1.66 |
| Malawi | 1.66 |
| Korea, North | 1.66 |
| Iraq | 1.65 |
| Bahrain | 1.65 |
| Panama | 1.65 |
| India | 1.65 |
| Peru | 1.64 |
| Nigeria | 1.64 |
| Sri Lanka | 1.64 |
| Ecuador | 1.64 |
| Nepal | 1.63 |
| Cambodia | 1.63 |
| Vietnam | 1.62 |
| Philippines | 1.62 |
| Bolivia | 1.60 |
| Indonesia | 1.58 |
(Data sourced from averageheight.co)
Recent Posts