Analyzing the Global Gender Gaps in Economic Participation and Opportunity
Next Story
Open Data: A Tool to Empower Everyone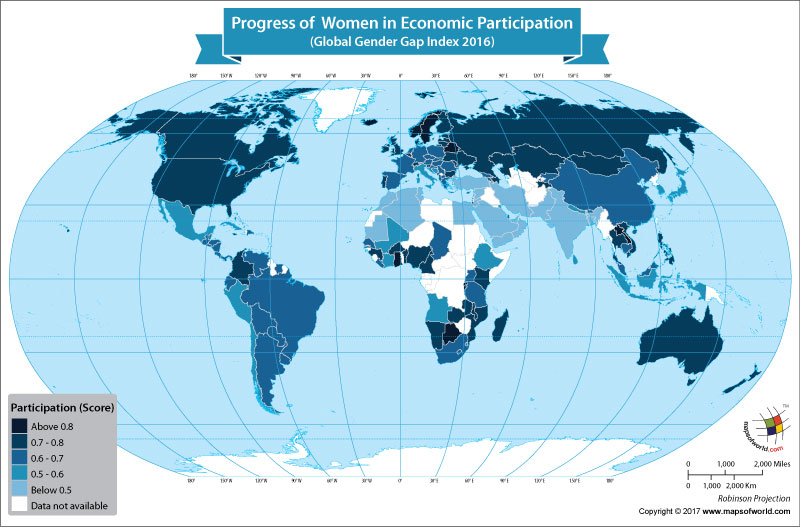 If you have a theme, we have a map.
Contact us for your custom mapping requirements
The past few years have witnessed advancements being made by women in all walks of life. Today more women can be seen in the workplace. In many nations around the world, women have also come to acquire leadership roles. The woman of today has much more opportunities and economic freedom as compared to what she had some 30 or 40 years ago. Despite this, in many nations women are still struggling for equal rights.
The World Economic Forum on an annual basis releases the Global Gender Gap report, which accesses the magnitude of gender-based disparities. The report also tracks the progress that has been made over time. The report comprises the Global Gender Gap Index, which is based on several indicators. One of the most important sub-index is the economic participation and opportunity. This sub-index contains three concepts, which are: the participation gap, remuneration gap and advancement gap. The countries score between a scale of 0 to 1. Higher the value, lesser is the gap.
According to the 2016 Global Gender Gap Index, the African nation of Burundi is the best placed in the gender gap in economic participation and opportunity sub-index. The African nation scored 0.865. Coming at the second spot was Lao PDR where the score stood at 0.832. the Bahamas was placed third with a score of 0.827. Other nations that had a score of more than 0.8 were Barbados, Belarus, Botswana, Norway, Rwanda, Iceland, Ghana and Sweden.
Some of the nations which scored between 0.7 and 0.8 in the economic participation and opportunity sub-index were Mozambique, Finland, Slovenia, Namibia, the Philippines, Thailand, Mongolia, New Zealand, the United States, Canada, Russia, the United Kingdom and some other nations.
Meanwhile, the nations that were placed at the bottom and scored less than 0.5 were Oman, UAE, Lebanon, Algeria, Bangladesh, India, Morocco, Iran and a few other nations. Among these war-torn Syria was placed at the bottom and had a score of just 0.273.
For a better understanding of how nations have scored on the economic participation and opportunity sub-index, refer to the table below.
| Country | Score |
| --- | --- |
| Burundi | 0.865 |
| Lao PDR | 0.832 |
| Bahamas | 0.827 |
| Barbados | 0.825 |
| Belarus | 0.823 |
| Botswana | 0.819 |
| Norway | 0.818 |
| Rwanda | 0.817 |
| Iceland | 0.806 |
| Ghana | 0.805 |
| Sweden | 0.802 |
| Malawi | 0.799 |
| Mozambique | 0.798 |
| Benin | 0.795 |
| Moldova | 0.795 |
| Finland | 0.794 |
| Singapore | 0.793 |
| Latvia | 0.785 |
| Slovenia | 0.784 |
| Namibia | 0.781 |
| Philippines | 0.78 |
| Thailand | 0.77 |
| Mongolia | 0.766 |
| New Zealand | 0.765 |
| Lithuania | 0.757 |
| United States | 0.752 |
| Luxembourg | 0.75 |
| Colombia | 0.749 |
| Guinea | 0.745 |
| Switzerland | 0.745 |
| Kazakhstan | 0.745 |
| Madagascar | 0.739 |
| Vietnam | 0.736 |
| Denmark | 0.735 |
| Jamaica | 0.733 |
| Canada | 0.732 |
| Belgium | 0.731 |
| Azerbaijan | 0.728 |
| Cameroon | 0.727 |
| Ukraine | 0.722 |
| Russian Federation | 0.722 |
| Australia | 0.719 |
| Bulgaria | 0.716 |
| Burkina Faso | 0.714 |
| Zimbabwe | 0.714 |
| Portugal | 0.713 |
| Tajikistan | 0.711 |
| Kenya | 0.71 |
| Ireland | 0.709 |
| Estonia | 0.703 |
| Trinidad and Tobago | 0.702 |
| Nigeria | 0.7 |
| United Kingdom | 0.7 |
| Romania | 0.699 |
| Panama | 0.696 |
| Brunei Darussalam | 0.696 |
| Germany | 0.691 |
| Poland | 0.69 |
| Belize | 0.686 |
| Gambia, The | 0.685 |
| Georgia | 0.679 |
| Israel | 0.678 |
| South Africa | 0.677 |
| France | 0.676 |
| Tanzania | 0.674 |
| Lesotho | 0.672 |
| Hungary | 0.672 |
| Croatia | 0.672 |
| Armenia | 0.671 |
| Serbia | 0.67 |
| Venezuela | 0.669 |
| Spain | 0.668 |
| Albania | 0.668 |
| Chad | 0.667 |
| Cyprus | 0.665 |
| Netherlands | 0.659 |
| Cambodia | 0.659 |
| Dominican Republic | 0.658 |
| Macedonia, FYR | 0.658 |
| Malaysia | 0.658 |
| China | 0.656 |
| Paraguay | 0.656 |
| Kyrgyz Republic | 0.651 |
| Austria | 0.65 |
| Greece | 0.649 |
| Slovak Republic | 0.648 |
| Uganda | 0.647 |
| Montenegro | 0.647 |
| Czech Republic | 0.647 |
| Uruguay | 0.643 |
| Brazil | 0.64 |
| Nicaragua | 0.632 |
| Ecuador | 0.631 |
| Senegal | 0.628 |
| El Salvador | 0.623 |
| Honduras | 0.623 |
| Qatar | 0.619 |
| Bolivia | 0.619 |
| Bhutan | 0.619 |
| Suriname | 0.617 |
| Argentina | 0.616 |
| Guatemala | 0.613 |
| Liberia | 0.612 |
| Cape Verde | 0.61 |
| Costa Rica | 0.606 |
| Ethiopia | 0.599 |
| Indonesia | 0.598 |
| Malta | 0.595 |
| Swaziland | 0.595 |
| Mali | 0.594 |
| Peru | 0.594 |
| Maldives | 0.59 |
| Bosnia and Herzegovina* | 0.581 |
| Cuba | 0.578 |
| Nepal | 0.578 |
| Côte d'Ivoire | 0.575 |
| Italy | 0.574 |
| Japan | 0.569 |
| Chile | 0.565 |
| Angola | 0.565 |
| Mauritius | 0.55 |
| Mexico | 0.544 |
| Korea, Rep. | 0.537 |
| Sri Lanka | 0.53 |
| Kuwait | 0.52 |
| Oman | 0.483 |
| Bahrain | 0.475 |
| Mauritania | 0.469 |
| Turkey | 0.464 |
| United Arab Emirates | 0.456 |
| Tunisia | 0.444 |
| Egypt | 0.444 |
| Lebanon | 0.44 |
| Algeria | 0.435 |
| Bangladesh | 0.41 |
| India | 0.408 |
| Timor-Leste | 0.406 |
| Jordan | 0.381 |
| Morocco | 0.38 |
| Iran, Islamic Rep. | 0.357 |
| Yemen | 0.352 |
| Saudi Arabia | 0.328 |
| Pakistan | 0.32 |
| Syria | 0.273 |
(Data sourced from the World Economic Forum)
Recent Posts