Analyzing the Effectiveness of Governments Around the World
Next Story
A Peek Into the Visa Requirements for Canadians by Country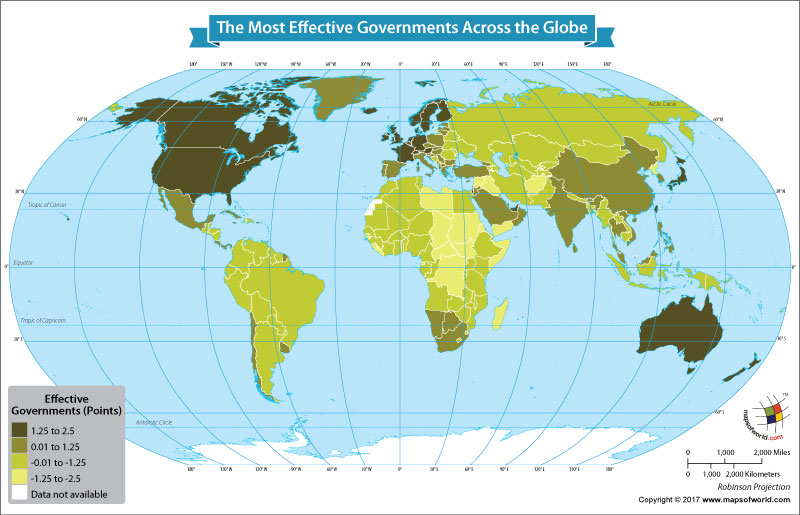 If you have a theme, we have a map.
Contact us for your custom mapping requirements
Governance refers to the institutions through which authority in a particular country is exercised. Governance basically involves certain processes such as the government's capability in effectively and efficiently formulating as well as implementing strong policies, the process through which governments are selected, monitored as well as replaced etc.
To access the level of governance in each nation, the World Bank released the Worldwide Governance Indicators. The indicator comprises six dimensions which include political stability and lack of violence, rule of law, voice and accountability, regulatory quality, government effectiveness and control of corruption over a period from 1996 to 2015.
The indicator, government effectiveness, depicts the quality of policy formulation and implementation. It also indicates the standard of the civil service and the extent to which it is free from political pressures, the quality of public services etc. The estimate of the governance ranges from around -2.5 points, which is considered to be weak governance to 2.5 points which is strong governance performance.
Singapore has ranked first position with a score of 2.25. This means that Singapore has the most effective government. The other high ranking nations with effective governments are Switzerland, New Zealand, Norway, the Netherlands, Japan, Canada, Australia, the United States, France, Belgium, among others. These nations have scored between 1.25 to 2.25.
Nations and territories that comprise the next segment, i.e. between 0.01 to 1.25 are Mauritius, South Korea, Qatar, Chile, Malaysia, Namibia, South Africa, Sri Lanka, Mexico, Saudi Arabia, India, China, and some others.
Nations standing at the bottom of the table with weak governance are Iraq, Afghanistan, Sudan, Syria, Libya, South Sudan, Madagascar and a few others. These nations have scored between -1.25 to -2.5. However, governance is the weakest in the African nation of Somalia, which ranks at the bottom of the table and has scored -2.22.
The table below will provide you an average idea about the government effectiveness in each nation around the world.
| Country/territory | points |
| --- | --- |
| SINGAPORE | 2.25 |
| SWITZERLAND | 2.01 |
| NEW ZEALAND | 1.89 |
| NORWAY | 1.86 |
| DENMARK | 1.85 |
| NETHERLANDS | 1.84 |
| FINLAND | 1.82 |
| SWEDEN | 1.81 |
| JAPAN | 1.79 |
| CANADA | 1.77 |
| ANDORRA | 1.75 |
| GERMANY | 1.74 |
| UNITED KINGDOM | 1.74 |
| LUXEMBOURG | 1.72 |
| LIECHTENSTEIN | 1.67 |
| AUSTRALIA | 1.56 |
| IRELAND | 1.54 |
| UNITED ARAB EMIRATES | 1.54 |
| ICELAND | 1.5 |
| AUSTRIA | 1.47 |
| UNITED STATES | 1.46 |
| BELGIUM | 1.44 |
| FRANCE | 1.44 |
| TAIWAN, CHINA | 1.41 |
| ISRAEL | 1.38 |
| JERSEY, CHANNEL ISLANDS | 1.28 |
| VIRGIN ISLANDS (U.S.) | 1.24 |
| PORTUGAL | 1.23 |
| LITHUANIA | 1.2 |
| SPAIN | 1.18 |
| CAYMAN ISLANDS | 1.15 |
| LATVIA | 1.1 |
| ESTONIA | 1.09 |
| FRENCH GUIANA | 1.09 |
| CHILE | 1.08 |
| BRUNEI DARUSSALAM | 1.05 |
| CZECH REPUBLIC | 1.05 |
| CYPRUS | 1.04 |
| MAURITIUS | 1.04 |
| KOREA, REP. | 1.03 |
| BARBADOS | 1 |
| QATAR | 1 |
| ANGUILLA | 0.98 |
| BERMUDA | 0.98 |
| RÉUNION | 0.98 |
| SLOVENIA | 0.97 |
| MALAYSIA | 0.96 |
| ARUBA | 0.86 |
| GREENLAND | 0.85 |
| MALTA | 0.85 |
| SLOVAK REPUBLIC | 0.84 |
| POLAND | 0.8 |
| MARTINIQUE | 0.72 |
| BAHAMAS, THE | 0.71 |
| BAHRAIN | 0.57 |
| URUGUAY | 0.54 |
| BOTSWANA | 0.51 |
| CROATIA | 0.51 |
| HUNGARY | 0.49 |
| SAMOA | 0.49 |
| AMERICAN SAMOA | 0.47 |
| GUAM | 0.47 |
| ITALY | 0.45 |
| SEYCHELLES | 0.43 |
| CHINA | 0.42 |
| BHUTAN | 0.41 |
| GEORGIA | 0.4 |
| COSTA RICA | 0.38 |
| PUERTO RICO | 0.37 |
| THAILAND | 0.36 |
| PANAMA | 0.3 |
| SOUTH AFRICA | 0.27 |
| NAMIBIA | 0.26 |
| GREECE | 0.25 |
| JAMAICA | 0.25 |
| TRINIDAD AND TOBAGO | 0.24 |
| TURKEY | 0.23 |
| BULGARIA | 0.22 |
| ANTIGUA AND BARBUDA | 0.21 |
| MEXICO | 0.21 |
| SAUDI ARABIA | 0.21 |
| MONTENEGRO | 0.16 |
| CAPE VERDE | 0.15 |
| JORDAN | 0.14 |
| MACEDONIA, FYR | 0.13 |
| DOMINICA | 0.11 |
| PHILIPPINES | 0.11 |
| SERBIA | 0.11 |
| ST. KITTS AND NEVIS | 0.11 |
| INDIA | 0.1 |
| OMAN | 0.09 |
| VIETNAM | 0.08 |
| ALBANIA | 0.03 |
| ST. VINCENT AND THE GRENADINES | 0.02 |
| CUBA | 0.01 |
| SRI LANKA | 0.01 |
| KUWAIT | -0.02 |
| COLOMBIA | -0.03 |
| ROMANIA | -0.04 |
| RWANDA | -0.04 |
| KAZAKHSTAN | -0.05 |
| MOROCCO | -0.06 |
| ST. LUCIA | -0.08 |
| ARGENTINA | -0.09 |
| TUNISIA | -0.1 |
| ARMENIA | -0.14 |
| RUSSIAN FEDERATION | -0.18 |
| BRAZIL | -0.19 |
| GRENADA | -0.2 |
| IRAN, ISLAMIC REP. | -0.2 |
| INDONESIA | -0.22 |
| AZERBAIJAN | -0.23 |
| EL SALVADOR | -0.24 |
| GHANA | -0.26 |
| PERU | -0.28 |
| FIJI | -0.29 |
| KENYA | -0.29 |
| TONGA | -0.33 |
| DOMINICAN REPUBLIC | -0.34 |
| GUYANA | -0.34 |
| SURINAME | -0.36 |
| MALDIVES | -0.38 |
| MONGOLIA | -0.4 |
| KOSOVO | -0.42 |
| MICRONESIA, FED. STS. | -0.42 |
| ECUADOR | -0.44 |
| SENEGAL | -0.44 |
| LEBANON | -0.47 |
| BELARUS | -0.48 |
| UGANDA | -0.48 |
| KIRIBATI | -0.5 |
| LAO PDR | -0.5 |
| WEST BANK AND GAZA | -0.5 |
| ALGERIA | -0.51 |
| UKRAINE | -0.51 |
| SWAZILAND | -0.53 |
| BOSNIA AND HERZEGOVINA | -0.54 |
| ZAMBIA | -0.55 |
| NAURU | -0.57 |
| PALAU | -0.57 |
| BURKINA FASO | -0.59 |
| TANZANIA | -0.6 |
| NIGER | -0.61 |
| BENIN | -0.62 |
| PAPUA NEW GUINEA | -0.62 |
| MOLDOVA | -0.63 |
| ETHIOPIA | -0.64 |
| CÔTE D'IVOIRE | -0.65 |
| BOLIVIA | -0.66 |
| PAKISTAN | -0.66 |
| LESOTHO | -0.67 |
| MALAWI | -0.67 |
| UZBEKISTAN | -0.68 |
| CAMBODIA | -0.69 |
| BELIZE | -0.7 |
| GUATEMALA | -0.71 |
| BANGLADESH | -0.73 |
| GABON | -0.73 |
| MOZAMBIQUE | -0.74 |
| CAMEROON | -0.76 |
| EGYPT, ARAB REP. | -0.76 |
| SÃO TOMÉ AND PRINCIPE | -0.76 |
| VANUATU | -0.79 |
| NICARAGUA | -0.8 |
| HONDURAS | -0.82 |
| TAJIKISTAN | -0.82 |
| TURKMENISTAN | -0.87 |
| GAMBIA, THE | -0.89 |
| KYRGYZ REPUBLIC | -0.9 |
| MALI | -0.91 |
| NIGERIA | -0.95 |
| PARAGUAY | -0.95 |
| DJIBOUTI | -0.96 |
| TUVALU | -0.97 |
| ANGOLA | -1.01 |
| CONGO, REP. | -1.02 |
| MAURITANIA | -1.03 |
| SOLOMON ISLANDS | -1.03 |
| NEPAL | -1.04 |
| TIMOR-LESTE | -1.05 |
| GUINEA | -1.14 |
| BURUNDI | -1.15 |
| ZIMBABWE | -1.15 |
| TOGO | -1.18 |
| VENEZUELA, RB | -1.22 |
| MYANMAR | -1.24 |
| SIERRA LEONE | -1.26 |
| IRAQ | -1.27 |
| MADAGASCAR | -1.29 |
| AFGHANISTAN | -1.34 |
| LIBERIA | -1.37 |
| EQUATORIAL GUINEA | -1.42 |
| CHAD | -1.45 |
| SUDAN | -1.48 |
| COMOROS | -1.52 |
| ERITREA | -1.6 |
| MARSHALL ISLANDS | -1.6 |
| GUINEA-BISSAU | -1.62 |
| CONGO, DEM. REP. | -1.63 |
| KOREA, DEM. REP. | -1.63 |
| SYRIAN ARAB REPUBLIC | -1.63 |
| YEMEN, REP. | -1.64 |
| LIBYA | -1.7 |
| CENTRAL AFRICAN REPUBLIC | -1.79 |
| HAITI | -2 |
| SOUTH SUDAN | -2.17 |
| SOMALIA | -2.22 |
(Data sourced from the World Bank)
Recent Posts