Analyzing the Ecological Footprints of Each Nation
Next Story
FIS Snowboarding World Championships: France Has Won the Most Medals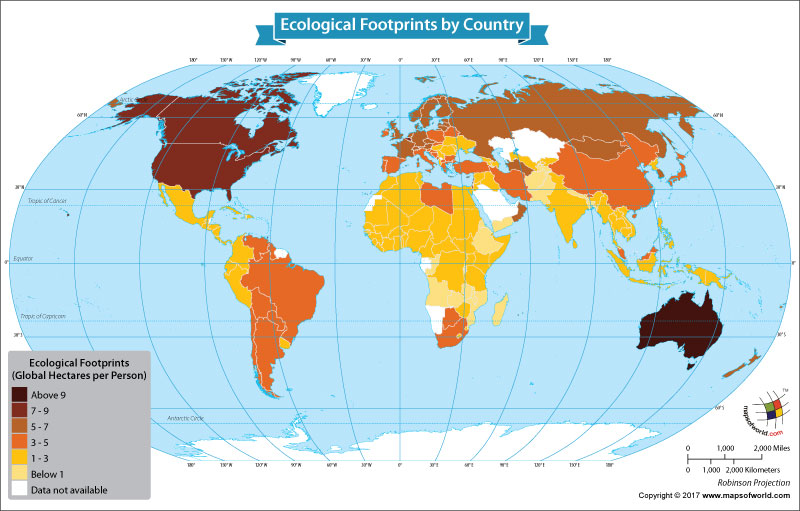 If you have a theme, we have a map.
Contact us for your custom mapping requirements
All of the resources that we use for our daily needs come from the earth. The basic necessities that are essential for our survival such as food, electricity, among others are produced within the confines of nature. These are produced using raw natural resources. Thus, an ecological footprint can be defined as a measurement of an area of land required to support a population. It is a biological productive area that provides all the basic necessities that the people use. These may include land required for building and roads, fruits and vegetables, forests, water and energy use, among others. Ecological footprints can be measured at an individual level, or at cities countries or even the global scale. In case the ecological footprint of a nation is more than its biocapicity then it is running an ecological deficit. However, in case the biocapicity is more than the footprint then that country has an ecological reserve.
Luxembourg has the highest ecological footprints in the world. According to a 2013 data by the Global Footprint Network, the Ecological footprints in Luxembourg stood at 13.72 global hectares per person. Australia came at the second spot with a ecological footprints amounting to 9.57 global hectares per person.
Meanwhile the nations where the ecological footprints stood between 7 and 9 global hectares per person were Canada, the United States, Singapore, Trinidad and Tobago, and Belgium. Coming in the next segment, i.e. 5 to 7 global hectares per person were countries such as Estonia, Mongolia, Sweden, Finland, the Netherlands, Austria, Denmark, South Korea, Russia, Germany, France, etc.
meanwhile, ranked at the bottom of the table were countries with the smallest ecological footprints per person. Countries where the ecological footprints were less than 1 global hectares per person were Ethiopia, Madagascar, Nepal, Afghanistan, Rwanda, Pakistan, Bangladesh, and some others.
The table below provides information on the ecological footprints per country in global hectares per person.
| Country | ecological footprint (gha/person) |
| --- | --- |
| Luxembourg | 13.72 |
| Australia | 9.57 |
| Canada | 8.45 |
| United States of America | 8.40 |
| Singapore | 7.66 |
| Trinidad and Tobago | 7.12 |
| Belgium | 7.00 |
| Estonia | 6.83 |
| Mongolia | 6.80 |
| Sweden | 6.71 |
| Oman | 6.65 |
| Israel | 6.48 |
| Latvia | 6.30 |
| Finland | 6.19 |
| The Netherlands | 6.16 |
| Bermuda | 6.15 |
| Austria | 6.02 |
| Denmark | 5.95 |
| Republic of Korea | 5.88 |
| Lithuania | 5.86 |
| Russian Federation | 5.57 |
| Turkmenistan | 5.52 |
| Norway | 5.50 |
| Germany | 5.46 |
| France | 5.22 |
| Switzerland | 5.20 |
| New Zealand | 5.18 |
| Czech Republic | 5.16 |
| United Kingdom | 5.00 |
| Japan | 4.98 |
| Europe | 4.84 |
| Belarus | 4.82 |
| Ireland | 4.81 |
| Slovenia | 4.78 |
| Bhutan | 4.70 |
| Italy | 4.69 |
| Greece | 4.59 |
| Martinique | 4.57 |
| Poland | 4.45 |
| Chile | 4.36 |
| Réunion | 4.35 |
| Saint Kitts and Nevis | 4.32 |
| Slovakia | 4.22 |
| French Polynesia | 4.11 |
| Libyan Arab Jamahiriya | 4.05 |
| Cyprus | 4.05 |
| Portugal | 3.93 |
| Malaysia | 3.92 |
| Croatia | 3.85 |
| Paraguay | 3.83 |
| Guadeloupe | 3.81 |
| Spain | 3.80 |
| Montenegro | 3.78 |
| Barbados | 3.61 |
| Fiji | 3.55 |
| Venezuela | 3.55 |
| Lebanon | 3.53 |
| China | 3.51 |
| South Africa | 3.50 |
| Macedonia | 3.41 |
| Botswana | 3.41 |
| Polynesia | 3.39 |
| Guyana | 3.36 |
| Bulgaria | 3.33 |
| Turkey | 3.32 |
| Mauritius | 3.28 |
| Argentina | 3.24 |
| Bosnia and Herzegovina | 3.22 |
| Tonga | 3.15 |
| Bolivia | 3.09 |
| Iran | 3.00 |
| Brazil | 3.00 |
| Hungary | 2.98 |
| Serbia | 2.94 |
| Grenada | 2.94 |
| Ukraine | 2.88 |
| Mexico | 2.84 |
| Panama | 2.75 |
| British Virgin Islands | 2.75 |
| Romania | 2.75 |
| Uruguay | 2.70 |
| Democratic People's Republic of Korea | 2.65 |
| Thailand | 2.64 |
| Samoa | 2.56 |
| Costa Rica | 2.53 |
| Saint Lucia | 2.50 |
| Dominica | 2.44 |
| Albania | 2.35 |
| Djibouti | 2.34 |
| Mauritania | 2.34 |
| Algeria | 2.32 |
| Uzbekistan | 2.29 |
| Wallis and Futuna Islands | 2.28 |
| Tunisia | 2.27 |
| Azerbaijan | 2.26 |
| Jordan | 2.23 |
| Peru | 2.22 |
| Armenia | 2.19 |
| Swaziland | 2.18 |
| Egypt | 1.99 |
| El Salvador | 1.98 |
| Ghana | 1.94 |
| Ecuador | 1.94 |
| Cuba | 1.91 |
| Colombia | 1.86 |
| Iraq | 1.85 |
| Kyrgyzstan | 1.83 |
| Melanesia | 1.81 |
| Jamaica | 1.76 |
| Georgia | 1.72 |
| Honduras | 1.70 |
| South Sudan | 1.69 |
| Guatemala | 1.68 |
| Morocco | 1.67 |
| Cabo Verde | 1.62 |
| Papua New Guinea | 1.60 |
| Lesotho | 1.60 |
| Vietnam | 1.57 |
| Syrian Arab Republic | 1.56 |
| Sao Tome and Principe | 1.53 |
| Dominican Republic | 1.53 |
| Moldova | 1.52 |
| Guinea-Bissau | 1.48 |
| Niger | 1.48 |
| Sri Lanka | 1.48 |
| Indonesia | 1.48 |
| Chad | 1.43 |
| Myanmar | 1.42 |
| Mali | 1.41 |
| Guinea | 1.39 |
| Lao People's Democratic Republic | 1.38 |
| Nicaragua | 1.37 |
| Sudan | 1.32 |
| Tanzania | 1.28 |
| Uganda | 1.26 |
| Benin | 1.24 |
| Somalia | 1.23 |
| Cambodia | 1.22 |
| Sierra Leone | 1.20 |
| Côte d'Ivoire | 1.18 |
| Burkina Faso | 1.18 |
| Congo | 1.17 |
| Senegal | 1.17 |
| Central African Republic | 1.17 |
| Zimbabwe | 1.16 |
| Liberia | 1.15 |
| Cameroon | 1.13 |
| Nigeria | 1.12 |
| The Philippines | 1.08 |
| Togo | 1.06 |
| India | 1.06 |
| Kenya | 1.05 |
| Ethiopia | 0.99 |
| Comoros | 0.98 |
| Madagascar | 0.98 |
| Gambia | 0.97 |
| Zambia | 0.95 |
| Nepal | 0.95 |
| Yemen | 0.94 |
| Tajikistan | 0.92 |
| Rwanda | 0.90 |
| Afghanistan | 0.89 |
| Angola | 0.88 |
| Mozambique | 0.82 |
| Malawi | 0.80 |
| Democratic Republic of Congo | 0.77 |
| Bangladesh | 0.73 |
| Pakistan | 0.72 |
| Burundi | 0.60 |
| Haiti | 0.56 |
| Eritrea | 0.52 |
| Timor-Leste | 0.47 |
(Data sourced from Global Footprint Network)
data.footprintnetwork.org/
Recent Posts