These countries were never invaded by the British
Next Story
Nations Which Won Their First-ever Gold at Olympics 2016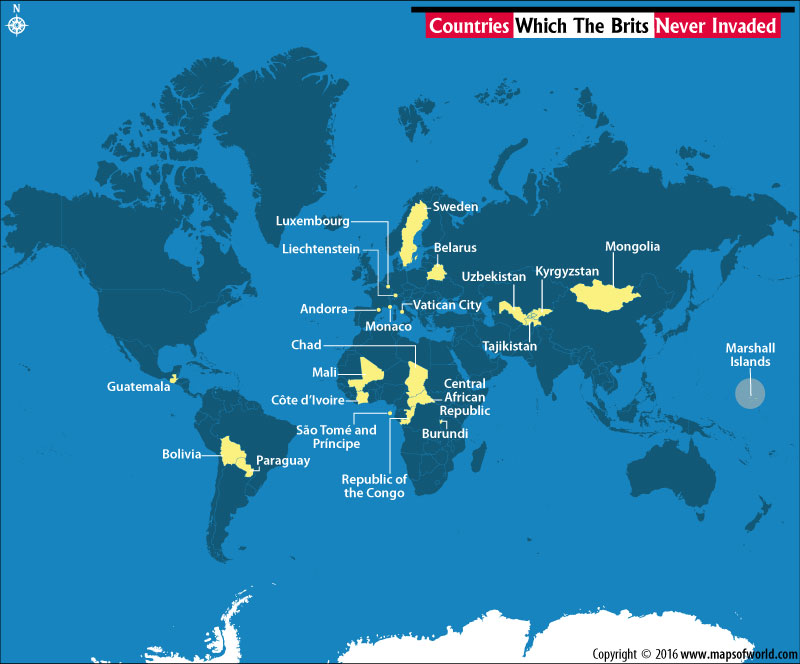 If you have a theme, we have a map.
Contact us for your custom mapping requirements
By the 19th century, the Ottoman Empire was only a shadow of its former self, the Mughal Empire was breathing its last, Iran was losing its territories and the British Empire was slowly and gradually emerging as the most powerful force on earth. In fact, from the 18th to the mid 20th century, the British Empire was a force to be reckoned with, even eclipsing other empires of the age such as Spanish, French and the Portuguese. There was not a single inhabited place that had not witnessed the wrath of the emerging imperial force. Rather, it takes just one sentence to access the magnitude of the British Empire – The Sun Never Sets on the British Empire. To put it in numbers. Around 90 percent of the world had faced a British invasion, which in the modern world makes it some 180 countries out of 200.
At the time when nation after nation was bowing before the British crown or facing an invasion, there were some countries which either accidentally or intentionally were left out of the empire. To put it in simple terms, there were just 22 countries in the world that did not face a British invasion, so says the book All the Countries We've Ever Invaded: And the Few We Never Got Round To, which was authored by Stuart Laycock, a British historian and author.
Many of the countries were under the rule of the Spanish Empire, the Portuguese Empire, the French Empire, and the Dutch Empire; but in some way or the other these nations did face raids by the Britishers. Some of these nations are located far away from the British Isle such as the African nations of Burundi, Central African Republic, Chad, Ivory Coast and the Central Asian nations of Kyrgyzstan, Tajikistan and Uzbekistan. But some of them are much near Britain and are located in the European continent such as Luxembourg, Lichtenstein, Vatican City, Monaco and Luxembourg. The Asian nation of Mongolia, which was once the base of the feared leader of the Mongol Empire, was also never invaded by the British.
You might be wondering was Britain ever invaded by a foreign power? Well, William the conqueror landed on the shores of England in 1066 and after defeating Harold II became the first Norman king of England. And by the way, if you are curious about the Roman history, let us tell you that the country, too, was once a part of the Roman Empire.
Recent Posts