DTP3 Immunization Coverage on the Rise
Next Story
Winners of the World Orienteering Championships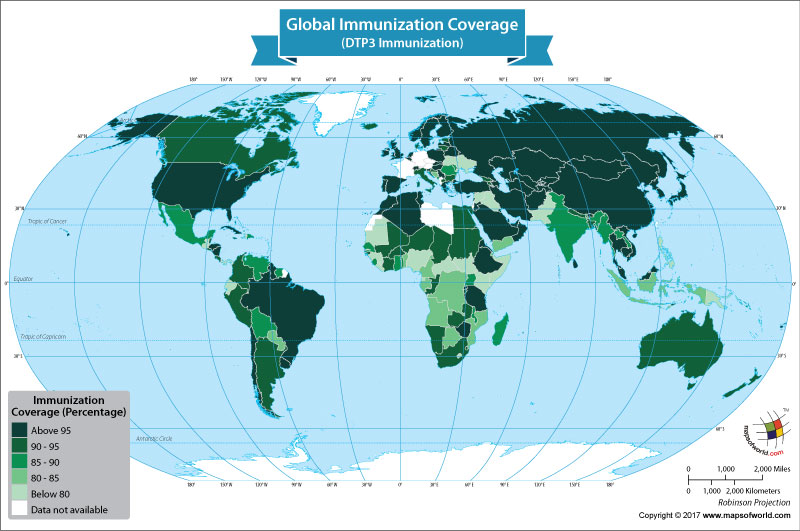 If you have a theme, we have a map.
Contact us for your custom mapping requirements
Diphtheria, tetanus, and pertussis (whooping cough), are serious diseases. However, vaccines and immunization can protect both children, as well as adults, from these diseases. Over the years, the percentage of people who have been provided immunization against these three infectious diseases is on the rise. Diphtheria, which spreads from one person to the other, is an infection that affects the mucous membrane of the nose and throat. Tetanus, which occurs when dirt enters a wound, is not transmitted from person to person. The tetanus germs grow in wounds that have been caused by tools, dirty nails, animal bites, wood splinters etc. Pertussis, also known as whooping cough, which mostly affects children, is a disease of the respiratory tract. It is caused by bacteria that grow in the nose, throat and mouth. Children who suffer from this disease have coughing spells that last from some four to eight weeks.
To deal with these infections, immunization programs have been provided that have contributed immensely in lowering the burden of these diseases. According to the World Health Organization, in 2015, the global diphtheria-tetanus-pertussis immunization coverage stood at 86 percent. This means that 14 percent children around the world did not receive the three doses of diphtheria-tetanus-pertussis containing vaccines (DTP3). Despite significant gains made in immunization coverage during the past decades, immunization coverage varies from country-to-country.
According to a World Health Organization data, in nations such as the United States, Norway, the Netherlands, Japan, Ethiopia, Vietnam, Switzerland, Saudi Arabia, UAE, Oman, Morocco, and some others, the immunization coverage was high. Here more than 95 percent of the people were immunized against these diseases.
Nations where the coverage of immunization against these three infections ranged between 90 and 95 percent were Argentina, Australia, Bangladesh, Denmark, Egypt, South Africa, New Zealand, and Lebanon, to name a few.
However, there was a striking variation among the nations where DTP3 world immunization coverage was less than 80 percent. While Ecuador and Kenya were placed on the higher side with some 78 percent immunized against diphtheria, tetanus, and pertussis, the Equatorial Guinea was placed at the bottom of the table with just 17 percent of the population immunized from diphtheria, tetanus, and pertussis.
The table below provides information on the percentage of population that is covered by DTP3 immunization.
| Countries | 2015 |
| --- | --- |
| Antigua and Barbuda | 99 |
| Belarus | 99 |
| Belgium | 99 |
| Bhutan | 99 |
| Brunei Darussalam | 99 |
| China | 99 |
| Cook Islands | 99 |
| Cuba | 99 |
| Greece | 99 |
| Honduras | 99 |
| Hungary | 99 |
| Jordan | 99 |
| Kuwait | 99 |
| Luxembourg | 99 |
| Malaysia | 99 |
| Maldives | 99 |
| Mongolia | 99 |
| Morocco | 99 |
| Nicaragua | 99 |
| Niue | 99 |
| Oman | 99 |
| Qatar | 99 |
| Rwanda | 99 |
| Saint Lucia | 99 |
| Saint Vincent and the Grenadines | 99 |
| Sri Lanka | 99 |
| Thailand | 99 |
| Tonga | 99 |
| Turkmenistan | 99 |
| The United Arab Emirates | 99 |
| Uzbekistan | 99 |
| Afghanistan | 98 |
| Bahrain | 98 |
| Cambodia | 98 |
| Dominica | 98 |
| Iran | 98 |
| Kazakhstan | 98 |
| Poland | 98 |
| Portugal | 98 |
| The Republic of Korea | 98 |
| Saudi Arabia | 98 |
| Sweden | 98 |
| Tunisia | 98 |
| United Republic of Tanzania | 98 |
| Andorra | 97 |
| Barbados | 97 |
| Cyprus | 97 |
| Finland | 97 |
| The Gambia | 97 |
| Kyrgyzstan | 97 |
| Malta | 97 |
| Mauritius | 97 |
| The Russian Federation | 97 |
| Seychelles | 97 |
| Spain | 97 |
| Switzerland | 97 |
| Turkey | 97 |
| Vietnam | 97 |
| Azerbaijan | 96 |
| Brazil | 96 |
| Chile | 96 |
| The Democratic People's Republic of Korea | 96 |
| Ethiopia | 96 |
| Fiji | 96 |
| Japan | 96 |
| Sao Tome and Principe | 96 |
| Singapore | 96 |
| Slovakia | 96 |
| Tajikistan | 96 |
| Trinidad and Tobago | 96 |
| Tuvalu | 96 |
| The United Kingdom | 96 |
| Zimbabwe | 96 |
| Algeria | 95 |
| Bahamas | 95 |
| Eritrea | 95 |
| Guyana | 95 |
| Ireland | 95 |
| Latvia | 95 |
| The Netherlands | 95 |
| Norway | 95 |
| Serbia | 95 |
| Slovenia | 95 |
| The United States of America | 95 |
| Uruguay | 95 |
| Argentina | 94 |
| Armenia | 94 |
| Belize | 94 |
| Burundi | 94 |
| Croatia | 94 |
| The Democratic Republic of the Congo | 94 |
| Georgia | 94 |
| Saint Kitts and Nevis | 94 |
| Samoa | 94 |
| Australia | 93 |
| Bangladesh | 93 |
| Cabo Verde | 93 |
| Denmark | 93 |
| Egypt | 93 |
| Estonia | 93 |
| Italy | 93 |
| Lithuania | 93 |
| South Africa | 93 |
| Sudan | 93 |
| Chad | 92 |
| Costa Rica | 92 |
| Grenada | 92 |
| Iceland | 92 |
| Namibia | 92 |
| New Zealand | 92 |
| Bulgaria | 91 |
| Burkina Faso | 91 |
| Canada | 91 |
| Colombia | 91 |
| Côte d'Ivoire | 91 |
| El Salvador | 91 |
| Jamaica | 91 |
| Lebanon | 91 |
| Nauru | 91 |
| Nepal | 91 |
| Macedonia | 91 |
| Guinea-Bissau | 90 |
| Mali | 90 |
| Niger | 90 |
| Palau | 90 |
| Peru | 90 |
| Swaziland | 90 |
| Timor-Leste | 90 |
| Zambia | 90 |
| Bolivia | 89 |
| Ghana | 89 |
| Lao People's Democratic Republic | 89 |
| Montenegro | 89 |
| Myanmar | 89 |
| Romania | 89 |
| Senegal | 89 |
| Suriname | 89 |
| Uganda | 89 |
| Malawi | 88 |
| Togo | 88 |
| India | 87 |
| Kiribati | 87 |
| Mexico | 87 |
| Republic of Moldova | 87 |
| Solomon Islands | 87 |
| Venezuela | 87 |
| Sierra Leone | 86 |
| Dominican Republic | 85 |
| Madagascar | 85 |
| Marshall Islands | 85 |
| Cameroon | 84 |
| Djibouti | 84 |
| Indonesia | 84 |
| Yemen | 84 |
| Benin | 82 |
| Bosnia and Herzegovina | 82 |
| Angola | 80 |
| Botswana | 80 |
| Comoros | 80 |
| Congo | 80 |
| Gabon | 80 |
| Mozambique | 80 |
| Paraguay | 80 |
| Vanuatu | 80 |
| Ecuador | 78 |
| Kenya | 78 |
| San Marino | 76 |
| Pakistan | 75 |
| Guatemala | 74 |
| Nigeria | 74 |
| Mauritania | 73 |
| Panama | 73 |
| Haiti | 72 |
| Federated States of Micronesia | 72 |
| Iraq | 68 |
| Lesotho | 67 |
| Liberia | 65 |
| Papua New Guinea | 62 |
| Guinea | 60 |
| The Philippines | 60 |
| Syrian Arab Republic | 60 |
| South Sudan | 50 |
| Central African Republic | 47 |
| Somalia | 44 |
| Ukraine | 23 |
| Equatorial Guinea | 17 |
(Data sourced from the World Health Organization)
Recent Posts