Countries with best health spend
Next Story
Percentage of women teachers in secondary education around the world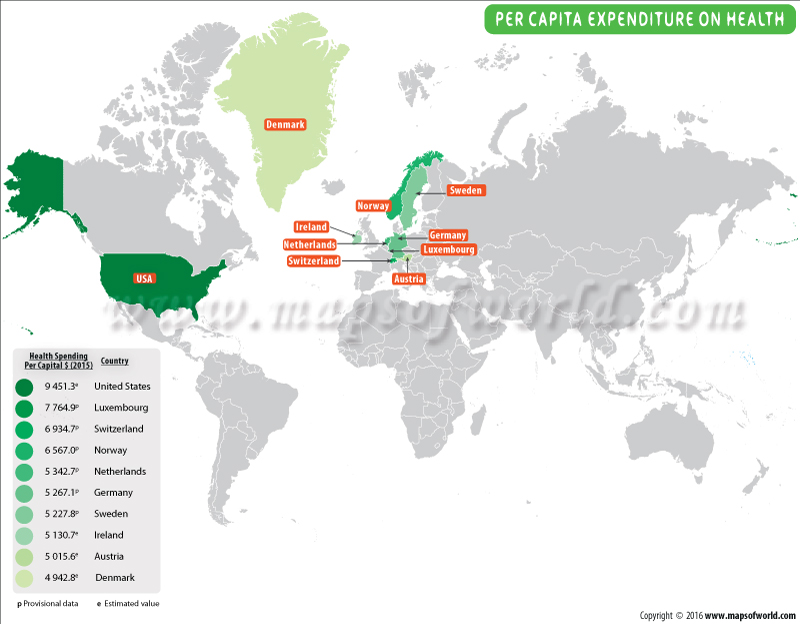 If you have a theme, we have a map.
Contact us for your custom mapping requirements
A robust healthcare infrastructure plays a significant role in the overall development of the nation. As such, nations around the world give a lot of emphasis to the development of their healthcare infrastructure. According to the OECD list of the countries which are the highest health spenders per capita, the United States ranks at the top. As of 2015, the per capita expenditure on health in the United States stood at $9451.3 .
However, barring the United States, all the other nine countries in the top ten list belong to Europe. Following the United States was Luxembourg where the spending on health is particularly high. The per capita expenditure of health totaled $7764. Coming at the third spot is Switzerland where health spending per capita is $6934.7.
Norway has a robust healthcare system where per capita health spending is $6567. Following Norway is the Netherlands which has one of the best healthcare infrastructure in the world. Occupying the fifth spot, here the per capita health spending is $5342. Germany occupies the sixth spot and has a high life expectancy. The health spending per capita in this European nation stood at $5267. While in Sweden the per capita health spending were $ 5227, in Ireland they were $5130. The ninth and tenth spot were occupied by Austria and Denmark where the per capita spending on health were $5015 and $4942 respectively.
(Source: OECD)
Recent Posts