20 best cycling destinations on the planet; which one is your favorite?
Next Story
What is the Role of Manufacturing in Boosting Economic Growth of Countries?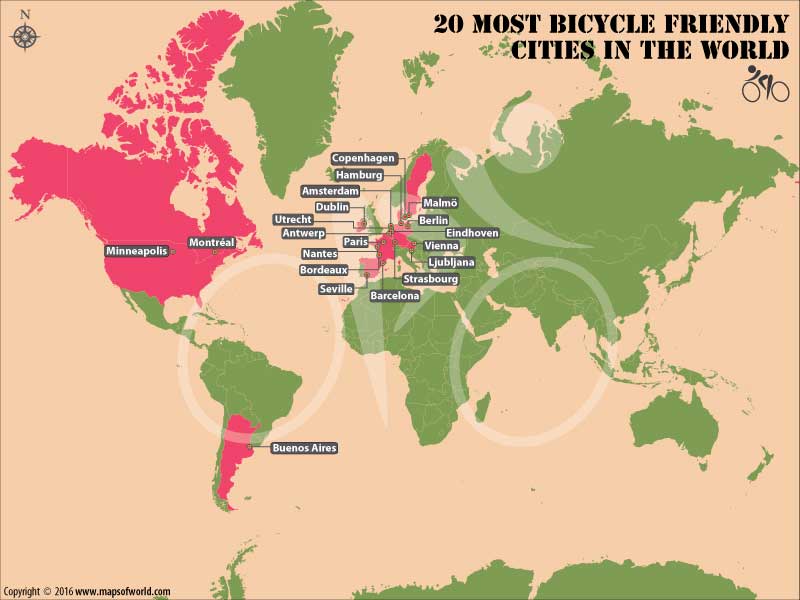 If you have a theme, we have a map.
Contact us for your custom mapping requirements
Bicycling your way through sparkling clean, well-metaled roads surrounded by picturesque locales or Victorian style buildings on either side can be a bit hard to imagine, especially if you are living in a congested and polluted city where even walking is at times tough. But, there are a few cities in the world where cycling is a pleasurable experience and people often tend to use their cycles for office and other travels.
According to a list by the urban design consultancy – Copenhagenize design company, of the top 20 most cycle-friendly cities in the world, 17 are located in Europe. There are just three nations outside Europe that have made it to the list and these are the United States, Canada and surprisingly, Argentina. Unfortunately, not even a single nation from Africa, Asia or Australia could make it to the list. So, if you are a biking enthusiast and are looking for a city where you can indulge in cycling till your legs give out, then this list is for you.
Standing right at the top is the city of Copenhagen in Denmark. The city has everything that a cycling enthusiast looks for such as a flat terrain, short distances, a favorable climate, less cars on the road and above all cycle-tracks, which are well-designed and user-friendly. However, cycling is in the DNA of the people of this Nordic nation. Here, the history of cycling goes back to more than 100 years. People have been using cycle as a medium of transport since the 1800s as they find it a much cheaper, convenient and environment-friendly way of getting around the city.
Coming second is the Dutch city of Amsterdam. The city was the best destination for cyclists in 2013, but in 2015, lost the numero uno position to Copenhagen. In fact, Netherlands is quite a destination for cyclists and the figures speak for themselves. Apart from Amsterdam, two other cities have made it to the list and these are Utrecht, and Eindhoven at the third and the fifth spot. In the Netherlands, around 31 percent said that cycling was their main medium of transport, while in the city of Amsterdam it was 38 percent. No doubt, well-built cycling tracks and signposts make life so much easy for the cyclists but so do the amazing landscapes that cyclists witness on their way to work or other chores.
France is another nation which is a paradise for cyclists. Four cities of the European nation feature in the list and these are Strasbourg at the fourth, Nantes at the seventh, Bordeaux at the eighth, and Paris at the seventeenth position. Here the roads are quieter, pollution is negligible, the landscape is amazing and the climate favorable – the ingredients that make a cyclist's journey pleasurable. Other European cities that have made it to the list are Malmo in Sweden, Antwerp in Belgium, Seville in Spain, Barcelona in Catalonia, Berlin and Hamburg in Germany, Ljubljana in Slovenia, Dublin in Ireland, and Vienna in Austria.
The list certainly does seem to be dominated by European cities, but quite a few cities from North and South America, too, have managed to sneak in. Minneapolis, which is a major city of Minnesota, is also a popular city for biking. Here, cyclists can have the road to themselves and need not worry about cars honking behind them as there won't be any or maybe none. The scenery around you is idyllic with miles of greenery and nothing else. Many hundreds of kilometer-long bicycle lanes, trails and paths make the Canadian city of Montreal a perfect cycling destination. The Argentinian city of Buenos Aires, with its network of biking lanes has also made it to the list.
So, where do you plan to cycle?
Recent Posts