Top 24 Water Parks in North America by Attendance
Next Story
The Number of Stadiums per Country: The United States and Brazil At The Top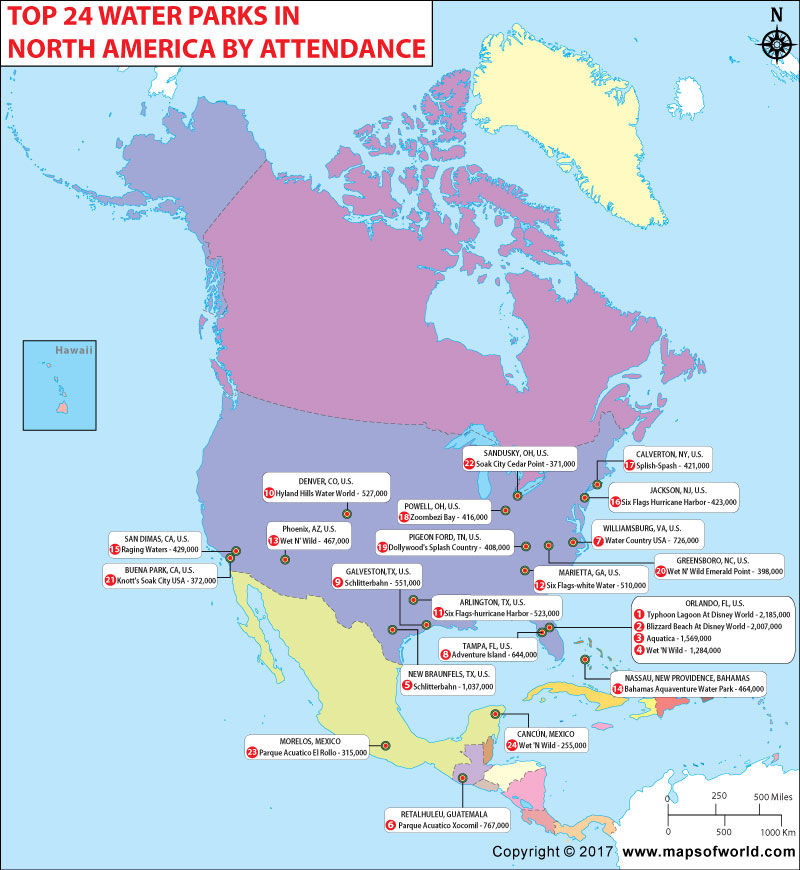 If you have a theme, we have a map.
Contact us for your custom mapping requirements
If you are feeling the load of work too much to handle, just take a break from office and drive down to an awesome water park in or near your place of residence. After all, splashing out at a water park would surely provide a refreshing break from the hectic work schedule.
The continent of North America is home to some of the world's best water parks, which attract millions of visitors from all over the world every year. Of the top 24 water parks, 20 are located in the United States. According to a data by the TEA/AECOM 2014 Theme Index and Museum Index, the Typhoon Lagoon at Disney World in Florida was the most popular water park in 2014. According to the data, the water park witnessed an attendance of 2,185,000 people during the year. Coming at the second spot was the Blizzard Beach at Disney World in Orlando, Florida, which saw some 2,007,000 people coming from over the world to watch its various attractions.
The Aquatica and Wet 'N Wild in Orlando, Florida, and the Schlitterbahn in New Braunfels, Texas, witnessed a visitor attendance of upwards of 1,000,000 people. Among the 20 water parks located in the United States, the Soak City Cedar Point in Sandusky, Ohio, was placed at the 20th rank with an attendance of 371,000 in the year 2014.
There were only four water parks outside of the United States that made to the list. Two of these are located in Mexico, one in Bahamas and one in Gautemala. The Parque Acuatico El Rollo and Wet 'N Wild in Mexico witnessed a visitor attendance of 315,000 and 255,000 people respectively in 2014. An estimated 767,000 people visited Parque Acuatico Xocomil in Guatemala and 464,000 people came to witness the various attractions at the Bahamas Aquaventure Water Park in the Bahamas.
(Data sourced from TEA/AECOM 2014 Theme Index and Museum Index)
Also see
Recent Posts