Wondering which nation has the biggest music industry in the world? Read on
Next Story
Nations that won the Rugby World Cup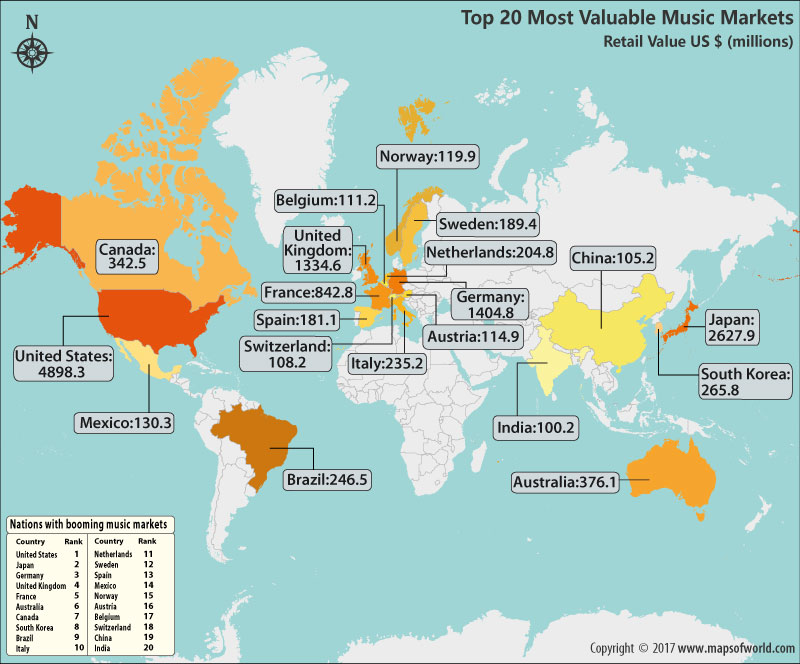 If you have a theme, we have a map.
Contact us for your custom mapping requirements
The Music industry has come a long way from the days when hefty records and cassette-operated walkmans were in vogue. Though that has been replaced by blue rays and CDs but today's generation mostly relies on digital downloads and live streaming. Nevertheless, music continues to rule the world.
Perhaps, the people of the United States are the most musically inclined. According to the International Federation of the Phonographic Industry, the United States is the largest music market in the world. The music market in 2014 in the country stood at $ 4,898.3 million. Coming at the second spot was Japan where the retail revenues were $2,627.9 million. Over the years, the fame of Japanese music has spread to other nations. B'Z, one of the Japan's leading rock duo, are said to have sold a whopping 100 million records worldwide. Famed for its rock bands such as Scorpions and Tokio Hotel, Germany's music market is the third largest standing at $1,404.8 million, while the United Kingdom occupies the fourth position with $1,334.6 million. France, which has given rise to many stars whose fame has transcended boundaries, is the fifth largest music industry in the world. Its retail value stood at $842.8 million. Some other nations among the top 20 with the largest music markets are Australia, Canada, South Korea, Italy, Spain, Austria, to name a few.
India, which is famous for its diverse range of music ranging from Bollywood songs to classical music, occupied the 20th rank standing at $100.2 million. Slightly ahead of India were China and Switzerland occupying the 19th and 18th spot respectively. The retail value in these countries stood at $105.2 million and $108.2 million.
Data sourced from the International Federation of the Phonographic Industry
Recent Posts