Movie Admissions Around the World: India and the United States on Top
Next Story
Davis Cup Winners (From 1991 To 2016)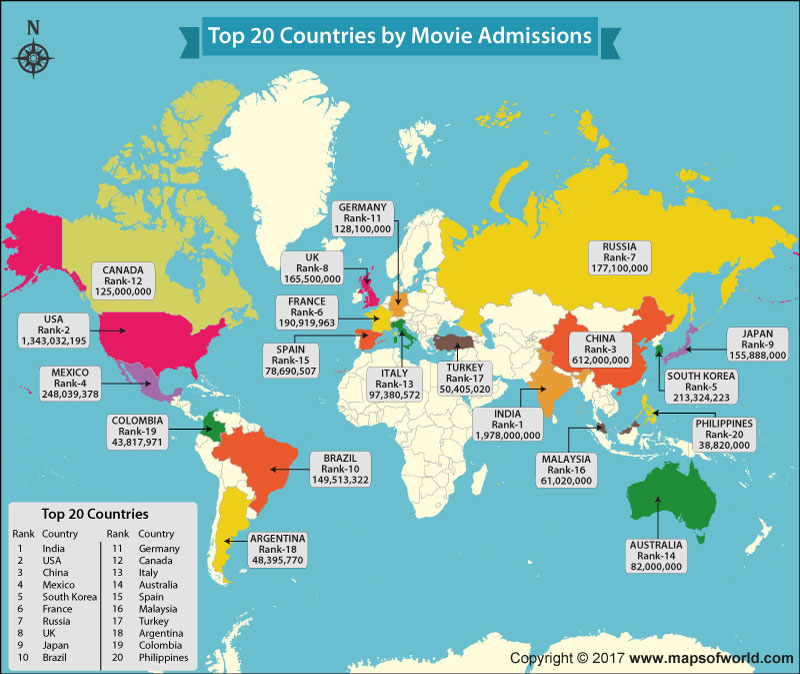 If you have a theme, we have a map.
Contact us for your custom mapping requirements
Technology has made watching your favorite movie easier. Unlike in the past when one had to go to the theater to watch a movie, the spectator has many more choices today such as YouTube, live streaming and TV programming. But all this has not deterred people from watching their favorite actors or movies on big screens in darkened halls.
According to a UNESCO data, India, which has one of the biggest film industries in the world, has also one of the largest movie loving population. As per the statistics, the total number of movie admissions in 2013, which is the number of feature film tickets sold during the year, stood at a staggering 1,978,000,000.
Hollywood, which is based in the United States and attracts audience from around the globe, has produced many outstanding movies that have left a lasting impression on viewers. The country has a large population that loves to watch films in theaters. So, it is no surprise that the United States occupied the second spot in 2013.
During the year, the country posted a total number of admissions amounting to 1,343,032,195. China, which is emerging as a big movie market, was way behind the United States, nevertheless it posted a decent figure of 612,000,000.
Mexico and South Korea, which occupied the fourth and fifth spots respectively, are the other two nations that have a huge population that loves movies. The total number of admissions in both these countries stood at 248,039,378 and 213,324,223, respectively. France, Russia, United Kingdom, Japan and Brazil were also placed in the top ten spots. Figures in these countries ranged from 149,513,322 to 190,919,963.
Germany, Japan, Italy and Australia were some other nations that found a place among the top 20 nations with the most number of admissions.
(Data sourced from UNESCO)
Recent Posts