Venezuela Has Won The Most Miss World Titles
Next Story
Top 20 Arms Producing Companies in the World by Sales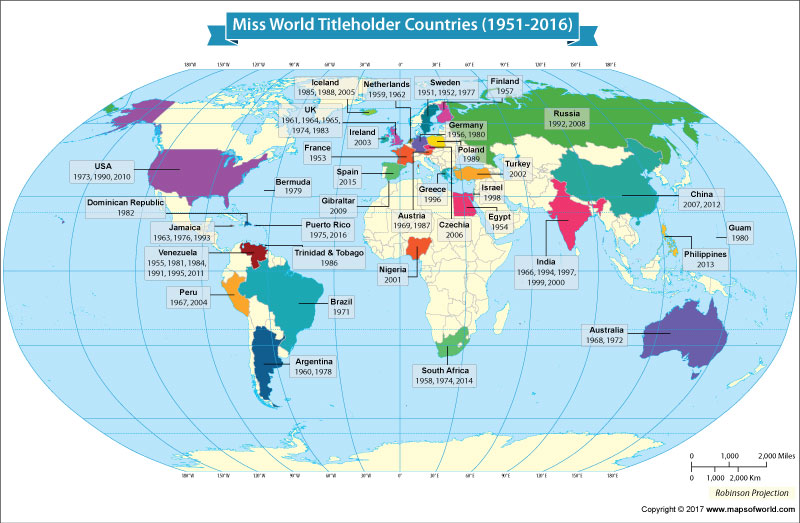 If you have a theme, we have a map.
Contact us for your custom mapping requirements
The Miss World contest is not only the most prestigious but also the oldest international beauty pageant. The mega event grabs the attention of world media with millions of people tuning in to watch which of the lucky girls would make it to the coveted crown.
The origin of the contest dates back to 1951 when a British TV host, Eric Morley, organized the Festive Bikini Contest, a bikini contest, as a part of the Festival of Britain. The event was a huge draw with the media, that coined the term "Miss World". Thereafter, Morley made the event an annual affair and registered as a trademark the name Miss World. Since then it is one of the most watched and eagerly-awaited events.
Venezuela is the most successful country when it comes to the number of titles won by its women citizens. The South American nation has bagged the Miss World title six times. The nation registered its first win in 1955, which was followed by a long lull. It won its second title in 1981, followed by wins in 1984, 1991, 1995 and 2011.
Both India and the United Kingdom have been the second most successful countries. Both the nations have bagged the title five times each. India won the first title way back in 1966. Then, the nation had to wait for 28 years when it bagged the title for a second time in 1994, followed by wins in 1997, 1999 and 2000. The United Kingdom bagged the first title in 1961 and its fifth and last title in 1983.
Sweden, which won the initial title in 1951, followed up with its success in 1952. Thereafter, the country won its third title in 1977. Other countries such as South Africa, United States, Iceland, and Jamaica have won the title three times each.
Puerto Rico, the winner of the latest contest held in 2016 has won a total of two titles. It registered its first victory in 1975. China, Russia, Germany, Argentina, and Australia are just a few nations that have bagged the title twice. Countries such as Spain, the Philippines, Ireland, Turkey, Greece, Brazil, Egypt, France, and a few others have won the title just once.
| Countries | Numbers of Titleholders | Years of Titleholders |
| --- | --- | --- |
|  Venezuela | 6 | 1955, 1981, 1984, 1991, 1995, 2011 |
|  India | 5 | 1966, 1994, 1997, 1999, 2000 |
|  United Kingdom | 5 | 1961, 1964, 1965, 1974, 1983 |
|  South Africa | 3 | 1958, 1974, 2014 |
|  United States | 3 | 1973, 1990, 2010 |
|  Iceland | 3 | 1985, 1988, 2005 |
|  Jamaica | 3 | 1963, 1976, 1993 |
|  Sweden | 3 | 1951, 1952, 1977 |
|  Puerto Rico | 2 | 1975, 2016 |
|  China PR | 2 | 2007, 2012 |
|  Russia | 2 | 1992, 2008 |
|  Peru | 2 | 1967, 2004 |
|  Austria | 2 | 1969, 1987 |
|  Germany | 2 | 1956, 1980 |
|  Argentina | 2 | 1960, 1978 |
|  Australia | 2 | 1968, 1972 |
|  Netherlands | 2 | 1959, 1962 |
|  Spain | 1 | 2015 |
|  Philippines | 1 | 2013 |
|  Gibraltar | 1 | 2009 |
|  Czech Republic | 1 | 2006 |
|  Ireland | 1 | 2003 |
|  Turkey | 1 | 2002 |
|  Nigeria | 1 | 2001 |
|  Israel | 1 | 1998 |
|  Greece | 1 | 1996 |
|  Poland | 1 | 1989 |
|  Trinidad & Tobago | 1 | 1986 |
|  Dominican Republic | 1 | 1982 |
|  Guam | 1 | 1980 |
|  Bermuda | 1 | 1979 |
|  Brazil | 1 | 1971 |
|  Finland | 1 | 1957 |
|  Egypt | 1 | 1954 |
|  France | 1 | 1953 |
Recent Posts