Miss Universe Winners: Which Country Has Won The Most Titles in the Last 25 Years?
Next Story
Top NBA Teams in the Past 25 Years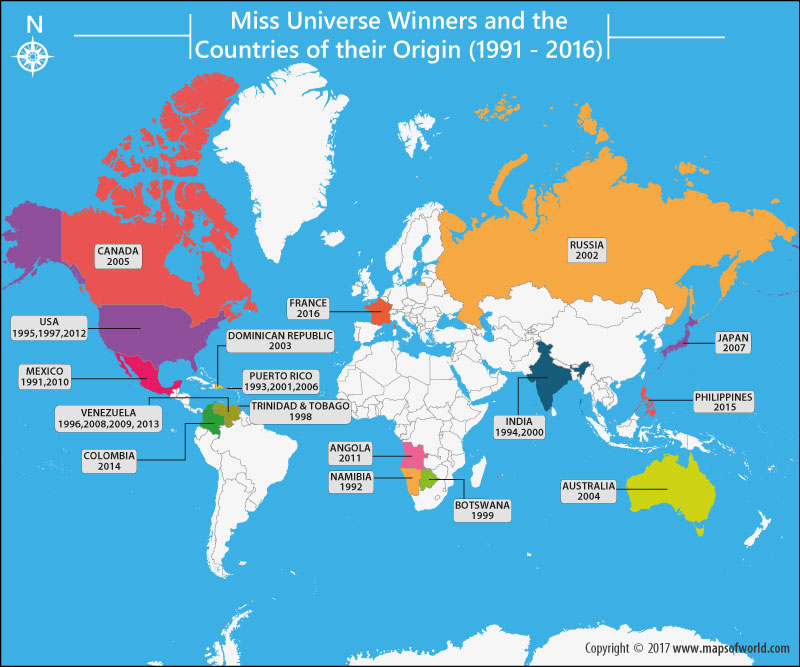 If you have a theme, we have a map.
Contact us for your custom mapping requirements
Which country has the most beautiful women in the world? This is a tough question to answer if you take a close look at the list of Miss Universe Winners over the years. Founded in 1952, the international beauty pageant has seen women from every continent – ranging from North America to Asia to Africa – winning the coveted crown. Attracting fierce competition, the international beauty pageant is not just about features or personality, but a great deal about intelligence. For the panelists ask some tough questions which can range from politics to personal attributes.
But when we look at the number of titles won in the past 25 years, the South American nation of Venezuela tops the charts. Venezuela, which is known for its women who possess striking beauty, won four crowns from the years 1991 to 2016. The South American nation won the titles in 1996, 2008, 2009, and 2013.
The United States and Puerto Rico won the Miss Universe titles three times each. While USA bagged the titles in the years 1995, 1997 and 2012, Puerto Rico made it big in the years 1993, 2001 and 2006. Mexico and India have won the title two times each. While Mexico won the international beauty pageant in 1991 and 2010, India won in 1994 and 2000.
Other nations that have won the title include Canada, Colombia, Angola, Japan, Dominican Republic, Namibia, Australia, Russia and the Philippines, to name a few. France won the title in 2016.
2016
Iris Mittenaere
France
2015
Pia Wurtzbach
Philippines
2014
Paulina Vega
Colombia
2013
Gabriela Isler
Venezuela
2012
Olivia Culpo
USA
2011
Leila Lopes
Angola
2010
Ximena Navarrete
Mexico
2009
Stefanía Fernández
Venezuela
2008
Dayana Mendoza
Venezuela
2007
Riyo Mori
Japan
2006
Zuleyka Rivera
Puerto Rico
2005
Natalie Glebova
Canada
2004
Jennifer Hawkins
Australia
2003
Amelia Vega
Dominican Republic
2002
Oxana Fedorova (Dethroned)
Russia
2001
Denise Quiñones
Puerto Rico
2000
Lara Dutta
India
1999
Mpule Kwelagobe
Botswana
1998
Wendy Fitzwilliam
Trinidad and Tobago
1997
Brook Lee
USA
1996
Alicia Machado
Venezuela
1995
Chelsi Smith
USA
1994
Sushmita Sen
India
1993
Dayanara Torres
Puerto Rico
1992
Michelle McLean
Namibia
1991
Lupita Jones
Mexico
Recent Posts