Get to Know Which Nation Has the Most Movie Screens
Next Story
FIS Alpine Ski World Cup Winners (1967-2016)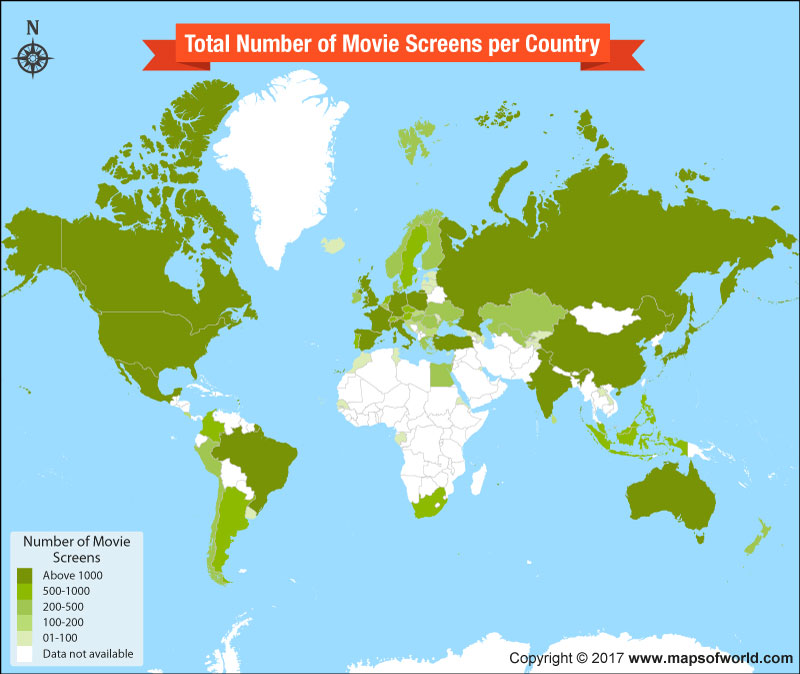 If you have a theme, we have a map.
Contact us for your custom mapping requirements
The success of a movie depends upon a number of factors such as good acting performance, a fabulous script, amazing storyline and some excellent marketing. But what really makes your viewing experience truly up to the mark is the cinema infrastructure and the people's access to cinema halls or big screens.
So how many movie screens does your country have?
According to the UNESCO data, in 2013, there were a whopping 39,783 screens all over the United States of America, which ranked number one among the countries with the most movie screens. Surprisingly China, the fourth largest country in the world was way behind the United States with 18,195 screens. India, the land of Bollywood and home to one of the largest movie loving population, came at the third spot with 11,081 screens.
Coming in at the fourth and fifth spots were France and Mexico with 5,587 and 5,547 screens respectively. Surprisingly Russia, which is the largest country in the world, had just 3,479 movie screens. The country ranked behind smaller nations like Germany, Spain and the United Kingdom.
Occupying the bottom slots in the UNESCO list were African nations such as Senegal, Gabon, and Cabo Verde, where the figure stood at 1, 3 and 3 respectively.
| Countries | Total Number of Screens |
| --- | --- |
| United States of America | 39,783 |
| China | 18,195 |
| India | 11,081 |
| France | 5,587 |
| Mexico | 5,547 |
| Germany | 4,610 |
| Spain | 3,908 |
| United Kingdom of Great Britain and Northern Ireland | 3,867 |
| Russian Federation | 3,479 |
| Japan | 3,318 |
| Italy | 3,256 |
| Canada | 3,031 |
| Brazil | 2,678 |
| Republic of Korea | 2,184 |
| Turkey | 2,170 |
| Australia | 2,057 |
| Poland | 1,243 |
| Argentina | 895 |
| Indonesia | 842 |
| Netherlands | 828 |
| Colombia | 815 |
| South Africa | 800 |
| Sweden | 774 |
| Malaysia | 774 |
| Philippines | 747 |
| Czech Republic | 684 |
| Austria | 548 |
| Portugal | 544 |
| Switzerland | 533 |
| Belgium | 497 |
| Greece | 482 |
| Venezuela (Bolivarian Republic of) | 481 |
| Peru | 473 |
| Ireland | 463 |
| Ukraine | 463 |
| Norway | 422 |
| Denmark | 414 |
| New Zealand | 414 |
| Chile | 363 |
| Hungary | 345 |
| Israel | 292 |
| Finland | 279 |
| Egypt | 269 |
| Romania | 264 |
| Kazakhstan | 242 |
| Uzbekistan | 234 |
| China, Hong Kong Special Administrative Region | 222 |
| Slovakia | 179 |
| Sri Lanka | 170 |
| Bulgaria | 165 |
| Croatia | 156 |
| Lebanon | 127 |
| Serbia | 114 |
| Slovenia | 112 |
| Costa Rica | 111 |
| Lithuania | 95 |
| Uruguay | 70 |
| Kuwait | 62 |
| Bahrain | 59 |
| Morocco | 56 |
| Latvia | 48 |
| Iceland | 39 |
| Malta | 38 |
| Cyprus | 35 |
| Luxembourg | 34 |
| Estonia | 34 |
| Azerbaijan | 24 |
| Kyrgyzstan | 20 |
| Montenegro | 18 |
| Tunisia | 17 |
| Tajikistan | 16 |
| China, Macao Special Administrative Region | 15 |
| Republic of Moldova | 13 |
| Georgia | 12 |
| Eritrea | 9 |
| Lao People's Democratic Republic | 8 |
| Cabo Verde | 3 |
| Gabon | 3 |
| Senegal | 1 |
(Data sourced from UNESCO)
See More
10 Best Bond Movies that You Should Watch
Recent Posts